While strolling through the bulk food aisle at whole foods, I ended up buying hoarding a bunch of dried fruits, nuts, chia and flax seeds, and hence these bars came into existence. These bars don't require any baking (except toasting oats and quinoa for five minutes on the stove top) and they can be customized to whatever ingredients you have available on hand. Super food bars are super easy to make, and are protein packed and delicious. They make for a wonderful post workout snack or a mid day snack, providing nutrition throughout the day.  Store these bars in the refrigerator in an airtight container. Recipe below makes 8 bars, and can be easily doubled.
Have a lovely weekend! xx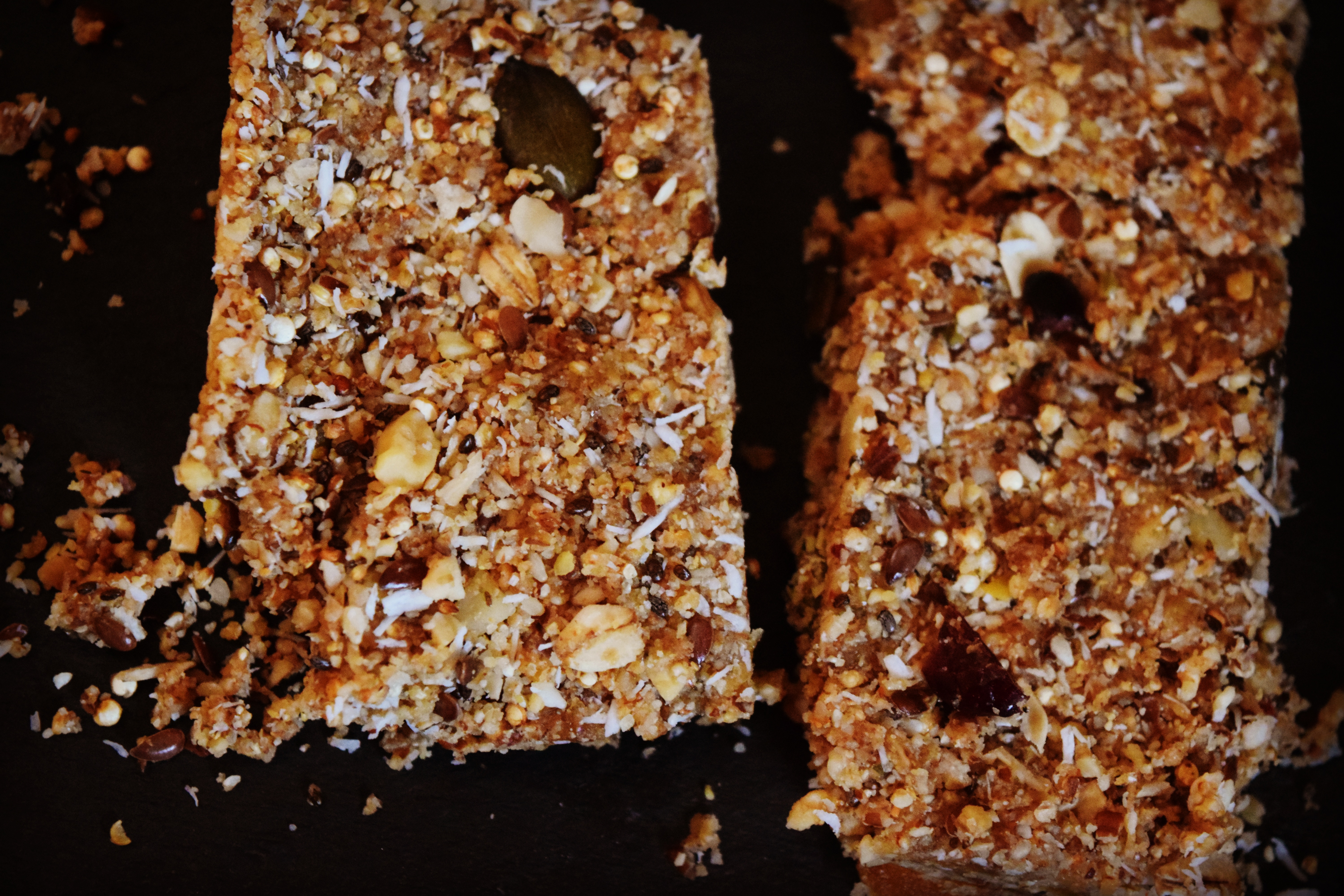 Ingredients
1/4 Cup Old Fashioned, gluten free
1/2 cup uncooked quinoa, I used sprouted quinoa but regular quinoa should work too
1 Tablespoon Raw Sunflower Seeds
1 Tablespoon Raw Pumpkin Seeds
3 Tablespoons Organic Almond (or any nut)Butter
2 Tablespoons Raw Honey
1/2 Cup Raw Mixed Nuts (Walnuts, Almonds, Brazil nuts, Hazelnuts and Pistachio)
2 Teaspoons Chia
2 Teaspoons Flax Seeds
1 Teaspoons Hemp Seeds
1 Teaspoon Sesame Seeds
2 Teaspoons Shredded Unsweetened Coconut
2 Tablespoons Dried Fruits and Berries (Apricot, Figs, Mulberries and Goji Berries), chopped
2 Tablespoons Coconut Oil, melted
Process
Heat a pan on medium heat and toast oats and quinoa for 5 minutes or until slightly golden. Set aside to cool.
Prepare a square or rectangular baking pan with parchment paper and set aside.
In a large mixing bowl, mix together oats, quinoa, nuts, sesame seeds, sunflower seeds, pumpkin seeds, chia, flax seeds and hemp seeds.
Add the dry ingredients from to a mixer and pulse for a few seconds until the mixture is coarse.

Do not make a powder or paste.

In a separate bowl, mix honey, almond butter and coconut oil. If the mixture is thick, warm it in the microwave for 20-30 seconds.
Add the chopped fruits and berries, and shredded coconut to the dried mixture.
Stir in the wet mixture and mix everything together using your hands.
Pour the mixture on the prepared pan, spread evenly and refrigerate for at-least 30 minutes or until the mixture is set.
Remove from pan, and cut into desired size. Store the leftovers in the fridge.
Enjoy! 🙂
(Visited 56 times, 1 visits today)
Share