Whenever I don't feel like eating salad, I make Shakshuka for a warm and filling meal. Its very easy to make and not to forget, very nutritious. It tastes so indulgent, yet so humble loaded with all the veggies. There are plenty of ways to deck up your shakshuka, this is a slightly different version than the recipe I posted last year. For this recipe, I added broccoli and chickpeas for more protein, and used only salt, pepper, crushed red pepper flakes (optional) for spices. In short, you can add any veggies you have on hand and make it a hearty shakshuka. To make vegan Shakshuka, an additional cup of cooked chickpeas can be substituted for eggs.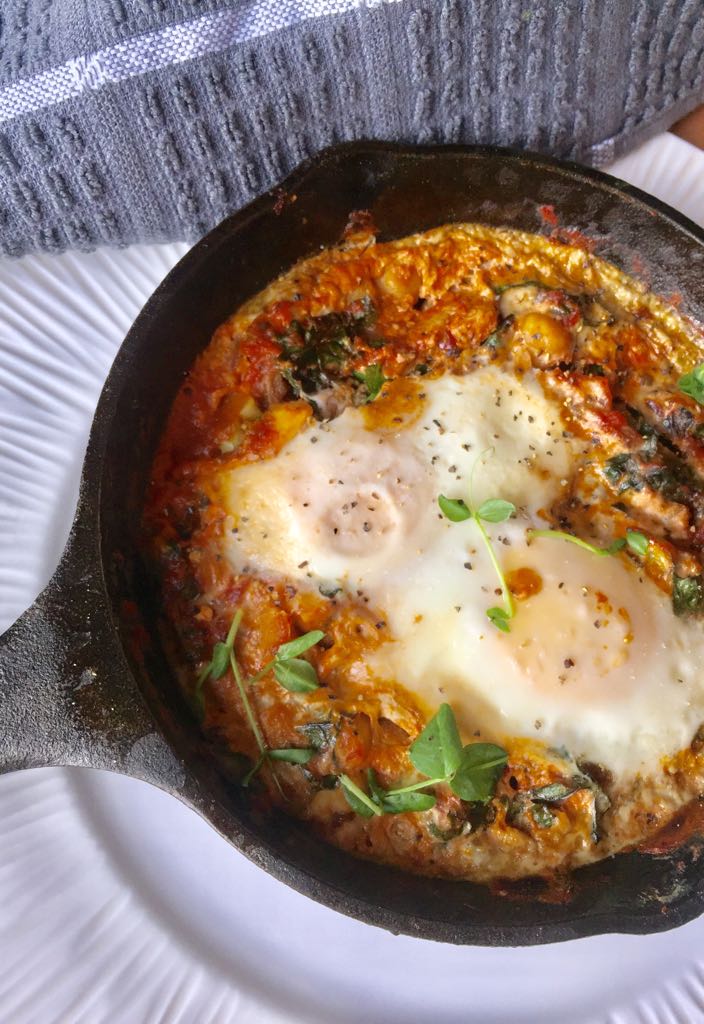 Ingredients
1 Teaspoon Ghee/Coconut Oil
1 Small Onion, chopped
1 Medium Tomato, chopped
1 Teaspoon Tomato Paste or use an Additional Tomato
1/4 Cup Veggies (I used chopped steamed broccoli, roasted acorn squash and roasted carrot)
1 Clove Garlic, minced
Handful of Chopped Kale
1/4 Cup Chickpeas, cooked
Salt and Black Pepper, to taste
1/4 Teaspoon Crushed Red Pepper Flakes, optional
2 Eggs or 1 Cup Cooked Chickpeas (for vegan version)
Fresh Herbs for Garnish
Process
Heat ghee/oil in a medium cast iron or oven proof skillet on medium high heat.
Add onions and cook for 2-3 mins or until the onions are translucent.
Toss in tomatoes, tomato paste and kale; season with salt and pepper. Cover and cook for 2-3 minutes.
Add the remaining veggies and chickpeas; and cook for 5 more minutes. Taste and adjust the seasoning as needed.
Make two small holes in the sauce and crack the eggs gently into each hole, making sure not to break the yolk. Sprinkle crushed black pepper, and cook on medium heat for 3-4 minutes or until the whites have firmed up and yolks are still runny.

Skip this step if you are making vegan shakshuka.

Slide the skillet into the oven and broil for two minutes or longer if you like your eggs well done.
Garnish with fresh herbs and serve hot.
Enjoy! 🙂
(Visited 24 times, 1 visits today)