If you love Salmon, these burgers will be your new BFF. While I do love seasoned salmon fillet (pan grilled or baked), I am always trying different ideas to add variety and not make the food look/ feel boring. These burgers are loaded with nutrition and flavor, and are so filling. Add them to your salad or sandwich or eat them as is. They are super easy to make and are a great make ahead meal option for a busy week. Meal prep is so important to stay away from store bought and packaged food. Summer can get very busy and these burgers are here to help you eat well, nourish yourself when you don't have enough time for grocery shopping and cooking. Few simple ingredients and less than 30 minutes is all you need to make these.
Hope you enjoy making and eating them as much as I did. xx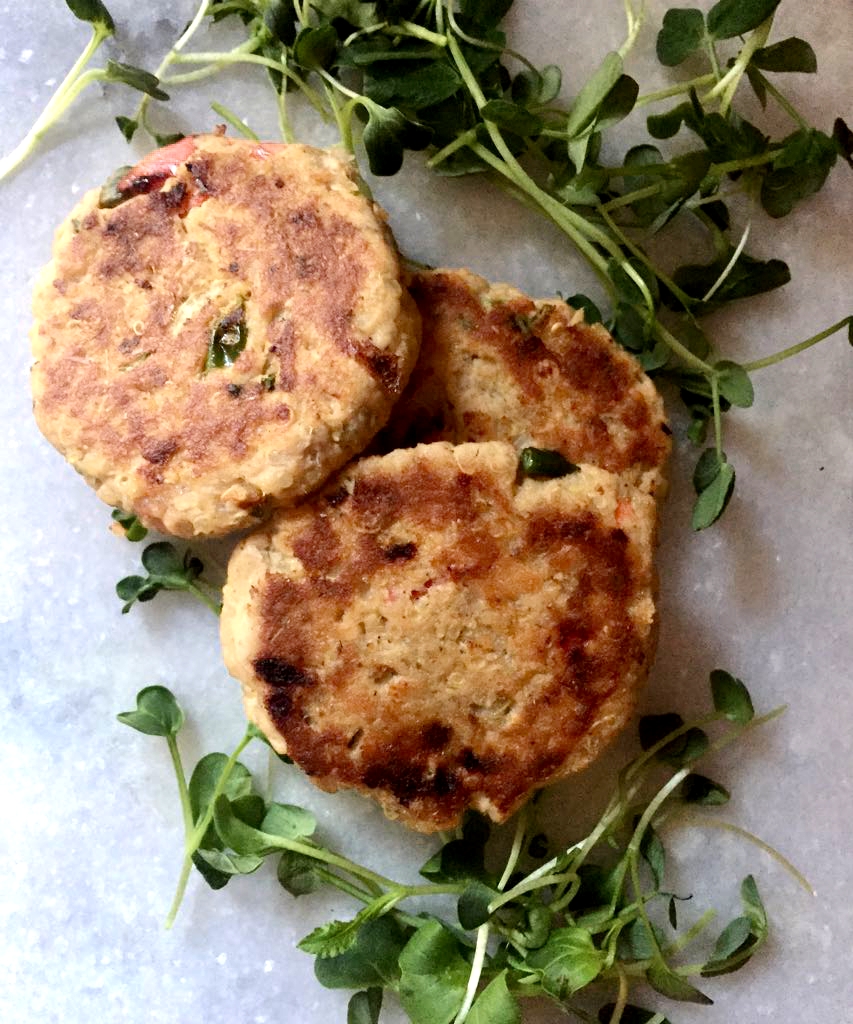 Ingredients
1 lb / 500 gms Salmon Filled, cooked (Skin and Bones Removed)*
1 Small Onion, finely Chopped
2 Small Green Chilies or 1 Jalapeno, minced
Zest and Juice of 1 Lemon
2 Tablespoon Capers
Handful of Fresh Parsley, finely chopped
1/2 Red Bell Pepper, finely chopped (optional)
1/4 Cup Cooked Quinoa
Salt and Pepper to Taste
1 Egg
1 Tablespoon Olive Oil, for cooking the burgers
*You can cook the salmon fillets on pan for approx 5 mins on each side or in the oven for 10-12 mins at 375 F or you can also use canned salmon.
Process
Shred the cooked salmon and set aside. Salmon should be at room temperature.
In a medium bowl, mix all the remaining ingredients except olive oil.
Finally add salmon and gently mix using your hands or a fork. Do not over mix.
Heat the olive in a non stick pan on medium high.
Divide the mixture into ten equal portions and form patties. Cook for 4-5 mins on each side.
Serve the burgers at room temperature.
Enjoy! 🙂
(Visited 21 times, 1 visits today)
Share