Perfect for breakfast or snack at any time of the day, these pistachio tahini bars were born as a result of an experiment aimed at cleaning out my pantry! I knew they'd be good considering all the ingredients that went in are so delicious on their own (Pistachios, Almond butter, Tahini, Hemp Hearts etc.) but they exceeded my expectations and HOW!!! Not only are they irresistible but are also packed with so much nutrition from healthy fats, fiber, proteins and vitamins. You can customize the recipe to meet your desired level of sweetness. These bars can be stored in the refrigerator for a week. Hope you enjoy making/eating them as much as I did 🙂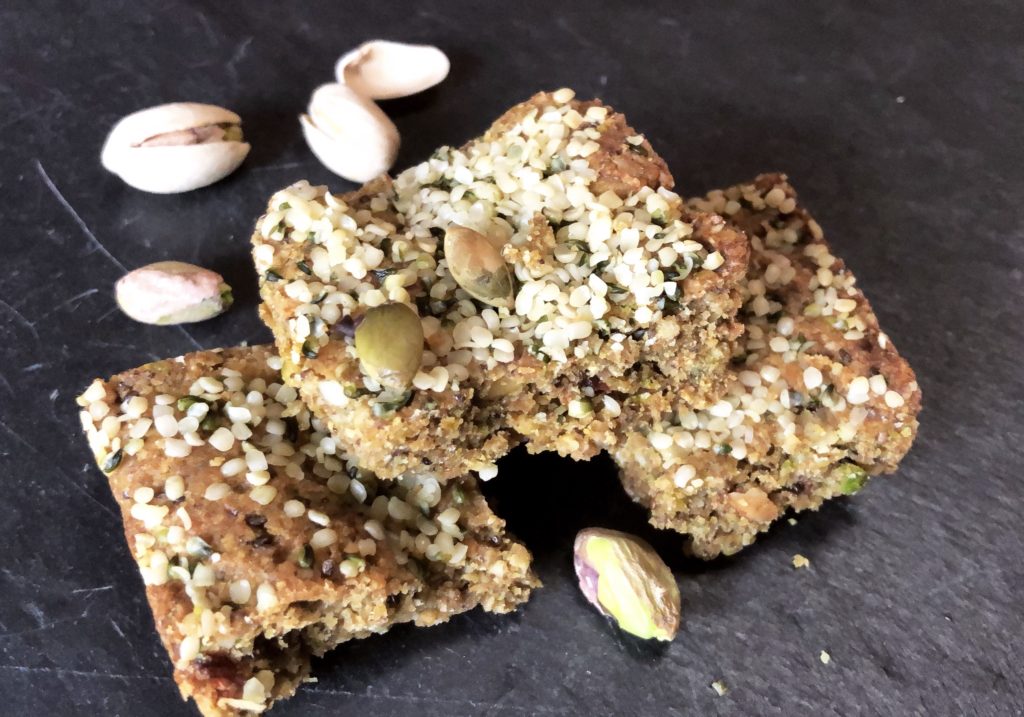 Ingredients
2 Tablespoons Gluten Free Rolled Oats
1 Cup Peeled Unsalted Pistachios, soaked in warm water for 5-10 minutes
1 Teaspoon Coconut Oil
2 Tablespoons Tahini
2 Tablespoons Peanut Butter or Almond Butter
2 Teaspoons Chia Seeds
1 Teaspoon Maca Powder
2 Tablespoons Pepitas
1-2 Tablespoons Hemp Hearts
3 Tablespoons Pure Maple Syrup or Manuka Honey (add more for extra sweetness is needed)
1/2 Teaspoon Ashwagandha (optional)
1-2 Tablespoons Shredded Unsweetened Coconut (optional)
Process
Preheat the oven to 350 F, line a 5X7 rectangular baking pan with parchment paper and set aside.
Add oats, pepitas and chia seeds to a food processor and process for 30 -40 seconds until the mixture is coarse (not powder).
Add the remaining ingredients (soaked and drained pistachios, tahini, peanut/almond butter, shredded coconut, maca powder, coconut oil, ashwagandha, hemp hearts and maple syrup) to the processor and process for another minute or so, until the mixture starts to stick together.
Add the mixture to the prepared pan and press into a single layer using a spoon.
Sprinkle extra hemp hearts and pepitas on the top, and bake in the pre heated oven for 12-13 minutes.
Remove the pan from the oven, let the bars cool down to room temperature before cutting and serving/storing.
Enjoy! 🙂
(Visited 75 times, 1 visits today)