Hot chocolate happens to be the most popular drink on cool fall/winter evenings. It sure sounds comforting, but often times that comfort is also accompanied with processed sugars, artificial flavors and sweeteners. So next time when you fancy a warm and comforting drink, try the Golden Milk aka Turmeric Maca Latte with Saffron. It is a delicious Ayurvedic drink that is also nourishing (with warm spices such as cinnamon, black pepper, green cardamom, ginger etc.) and is absolutely phenomenal for health!
Turmeric is a natural anti-inflammatory and a great antioxidant, which also assists in fighting cancer and preventing Alzheimer. Maca being an adaptogen, provides a ton of health benefits to the body. It is well known to provide energy, mood and libido boosting effects.  Maca is considered as an aphrodisiac, it helps in increasing stamina and endurance and supports healthy hormone production.
Drinking Golden Milk at night is a perfect way to end the day as it helps in relaxation and strengthening the immune system while sleeping.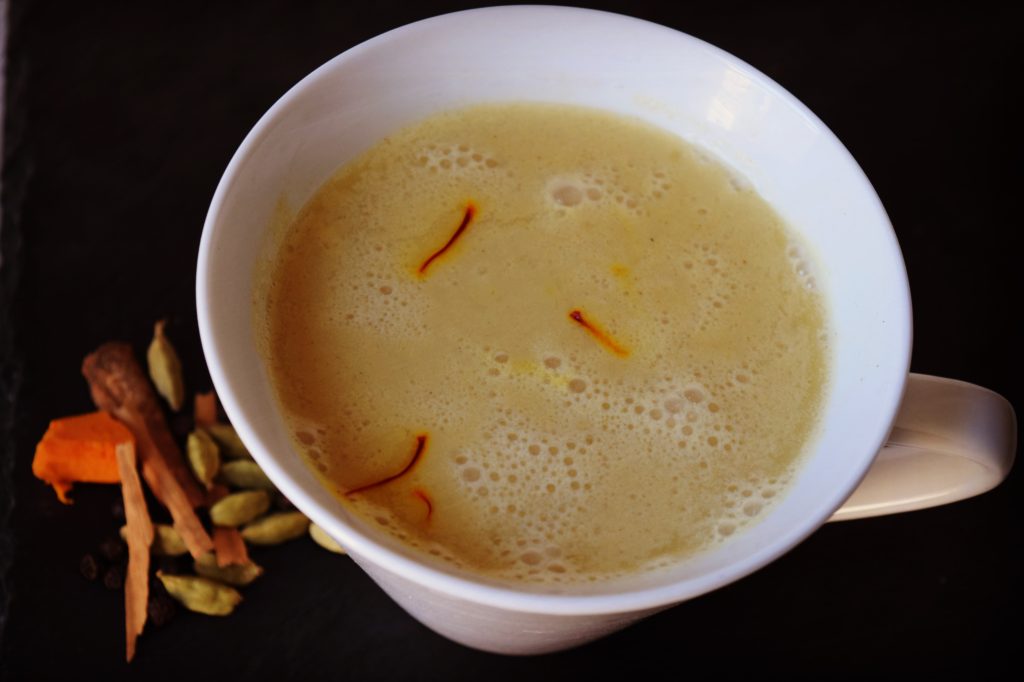 Ingredients
1/2 Teaspoon Fresh Grated Turmeric or 1/4 Teaspoon Ground Turmeric
1 Teaspoon Ground cinnamon
1/2 Teaspoon of Fresh Grated Ginger or 1/4 Teaspoon Ground Ginger
1 Teaspoon Maca Powder
1 Cup Coconut Milk
2-3 Green Cardamon Pods
2-3 Strands Saffron
2-3 Whole Black Peppercorn, Crushed
Pinch of Celtic Sea Salt, optional
Raw Honey, optional
Process
Warm the coconut milk on the stove over medium – low heat. Add the spices and stir the mixture with a wooden spoon until the spices are well combined, let the milk cook for additional 2 minutes.
Strain the milk and serve warm.
Enjoy! 🙂
(Visited 60 times, 1 visits today)