Happy Holidays, you guys! If you're still behind your holiday shopping list or struggling with gift ideas, these dark chocolate mocha bars are for you. They are perfect for any occasion, and there can be nothing more special than a homemade box of incredibly delicious healthy treats. These bars are very easy to make and require only a few common pantry ingredients. There is no baking or cooking required. All you need is coconut oil, nut butter, dates, coco powder, cacao powder, coffee and 1-2 digestive or graham crackers (optional). They are super fudgy, with perfectly balanced flavors of chocolate and coffee, topped with almonds, goji berries, cacao nibs, crushed coffee beans and 100% dark chocolate shavings.  They are dairy free, vegan and naturally sweetened with dates and takes 15 minutes to make. These bars are vegan and great as dessert, snack and pre/post workout energy booster! The recipe below can be easily doubled for a bigger batch.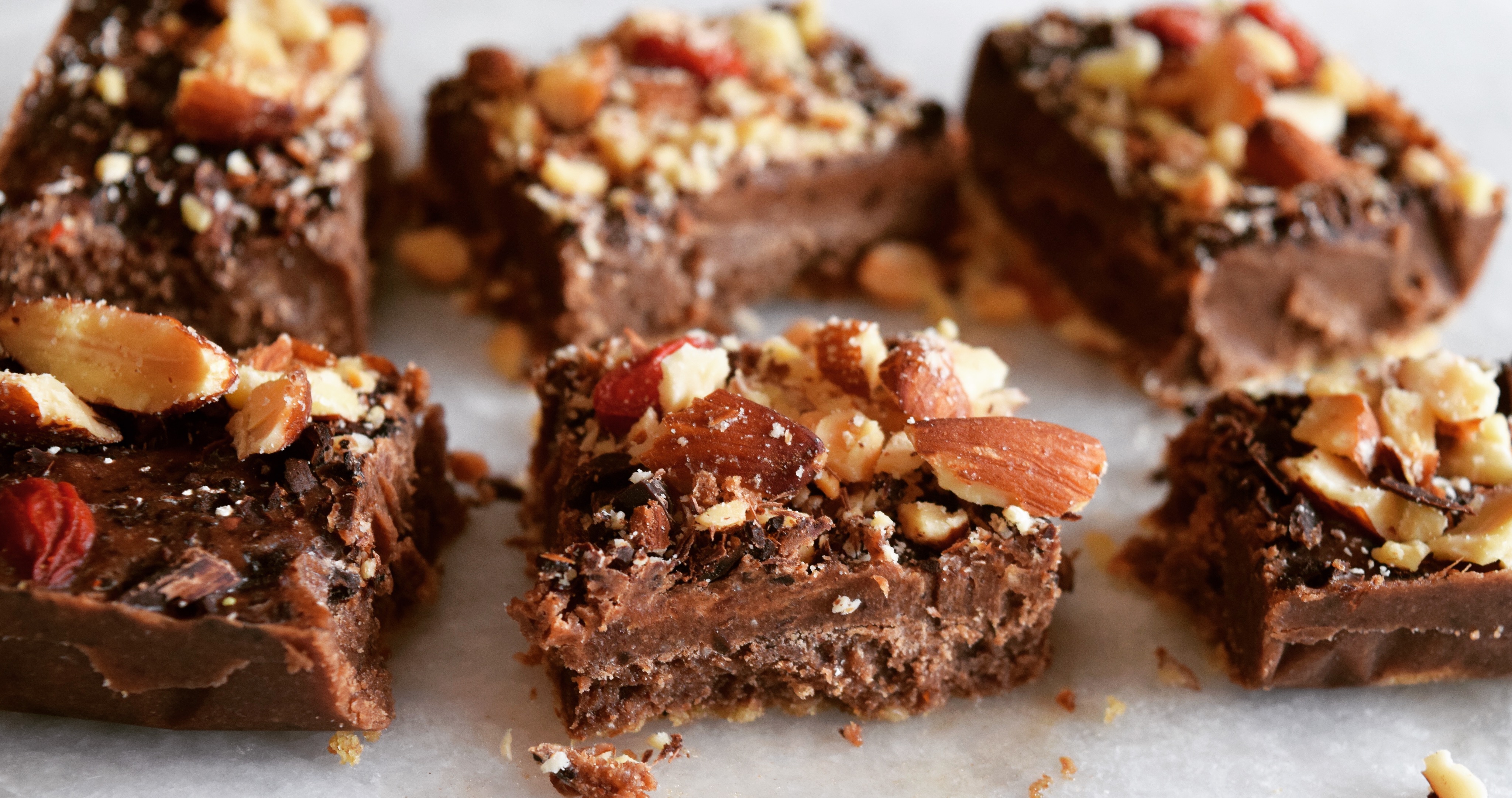 Ingredients
5-6 Medjool Dates, pitted
2 Tablespoons Coconut Oil, melted
2 Tablespoons Nut Butter (I used peanut butter and melted coconut butter)
1 Tablespoon Instant Coffee or Espresso Powder
1 Teaspoon Maca Powder
1/2 Teaspoon Ashwagandha Powder, optional
1 Teaspoon Vanilla
3 Tablespoons Cocoa Powder or Carob Powder (I used a mix of both)
1 Tablespoon Raw Cacao Powder (can be substituted with cocoa powder)
2 Digestive Cookies or Graham Crackers, crumbled
Dark chocolate, goji berries, ground coffee beans and chopped nuts for topping
Process
Soak the dates in warm water for 10-15 minutes.
Line a 5X8 loaf pan with parchment paper and spread the digestive cookies crumble in an even layer on the parchment paper.
Drain the dates and place them in blender along with coconut oil, nut butters and vanilla. Blend for 2-3 minutes or until the mixture is smooth and creamy.
Now add the remaining ingredients except the toppings. Blend everything for additional 2-3 minutes or until everything is thoroughly mixed. Taste the mixture for sweetness. You can add maple syrup or honey for extra sweetness.
Pour this mixture over the cookie crumbles in the loaf pan, add desired toppings and gently press using back of a spoon.
Cover the pan and place in the freezer for few hours or until set.
Cut the bars into squares and store in an airtight container in the freezer.
Enjoy! 🙂
(Visited 38 times, 1 visits today)
Share