Growing up, curry with parantha/ chapati for dinner was normally a daily affair. I always took the food for granted until I started grad school and was on my own for meals. The fact that my mom raised the bar super high, by cooking delicious curries from scratch, it was a challenge to eat anything that wasn't close to mom cooked food. In the beginning, I tried to survive on frozen food but that didn't last long. That's when I took the challenge upon myself and started making simple food. I would get the basic recipe from mom and attempt to recreate, nowhere did it come close to the food cooked by mom, but it definitely was more satisfying than the restaurant or the frozen food. That's where started my love for cooking/ recreating mom's recipes with modifications. Modifications of reducing the amount of oil and ghee that went in original mom's recipe.
The egg curry recipe is my mom's original recipe with certain modifications. The same gravy can be prepared for fish curry, just substitute the eggs with fish pieces. Also, the original recipe calls for a paste of Khus-Khus and coconut to be added along with spices, which I didn't add. The khus-khus coconut paste makes the curry rich without the need of adding heavy cream. The spice measurements are based on my taste preferences, considering that everyone has a different spice tolerance and preference, feel free to adjust it accordingly.
Make this curry for you and your loved ones, and give them one more reason to feel fortunate for having you in their lives! 🙂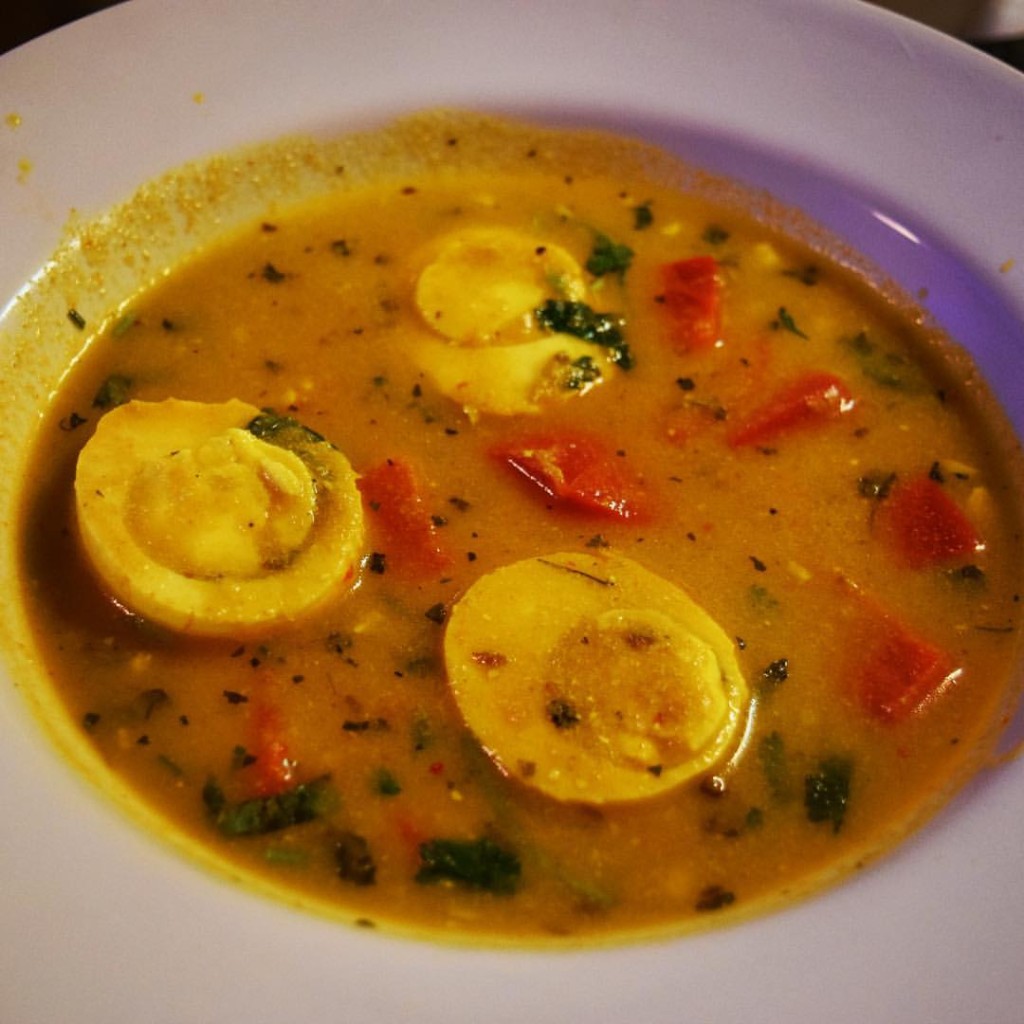 Ingredients
4 Eggs, hard boiled and peeled
1/4 Cup Yoghurt
2 Cloves Fresh Garlic
1 Inch Ginger
1 Medium Onion, roughly chopped
2 Teaspoon Vegetable Oil
2 Teaspoon Red Chili Powder
1/2 Teaspoon Turmeric Powder
1 Teaspoon Coriander Powder
1/2 Teaspoon Cumin
1/2 Teaspoon Garam Masala or Achaar Masala, optional
1/4 Teaspoon Dry Fenugreek leaves, optional
Salt to taste
Cilantro for Garnish
Process
In a blender, make a smooth paste of chopped onions, garlic and ginger by adding a few teaspoons of water.
Heat oil in a shallow pan and add cumin seeds.
Add the onion and ginger garlic paste and cook for at-least 5-8 mins or until the raw aroma of onions, ginger and garlic is gone, on medium heat, stirring frequently.
Stir in salt, chili powder, coriander powder, garam masala/achar masala and turmeric powder and cook for another minute on Medium-High, until the oil has separated from the rest of the mixture. Reduce the heat to low.
Beat the yoghurt with few tablespoons of water and add it to the pan on Low Heat. Mix well to avoid the yoghurt from curdling. It is totally fine if it does curdle.
Now add 2 cups or water or less if you want a thicker gravy and mix well. Bring the mixture to a boil on high heat, approximately 5 minutes. Taste the gravy and adjust the spices if needed.
Cut the eggs in half vertically and gently add them to the gravy. and cook on medium heat for another 2 minutes.
Sprinkle dried fenugreek leaves and give everything a gentle stir, making sure that the eggs don't fall apart.
Garnish with fresh cilantro and serve warm.
Enjoy! 🙂
(Visited 199 times, 1 visits today)