More often than not, winter is the season when everyone craves comfort food, especially all those carbs that come along with cheesy gooey pastas and breads, special thanks to the holiday season. However, with all the hefty holiday (aka cheat) meals, it is imperative to balance those crazy carbs loaded meals  with more salad and hearty, healthy food that is good for the body and mind. Winter is not just the season for crazy binge in the name of holidays but it is also the time when many nutritious fruits and vegetables are at peak. Fruits such as Pomegranates and Persimmons that are pretty expensive throughout the year are found in abundance at the super markets in winter and at a reasonable price.
This Kale and Pear salad uses most of the seasonal produce, the dressing is super simple and is loaded with antioxidants, healthy fats (from avocado), fibers, iron, folate, vitamins etc. Not to mention, its bursting with flavors. Kale, Pomegranate, Anaheim pepper and Pears are a great source of antioxidants and fiber. kale is also rich in phytonutrients like beta-carotene, potassium and vitamin C.
This salad is extremely simple to put together! Serve it along with some quinoa or nut bread for a complete weeknight dinner.
Have a lovely weekend! xx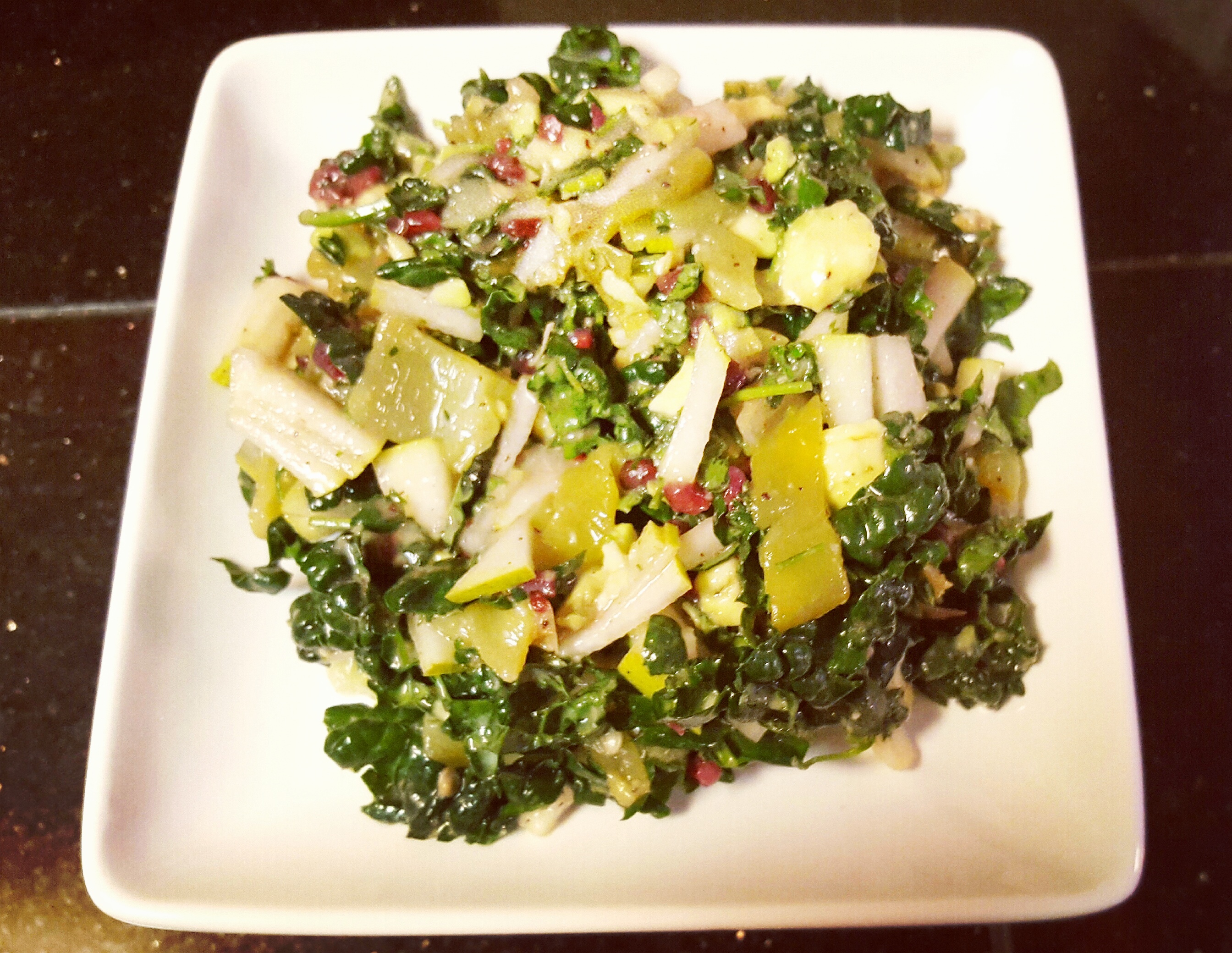 Ingredients (serves 2-3)
2 Cups Kale, washed, stems removed and chopped
1 Tablespoon Extra Virgin Olive Oil
1 Anaheim (Green) Pepper
1/2 Teaspoon Raw Honey
Salt and pepper
Juice of Half Lemon
1/4 Cup Pomegranate Arils
1 Pear, cored and chopped or cut into julienne
1 Avocado, chopped
2 Teaspoons Apple Cider Vinegar
1 Tablespoon Pepitas
Process
Cut the pepper into half (lengthwise), discard seeds and place the skin side up on a foiled line baking sheet. Broil for 10 minutes or until the skin is almost blackened. Set the pepper aside to cool down.
In a small bowl or a jar, whisk together honey, lemon juice, olive oil, apple cider vinegar, salt and pepper. Set aside.
In a large mixing bowl, mix chopped kale and half of the dressing. Massage kale with your hands for a minute or so.
Now add chopped pear, avocado, chopped green pepper and pomegranate seeds. Gradually pour in the remaining dressing and toss the salad gently.
Sprinkle some pepitas before serving.
Enjoy! 🙂
(Visited 16 times, 1 visits today)