If you love chocolates and are always wary of nutrient contents in store bought chocolate products, these brownie bites/balls are here for you. I personally love the taste of real chocolate that is not made with plenty of added sugars and is not cloying. These brownie bites are mildly sweetened with medjool dates (low GI) and pure maple syrup (low GI), have this earthy chocolate(y) flavor (thanks to tahini, almond butter and raw cacao powder), and a gooey/airy texture from dates and maple syrup that is so irresistible. They are a perfect low carb snack for satisfying that chocolate craving without the energy crash. You are only ten minutes away from enjoying this goodness!
P.S. These can be stored in the refrigerator for up to two weeks and in the freezer for several months (if you can resist). Hope you enjoy and like them as much as I do. xx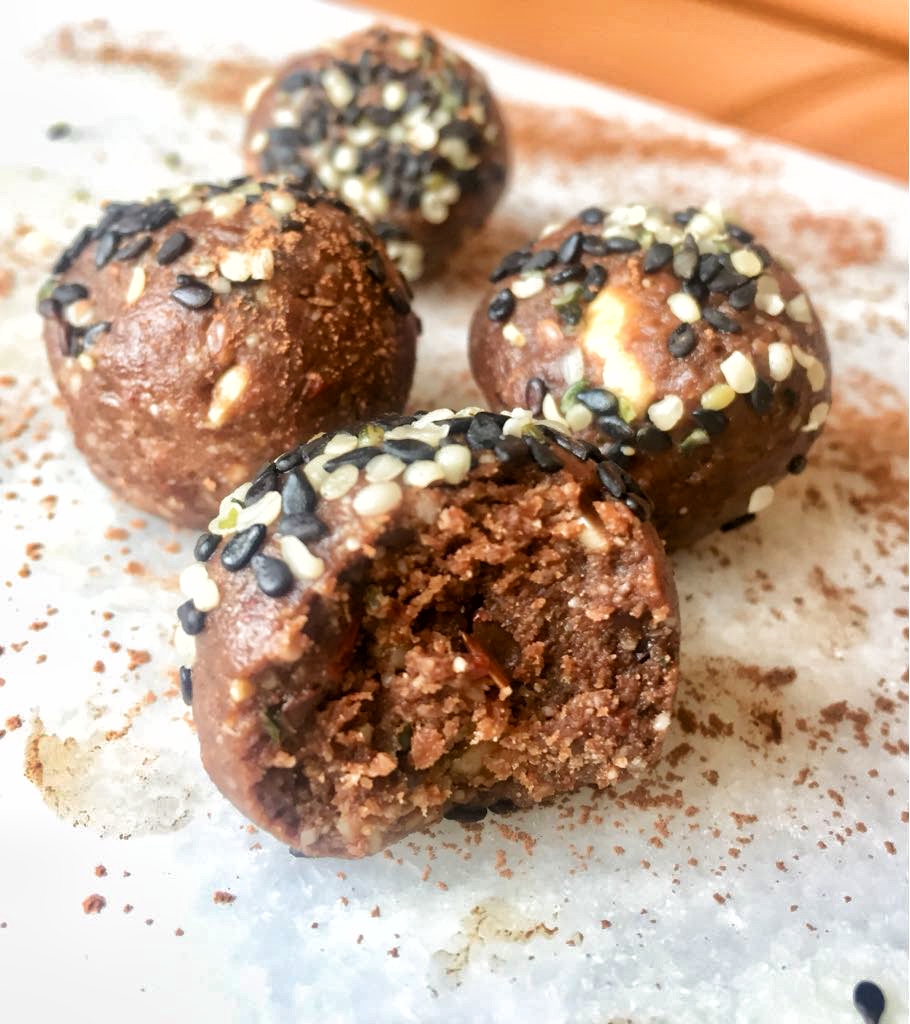 Ingredients
4 Tablespoons Almond Flour
1 Tablespoon Raw Cashews
2 Tablespoons Tahini
1 Tablespoon Almond Butter
2 Medjool Dates, Pitted
1 Tablespoon Cacao Nibs, optional
1 Tablespoon Hemp Hearts
2 Tablespoons Raw Cacao Powder (can be substituted with Unsweetened Cocoa Powder)
1 Teaspoon Coconut Oil
1 Teaspoon (or more) Pure Maple Syrup
1 Teaspoon Hemp Hearts, for coating
1 Teaspoon Sesame Seeds, for coating
Process
In a small bowl, mix Sesame Seeds and 1 teaspoon Hemp Hearts and set aside.
Add all the remaining ingredients to a food processor and process until the mixture starts  to stick together (do not make a paste).
Divide the mixture into 10-12 equal portions to form 1-inch balls.
Roll the balls into sesame and hemp hearts mixture. Store in the refrigerator in an airtight container.
Enjoy! 🙂
(Visited 54 times, 1 visits today)