Sweet potatoes are considered as one of the world's healthiest food for a valid reason. They are an excellent source of Vitamins B, C and D, iron, magnesium, fiber and complex carbs. The natural sugar of sweet potato is slowly released into the bloodstream, helping to ensure a balanced and regular source of energy, without the blood sugar spikes that cause fatigue and weight gain. Combination of this nutrients loaded powerhouse with broccoli, kale and spices results in irresistible and delicious burgers. Handful of ingredients and few minutes is all you need to make these burgers, all the additional time is for cooking in the oven. Recipe below yields 12 burgers (depending on the size) and leftovers can be stored in the freezer for easy meals later in the week or month.
I usually serve a deconstructed burger over salad and veggies with a drizzle of hot sauce and sometimes top it with a poached or fried egg for breakfast. Remember, being healthy and fit starts in the kitchen and extra 30 minutes of time and preparation in the kitchen is totally worth the effort. Once you start eating and making healthy food at home more often, you'll realize that it is an addiction  :).
Have a lovely weekend! xx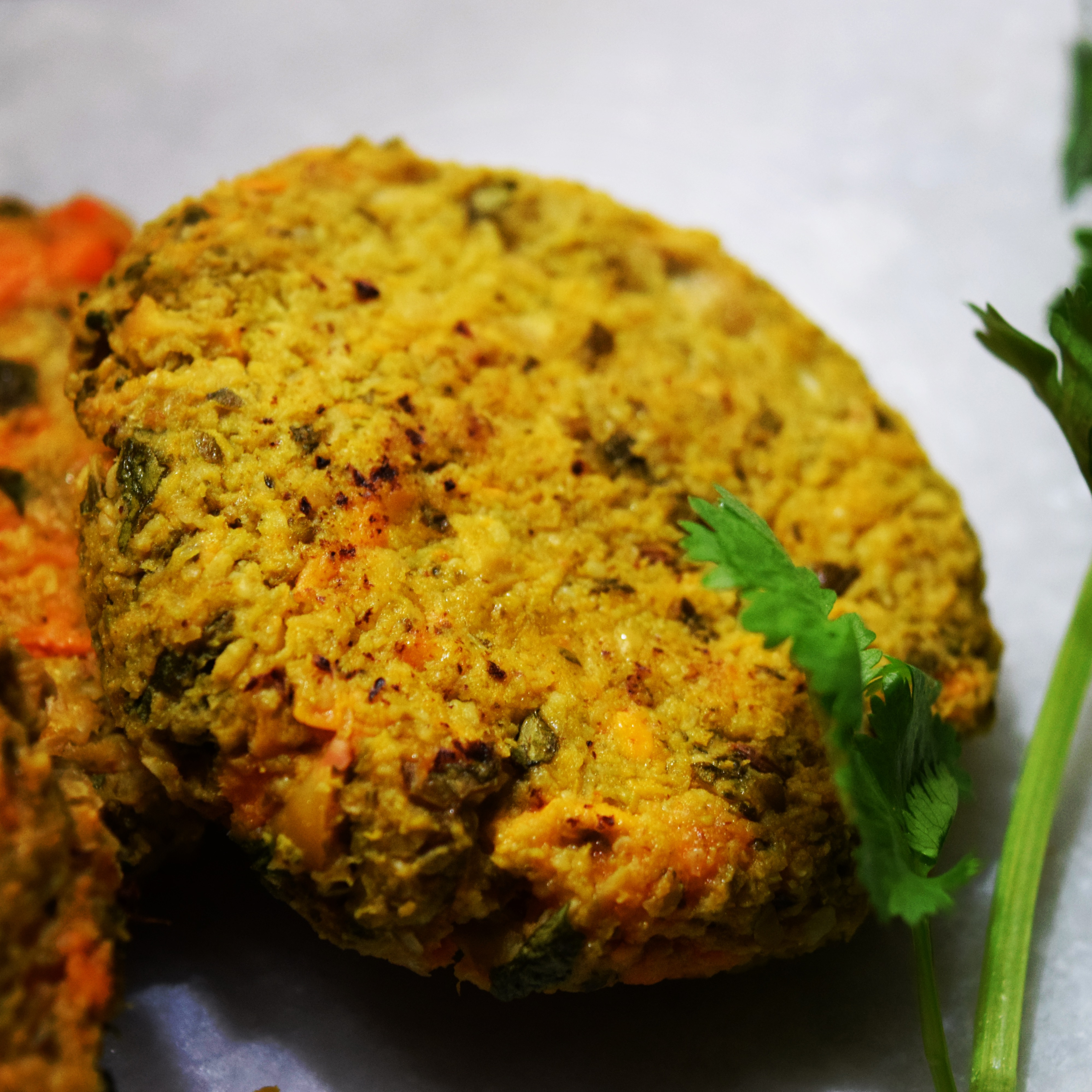 Ingredients
2 Sweet Potatoes, roasted
1/4 Cup Chopped Kale
1/2 Cup Broccoli Florets
1 8oz Pack Chickpeas
Handful of Fresh Cilantro, chopped
1/2 Onion, chopped
2 Cloves Garlic, chopped
2 Tablespoon Old Fashioned Oats, toasted
1 Teaspoon Coconut Oil
1 Teaspoon Cumin Powder
1/2 Teaspoon Chili Powder or to Taste
Sea Salt to Taste
Coriander Powder to Taste, optional
1 Teaspoon Lemon Juice
Process
Preheat the oven to 350 F, line a baking sheet with parchment paper and set aside.
If using fresh Broccoli, steam in a steamer for 5-7 minutes. If using frozen, set aside to thaw.
Heat oil in a skillet, add onions and garlic and sauté for 2-3 minutes until the onions become translucent.
Add salt, cumin powder, chili powder and coriander powder and stir.
Add chopped Kale and steamed/thawed broccoli, stir everything together, cover the skillet and let cook on medium heat until kale is wilted and the mixture is coated with spices. Set aside to cool.
Drain and rinse the chickpeas and add to a blender. Add toasted oats, kale and broccoli mixture and blend until combined.
Take the mixture out in a bowl or a plate. To this mixture add roasted and peeled sweet potatoes and mash them using a fork.
Add lemon juice, chopped cilantro and adjust seasoning as needed.
Divide the mixture into 12 equal portions, form into patties and place on the prepared sheet.
Bake the burgers for 20 minutes, flip and bake for additional 10 minutes (30 minutes total baking time).
Let the burgers cool down to room temperature before serving or storing.
Enjoy! 🙂
(Visited 54 times, 1 visits today)