What is better than Chia Pudding…? Superfood Chia Pudding in an Edible Mocha Brownie Bowl!! A brownie bowl, which is made with nuts, dates, dark chocolate, espresso, coconut oil, and is free of processed sugar. The pudding is made by mixing chia seeds with nut mylk, maca powder, pepitas, cinnamon, sea salt and lightly sweetened with a date. All of it is vegan, gluten free and super delicious. I love chocolate that is not dimmed by a lot of added sugar and this is one of my best creations yet that require least amount of effort, is a great source of nutrients and enjoyable as dessert or breakfast or as post workout replenishment!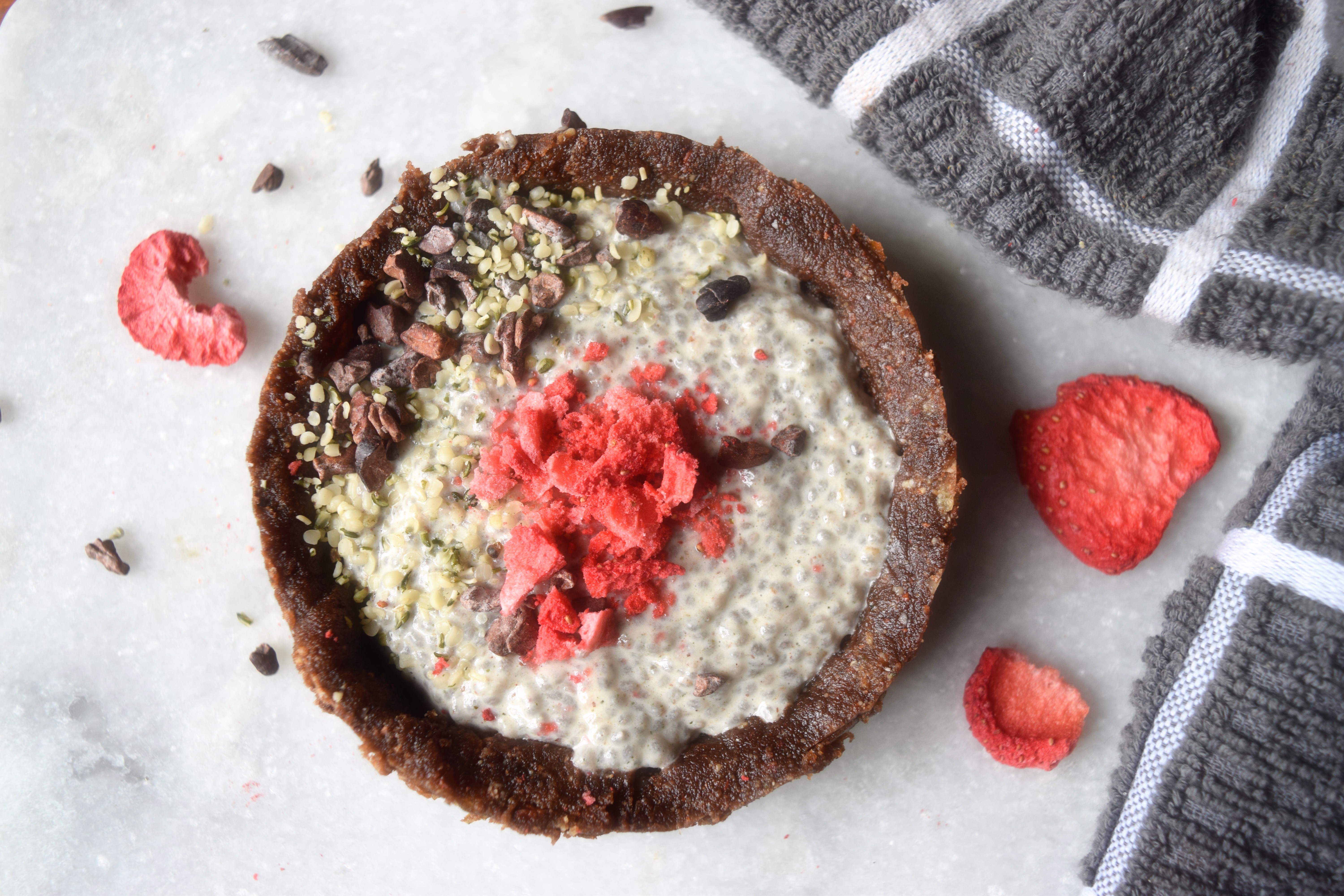 Recipe below makes two Edible Mocha Brownie Bowls
Ingredients
For Edible Brownie Bowls
1/2 Cup Raw Cashews
2 Tablespoons Almond Meal
1 Tablespoon Raw Cacao Powder or unsweetened cocoa powder
1-2 Dates
1 Teaspoon Coconut Oil
1/4 Teaspoon Instant Espresso Powder
Handful of Bittersweet Chocolate Chips (optional)
1/4 Teaspoon Maple Syrup or as needed, optional
For Chia Pudding
3 Tablespoons Chia seeds
1 Cup Nut Milk (I used Hemp Milk)
1 Teaspoon Pepitas
1/2 Teaspoon Maca Powder
1/4 Teaspoon Cinnamon
1 Date
Pinch of Sea salt
Toppings: Raw Cacao Nibs, fruits, hemp Hearts, coconut chips
Process
Mocha Brownie Bowl Grease two 4″ Springform pan or mini Tart or Quiche Pans (use whatever you have) with coconut oil and set aside.
Mix all the ingredients for the mocha brownie bowl in a food processor until the mixture comes together in a dough. Add a dash of maple syrup if the mixture is not sticking together. Taste and adjust the sweetness (if needed) by adding more maple syrup.
Press the mixture with your fingers into the prepared pans, forming a bowl. Place the pans in the freezer for at-least 15-20 minutes or until your chia pudding is ready.
Chia Pudding In a blender, mix all the ingredients for the pudding (nut milk, pitted date, maca powder, sea salt, pepitas and cinnamon) except chia seed.
In a medium bowl, combine the chia seeds with the nut mylk mixture and set aside for five minutes.
After five minutes, stir the pudding again making sure that there are no clumps. Cover and let the pudding rest in the refrigerator for at-least 15- 20 minutes. You can also let it rest overnight.
Assemble Run the edge of a spatula or a butter knife along the edges of the springform pan to release the brownie bowl and place on  a serving plate.
Spoon the chia pudding into the bowl, add the desired toppings and serve immediately.
Enjoy! 🙂
(Visited 31 times, 1 visits today)