This salad really is a product of coincidence. The fact that it is too hot to turn the oven/stove on, and the leftover fruits and greens in the refrigerator were the inspiration behind this light and refreshing salad. I added arugula, cucumber, mint, sunflower seeds, Papaya, raw Mango and Strawberry and tossed it with a little bit of feta cheese and lemon – honey dressing.
In addition to being a total taste treat, this salad is super quick and impossible to screw up. Although, I recommend serving it at your summer weekend gatherings, it definitely makes up for an easy weeknight dinner. Add a piece of bread, if you would like to give yourself some carbs fix.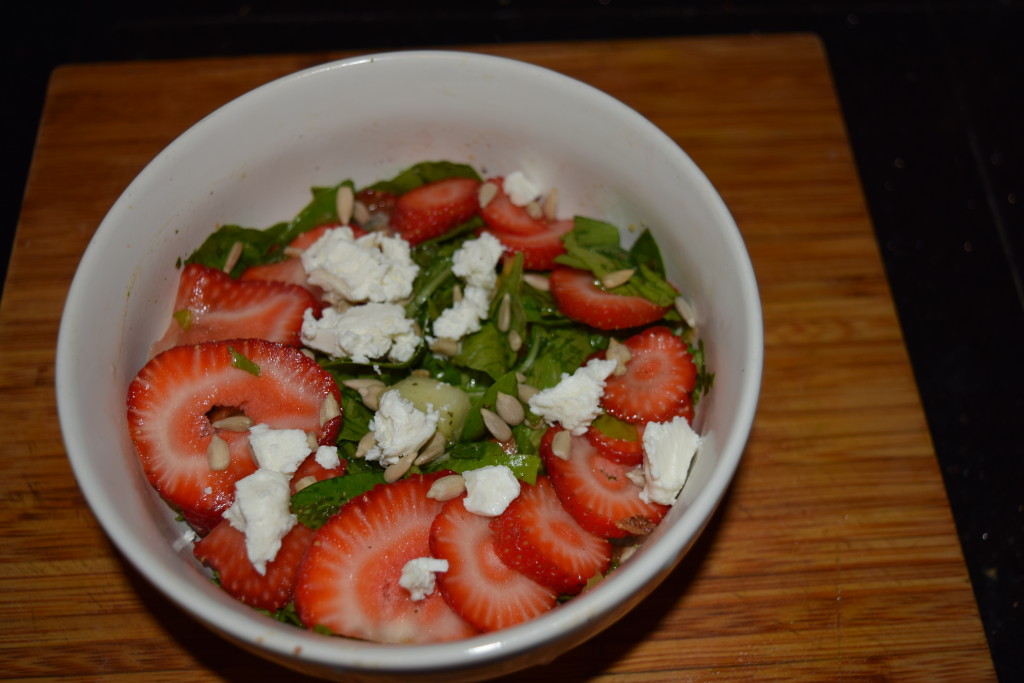 Ingredients
1 Tablespoon Fresh Lemon Juice
½ Tablespoon Extra Virgin Olive Oil
¼  Teaspoon Honey
Salt and Pepper, to taste
¼ Cup Fresh Mint Leaves, chopped
2 Cups Baby Arugula
½ Cup Papaya, cut into cubes
½ Cup Cucumbers, peeled and cubed
½ Cup Raw Mango, cubed
I Tablespoon Feta Cheese, crumbled
4 Strawberries, sliced
2 Teaspoons Sunflower Seeds
Process
In a large bowl, whisk together the lemon juice, olive oil and honey. Season with salt and fresh ground pepper to taste.
Add the mint, arugula, raw mango, cucumbers, papaya and sunflower seeds to the bowl and toss to coat.
Transfer the salad to a serving bowl and top with crumbled feta cheese and sliced strawberries.
Enjoy! 🙂
(Visited 17 times, 1 visits today)