One of these tiny truffles is enough to make you feel ecstatic, no matter the mood or the time of day! Regardless of the size, they pack a powerful nutrient punch and are equally delicious. It takes less than 30 minutes to make a dozen truffles. The ingredient list is pretty simple and the recipe is customizable. For e.g. you can replace peanut butter or almond butter with any other nut butter of choice. I also add a handful of crushed raw nuts to the mix but it is entirely optional. Goji berries in the recipe can be replaced by raisins or any other dried berries.
P.S. I highly recommend tasting the mixture for sweetness and consistency before  stuffing with almond butter and coating with dark chocolate.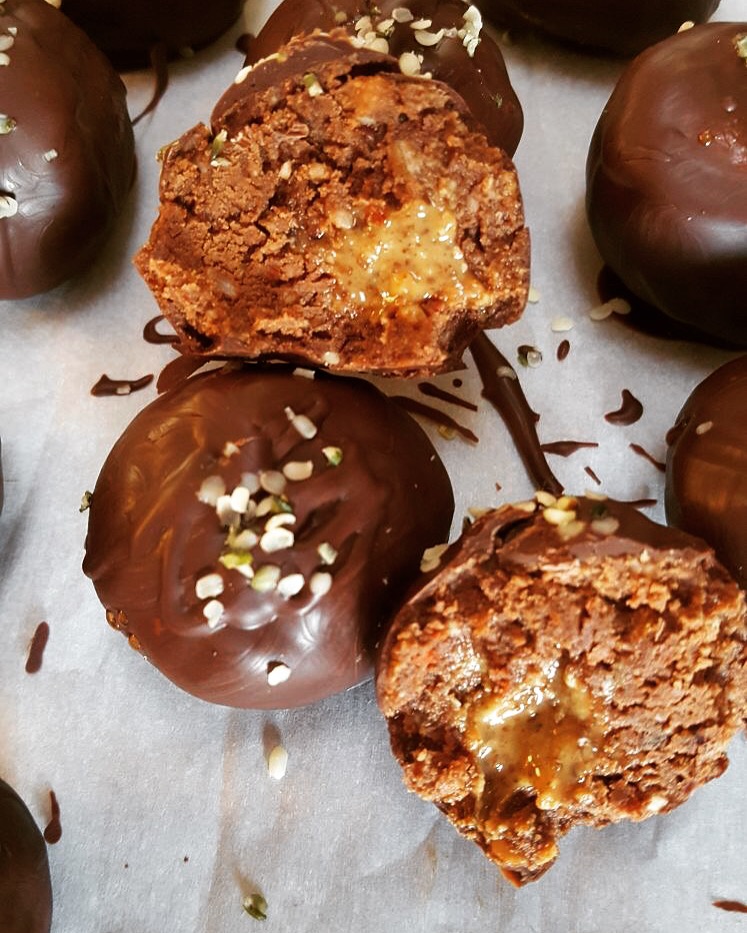 Ingredients
3 Tablespoons Creamy Peanut Butter
1 Tablespoon Almond Butter (for stuffing)
1 Tablespoon Coconut Flour
2 Tablespoons Carob or Cocoa Powder
1 Tablespoons Raw Cacao Powder (can be substituted with carob or cocoa powder)
5 Dates, pitted (soaked in warm water for 15 minutes, if dry)
1-2 Teaspoons Dry Goji Berries
1-2 Teaspoons Raw Cacao Nibs, optional
2 Teaspoons Protein Powder, I used Vanilla flavored
Maple Syrup/Coconut Milk, as needed
Handful of Raw Nuts
Dark chocolate chips, for coating
1 Teaspoon Coconut Oil
Process
Add the pitted dates, goji berries and raw nuts to a blender and blend for 30 seconds.
Now add peanut butter (3 tablespoons), coconut flour, protein powder, cacao powder, carob/cocoa powder and cocoa nibs and process for a minute or until the mixture is sticky.
Taste the mixture and adjust sweetness as needed by adding maple syrup or more dates.
Take a spoonful of mixture in your hand and roll into a ball. If the mixture doesn't hold together, add a few drops of maple syrup or coconut milk to the mixture.
Divide the mixture into 10-12 equal portions and roll into balls. Make a tiny hole in the ball using back of a small spoon or fork, and stuff the hole with almond butter. Cover the hole and place the stuffed balls in the refrigerator.
Melt the dark chocolate chips and coconut oil on a double boiler or in microwave.
Take the balls out of the refrigerator, dip each ball into melted dark chocolate and place on a plate/tray lined with parchment paper. Sprinkle with some hemp hearts and place the truffles in the refrigerator until the chocolate coating is set.
Store in the refrigerator in an air tight container.
Enjoy! 🙂
(Visited 50 times, 1 visits today)