Ever have those days when you are late from work, the weather is not supportive (read: cold, windy, rainy and/or anything but pleasant) and failed dinner plans that left you with the choice to either order in or make dinner at home? If you are in such a situation, the amount of time you'll spend ordering your food over phone and wait to receive it is way more than the amount of time and effort you'll spend in making this ridiculously easy and delicious shakshuka. Not only its easy and delicious but its loaded with nutrients and it's so satisfying, you'll want to have this every day….!! Traditional shakshuka  is made with tomatoes, bell pepper and spices (cumin, cayenne, paprika etc.), but I added spinach and kale for extra nutrients.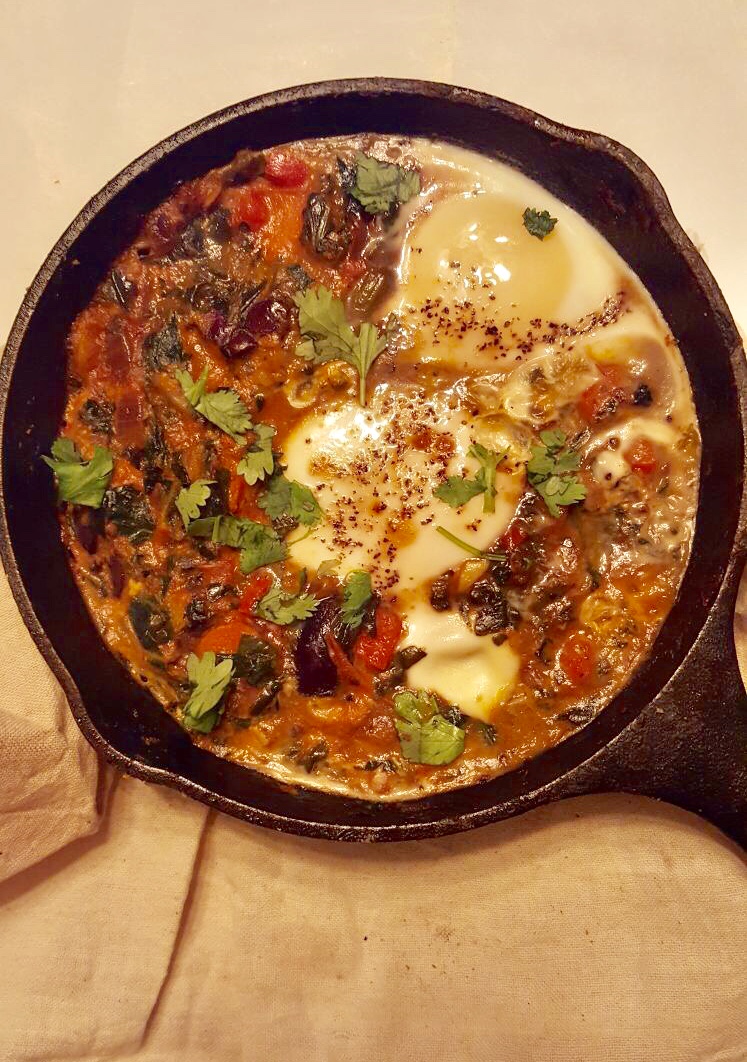 P.S The recipe below makes two servings.
Ingredients
1 Teaspoon Ghee/Coconut Oil
1 Small Onion, chopped
1 Medium Tomato, chopped
1 Teaspoon Tomato Paste or Substitute for an Additional Tomato
1/4 Cup Chopped Red Bell Pepper
1 Clove Garlic, minced
1/4 Cup Chopped Spinach (I used Frozen)
2-3 Kale Leaves, chopped
Handful of Pitted Black Olives
2 Teaspoons Harissa, optional
1/2 Teaspoon Cumin
1/4 Teaspoon Paprika
1/4 Cayenne Pepper, optional
2 Eggs
Salt to Taste
Crushed Black Pepper to Taste
Fresh Parsley, Cilantro for Garnish
Process
Heat ghee/oil in a cast iron skillet on medium high heat.
Add onions and garlic, and cook for 2-3 mins or until the onions are translucent.
Toss in tomatoes, tomato paste, bell pepper and spices; and cook for additional 5-7 minutes.
Now add the chopped kale and spinach and cook for few minutes until the kale and spinach starts wilting.
Add the chopped olives Taste the sauce and adjust seasoning as needed.
Make two small holes in the sauce and crack the eggs gently into each hole, making sure not to break the yolk. Sprinkle some crushed black pepper, and cook on medium heat for 3-4 minutes or until the whites have firmed up and yolks are still runny.
Slide the skillet into the oven and broil for two minutes or longer if you like your eggs well done.
Garnish with fresh herbs and serve hot.
Enjoy! 🙂
(Visited 54 times, 1 visits today)
Share