I am not ready to bid adieu to Summer, just yet. Zucchini has to be one of the most commonly grown and cooked vegetable during this time of the year and the fact that it can be cooked in so many different ways – zucchini noodles, zucchini bread, zucchini stir fry…. to name a few, makes it a staple summer vegetable in my house. Today's zucchini recipe calls for a handful of ingredients and fifteen minutes to give you a flavorful, power packed side dish, that can be served as is or can be incorporated in salads, omelettes etc.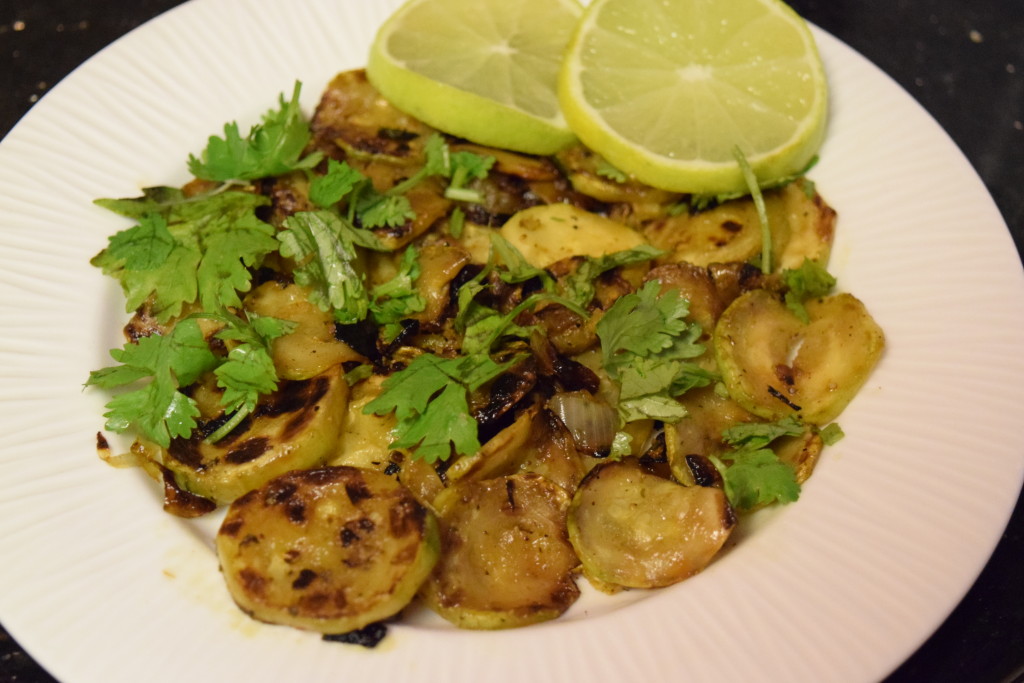 Ingredients
1 Medium zucchini (yellow or green)
1/4 Teaspoon Sea Salt
1/2 Teaspoon Italian Herbs (optional)
Pinch of Paprika
1 Tablespoon Olive Oil
2-3 Cloves Garlic, thinly sliced
2 Shallots, chopped
2-3 Tablespoons Parsley/Cilantro, chopped
Lemon, for garnishing
Process
Using a mandolin slicer or a knife, slice the zucchini into 1/4 inch rounds.
Heat the oil in a wide skillet over medium-high heat, add garlic and cook for 2 minutes or so, until it gets some color. Stir in the shallots/onions, and cook for another 2-3 minutes until they begin to soften.
Add the zucchini along with salt, paprika and herbs, stir gently to coat it with a little bit of oil and arrange in a single layer.
Cook until the zucchini is golden-brown, approx 10 minutes, stirring occasionally.
Turn the heat off and allow the zucchini to cool slightly (about 5 minutes), add Cilantro/Parsley and adjust the seasoning if needed.
Transfer to a serving dish and serve warm or at room temperature with some lemon.
Enjoy! 🙂
(Visited 17 times, 1 visits today)