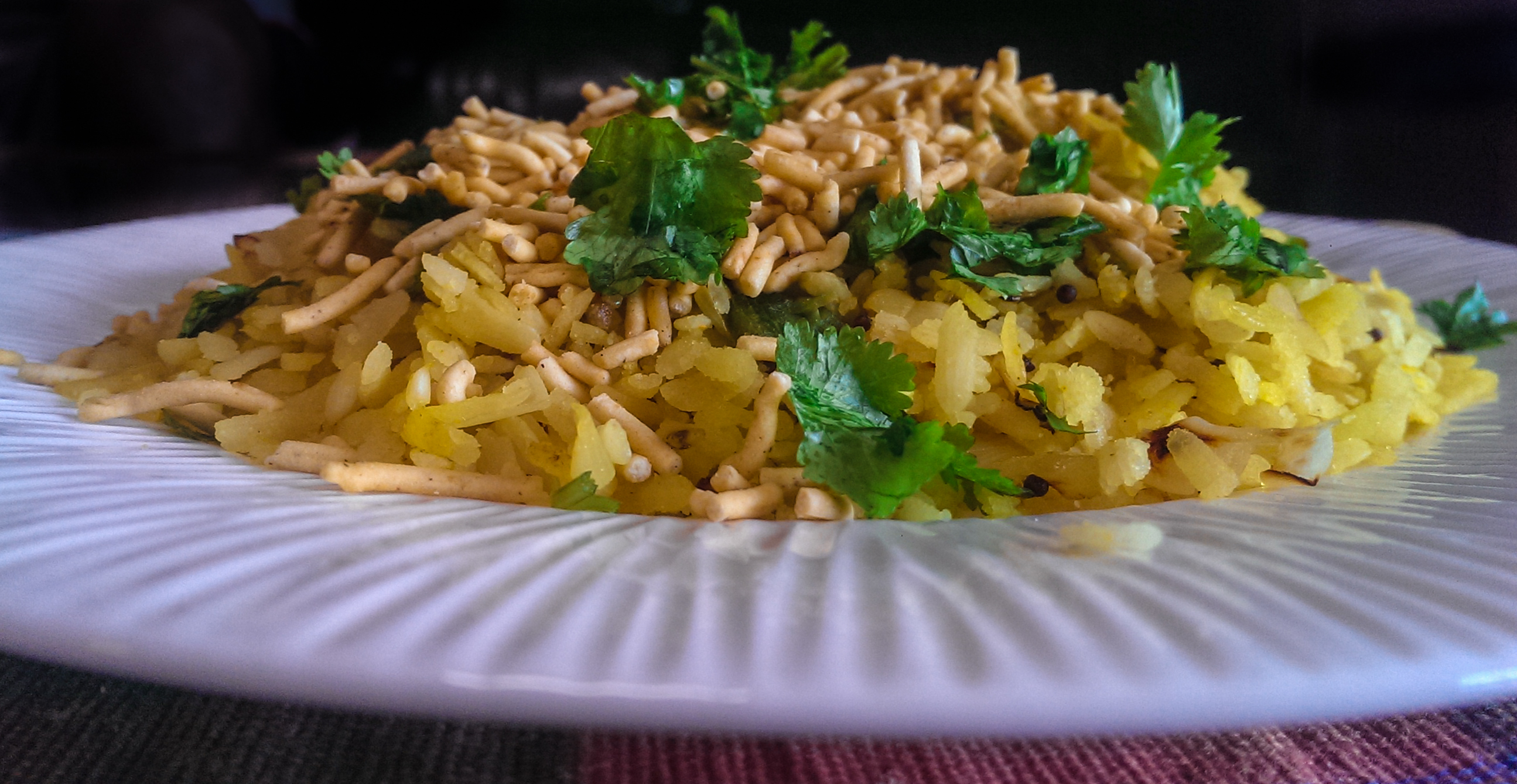 This delicious breakfast/brunch dish is a must have at my house over the weekends. Poha, made from flattened rice, is available at all Indian grocery stores and extremely easy to cook.
To prepare this delicious dish, Poha is rinsed in water and mixed with sautéed onions, turmeric, salt and green chillies for flavor. Potatoes, peas and peanuts are optional and can be added for more flavor.
Serve warm, garnished with fresh cilantro, lemon and sev.
Ingredients
2 Cups thick Poha (Flattened Rice)
1 Tablespoons Vegetable Oil
1/4 Teaspoon Black Mustard Seeds
1 Small Onion – chopped
3-4 Curry Leaves
1 Green Chili – finely chopped
1/4 Teaspoon turmeric powder
1/2 Teaspoon Salt
1 Teaspoon Lemon Juice
1 Tablespoon Cilantro – finely chopped
Optional:
1 Tablespoons Peanuts
2 Tablespoon Frozen Green Peas
1 Small boiled Potato – cubed
1 Tablespoon Sev (crunchy/spicy noodles made with chickpea flour)
Process
Rinse poha in cold water and set aside to drain. DO NOT soak poha to avoid making it mushy.
Add 1/4 teaspoon of salt and a pinch of turmeric to the rinsed poha, mix carefully with spoon.
Heat the oil in a pan. Add curry leaves and black mustard seeds for tempering.
If using peanuts, add after tempering. Else, go to the next step.
Add green chili and onion, sauté on medium heat for 5-7 mins until the onion becomes translucent.
Add remaining turmeric, 1/4 teaspoon salt and 1/2 teaspoon lemon juice. Stir and cook for few seconds.
 Add potatoes and peas and cook for 30 seconds.
Finally, add the rinsed poha and give it a good stir. Cover the lid of the pan and cook on low heat for 2 minutes. Add the remaining lemon juice.
Garnish with chopped cilantro and sev.
Serve Warm!
(Visited 29 times, 1 visits today)
Share