I have baked many chocolate cakes, and this one has to be on my top three best cakes list. It is Paleo, Gluten Free, healthy enough to be added to occasional breakfast treat with coffee/tea , processed sugar and flour free BUT it tastes exactly (if not better) than those cakes loaded with sugar and butter. This cake has an amazing dark chocolate after taste, sorta like Cadbury from 90s (who doesn't love Cadbury), it is perfectly fluffy/mousse like from inside with a crispy(ish) top layer. Toasted hazelnuts on top makes it tad-bit fancy and that nutty crunch combined with chocolat(y) flavor is so worth waiting 45 minutes for this cake while its baking. The effort and ingredients list is minimal, there are no fancy, hard to find ingredients. Even though, coconut flour and coconut milk are two most important ingredients, the cake does not have any potent coconut flavor! If you love chocolate, this is the cake for YOU.
I hope you make it and love it as much as I do . S, xx
P.S. You can double the recipe to make a 9″ cake.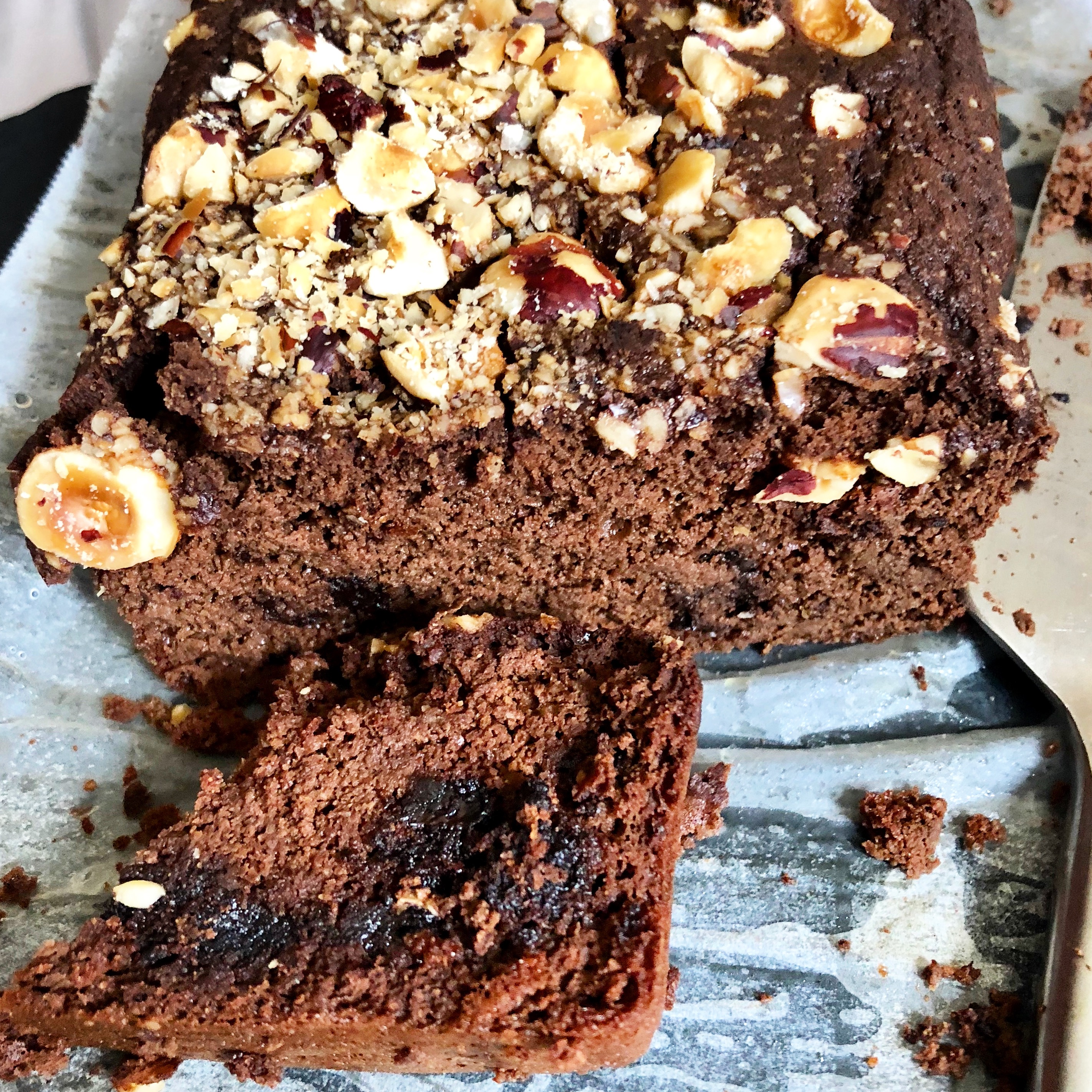 Ingredients
1/4 Cup Coconut Flour
2 Tablespoons Almond Flour
1 Teaspoon Baking Powder
1/4 Cup Cacao or Cocoa Powder
2-3 Tablespoons Dark Chocolate Chips
1 Cup Coconut Milk (I used Canned)
4 Tablespoons Manuka Honey or Pure Maple Syrup
2 Eggs, room temperature
1 Teaspoon Pure Vanilla Essence
1/4 Teaspoons Cinnamon
Handful of Roasted Hazelnuts, crushed or finely chopped
Pinch of Salt
Pinch of Instant Espresso Powder. optional
Process
Preheat the oven to 350 F, line a 7X3 Loaf Pan with parchment paper and set aside.
Combine all the dry ingredients (Almond flour, coconut flour, salt, cacao powder, cinnamon, espresso powder (if using) and baking powder together and set aside.
In a medium mixing bowl, add eggs, honey or maple syrup, coconut milk and vanilla. Mix everything together using a mixer or a spatula.
Add the dry ingredients to the bowl and mix gently until combined (do not over mix). Fold in the chocolate chips.
Pour the batter in the prepared pan, spread crushed hazelnuts on top. Tap the pan on the counter top to get rid of any air bubbles.
Bake the cake for 45 mins or until a toothpick inserted comes out clean.
Let the cake cool down to room temperature before taking it out of the pan.
Enjoy! 🙂
(Visited 46 times, 1 visits today)