While it may be super easy to buy a snack or breakfast pastry from a cafe/ grocery store, it is far more easy and satisfying to make healthy treats at home. This cake adapted from Paleo Running Momma comes together in a bowl and requires a handful of delicious/healthy ingredients. It is Paleo, gluten and dairy free, and can be made Keto friendly. I replaced pecans with Hazelnuts since i was out of Pecans and we also love Hazelnuts more than pecans. I added pepitas and hemp hearts to the crumb topping on top for some extra crunch and protein. You can find the Original Recipe here.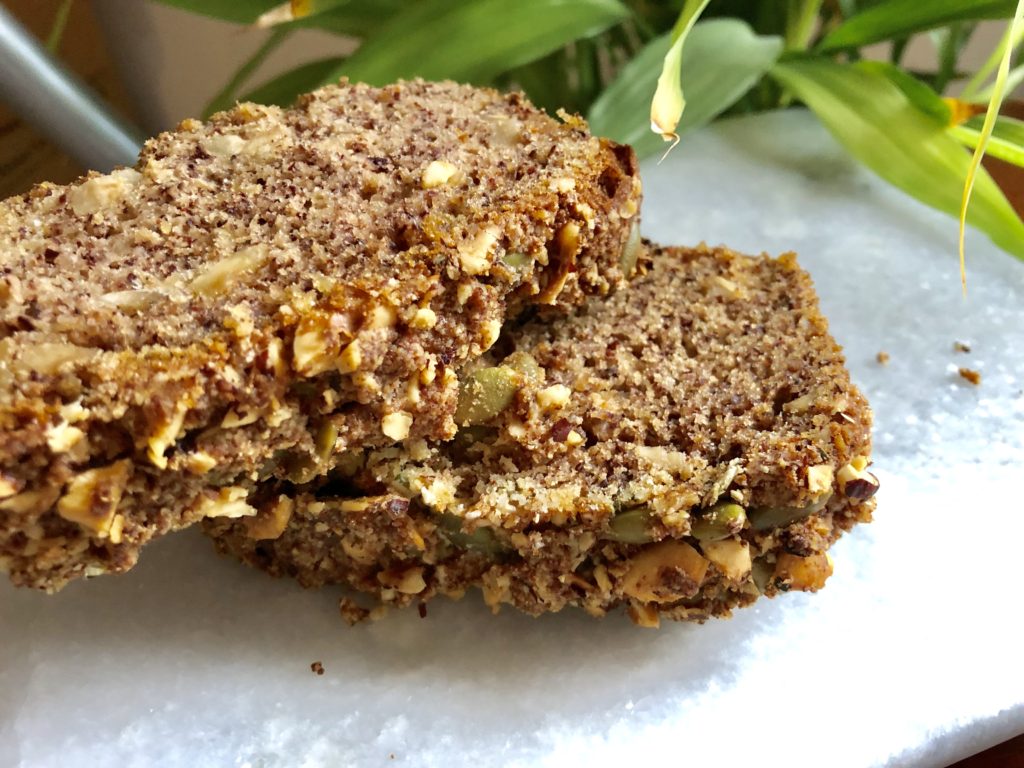 Ingredients
2 Cups Almond Flour
1/4 Cup Tapioca Flour
3/4 Teaspoon Baking Soda
1 Teaspoon Ground Cinnamon
1/2 Teaspoon Ground Ginger
1/4 Teaspoon All Spice
Pinch of Sea Salt
3 Eggs, at room temperature
1 Small Orange, Zest and Juice
1/4 Cup Coconut Oil, melted
4-5 Tablespoons Pure Maple Syrup or Monk Fruit Sweetener (to make it Keto)*
1 Teaspoon Pure Vanilla
1/3 Cup Hazelnut, chopped
For Crumb Topping:

1-2 Tablespoon Ghee or Butter
2 Tablespoons Cinnamon,
1 Tablespoon Almond Flour
1 Tablespoon Pepitas
1 Tablespoon Hemp Hearts
2-3 Tablespoons Chopped Hazelnuts
1-2 Tablespoons Coconut Sugar (or Monk Fruit Sweetener to taste)
Process
Pre-heat the oven to 350 F, line 5X7 baking pan with parchment paper and set aside.
In a small bowl, add all the crumb topping and using your hands or forks mix everything together. The mixture should resemble the texture of coarse sand. Let this mixture rest in the fridge.
In a medium bowl, mix all the dry ingredients together (almond flour, tapioca flour, all spice, ground ginger, cinnamon and baking soda), and set aside.
In a large bowl, combine eggs, Orange zest/juice, maple syrup, vanilla and melted coconut oil.
Stir the wet mixture into the dry mixture, gently fold in chopped hazelnuts and pour the batter into the prepared pan.
Spread the crumb topping on top and bake for 30-35 mins approx. or until a toothpick inserted in the center comes out clean.
Let the cake cool completely before serving.
Enjoy! 🙂
(Visited 41 times, 1 visits today)