Happy New year, friends!
First of all, I am very sorry for going MIA. I got so occupied with holidays and a long overdue vacation to India that everything else got sidelined. Now that that's out of the way, I'm ready to share some finger licking delicious and nutritious recipes that are easy to make and are super budget friendly. If you have been following this blog and CulinaryBee  on Instagram, you know that I am all about easy to make, fuss free healthy recipes. Today's recipe is just that, easy to make,  wallet friendly, loaded with nutrition and flavor. It is also Vegan and Gluten Free. Before you get intimidated by the list of ingredients and the process, just know that these are all common pantry items and the recipe is highly customizable. You can add/ substitute any veggies you have on hand. Just have fun and add your own signature touch to the recipe.  I am sure once you've made this curry, you'd never want to order that take out again.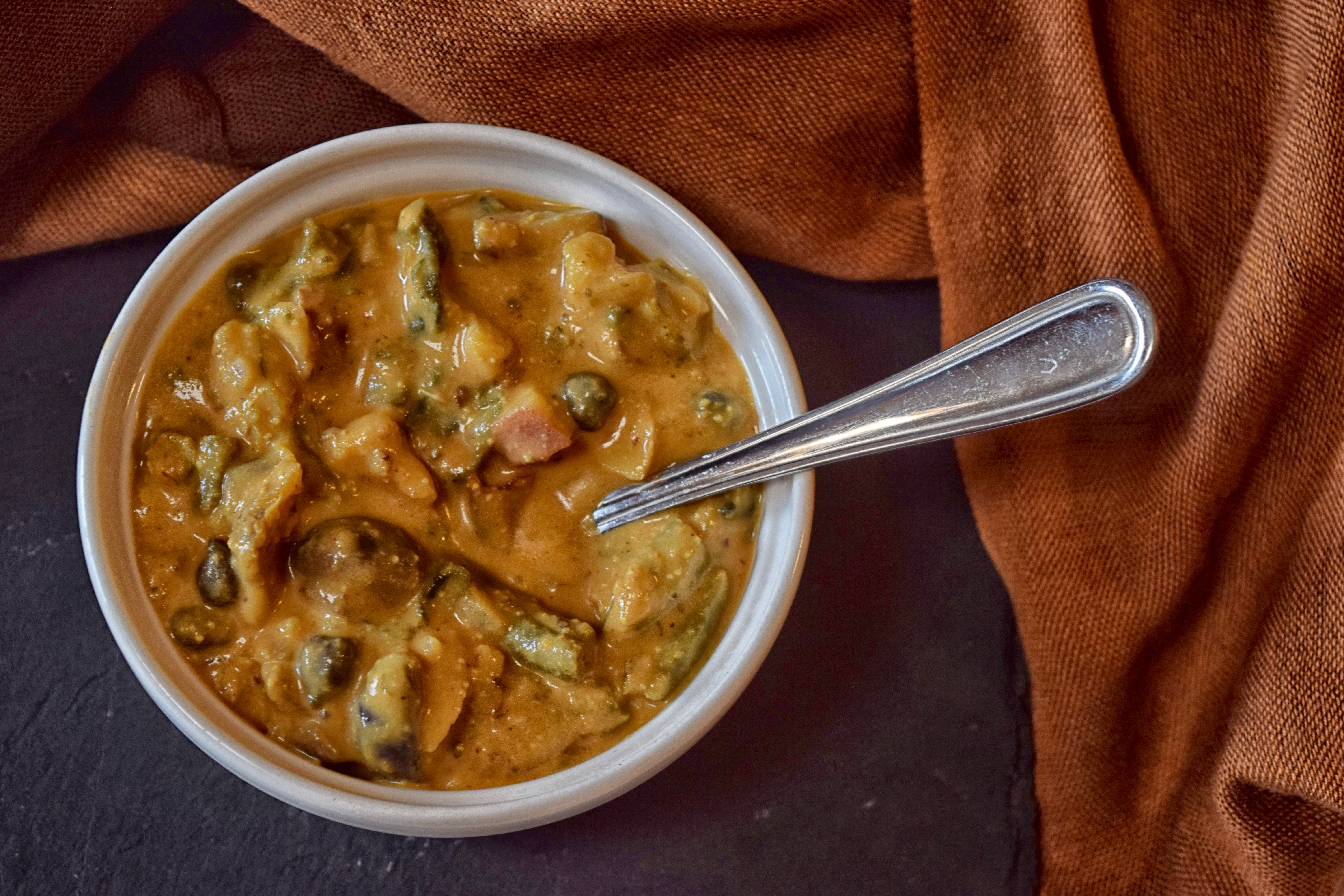 Ingredients
1 Teaspoon Coconut Oil
2 Cloves
1 Small Cinnamon Stick
1-2 Dried Red Chilies
1/4 Teaspoon Mustard Seeds
1/2 Teaspoon Cumin Seeds
1/2 Teaspoon Coriander Seeds
1 inch Fresh Ginger
1-2 Clove Fresh Garlic
1 Tablespoon Poppy Seeds
1/2 Teaspoon Turmeric Powder
Salt to Taste
1 Small Onion, chopped
1 Teaspoon Tomato Paste or 1 Small Tomato, chopped
1/2 Cup Mushrooms, chopped
1/2 Cup Fresh Spinach, chopped
1 Small Zucchini, chopped
2-3 Small Potatoes or 1 Medium Potato, cut in quarters
** 1/2 Cup Frozen Cauliflower Florets
** 1/4 Cup Frozen Cut Green Beans
1 Cup Full Fat Coconut Milk
Juice of a Fresh Lemon
1/2 Teaspoon Dried Fenugreek Leaves
Cilantro for Garnish
Process
Grind mustard seeds, coriander seeds and cumin seeds in mortar pestle or a grinder and set aside.
Add ginger, garlic, poppy seeds and 2-3 tablespoons of water to a blender or food processor and make a paste. Set aside.
Heat oil in a pan on medium heat, add dried red chilies, cloves, cinnamon stick and ground mustard, cumin and coriander seeds (from step 1).
Saute for a minute, add chopped onions, turmeric and salt. Cook for 2-3 minutes until the onions are translucent and the raw aroma of spices and the onions has disappeared.
Add the tomato paste and ginger + garlic + poppy seeds paste. Add 1/2 Cups water and mix everything well. Cover and cook the mixture for 2-3 minutes.
Now add chopped potatoes, cauliflower and green beans. Cover and cook on Medium-Low for 4-5 minutes. Add more water if the mixture is sticking to the bottom of the pan.
Once the potatoes are cooked half way through, add spinach, mushrooms, zucchini and 1/2 Cups water. Cover and cook for 5-7 minutes or until the veggies are cooked as desired.
Add lemon juice, coconut milk and stir gently. Cover and cook for a minute.
*Taste the curry and adjust seasoning as needed. I always have to add extra salt towards the end as I don't add enough in the beginning. Add a pinch of red chili for extra spicy.
Rub the dried fenugreek leaves between your palms and sprinkle on the curry. Stir gently.
Garnish with cilantro and serve as desired.
* Add more water to adjust the consistency, red chili and cumin/coriander powders for extra heat. You can also add tofu/chicken/shrimp etc. for extra proteins, if desired.
** You can also use fresh cauliflower and/or green beans. Keep in mind that the cooking time will vary.
Enjoy! 🙂
(Visited 48 times, 1 visits today)