I always try to incorporate variety of carbs in my meals that are healthy and unprocessed, after-all carbs are one of the most important macro nutrients responsible for providing us energy.  Not all carbs are created equal and the type of carbohydrates we consume is more important than the amount. I mean, I do have bread, white rice etc. once in a while but for my daily carbs  intake, I am more dependent on fruits, veggies, lentils and beans that along with healthy carbs are also full of fiber and other nutrients. Lentils, chickpeas, peas and beans are also considered as a great source for belly-fat loss. I also love adding spinach to all my food.  It is overflowing with proteins (49% of Spinach is Proteins) promoting post-pump muscle recovery and growth. The more muscle mass you have, the more calories you burn at rest!
Today's recipe of Masala Peas with Spinach and Baby Potatoes is filled with nutrients and makes for a perfect side or main course. It is also delicious in sandwich or wrap with spicy sauce (optional). It takes less than fifteen minutes to make and is a great make ahead option for weekday meals.
Happy Cooking! xx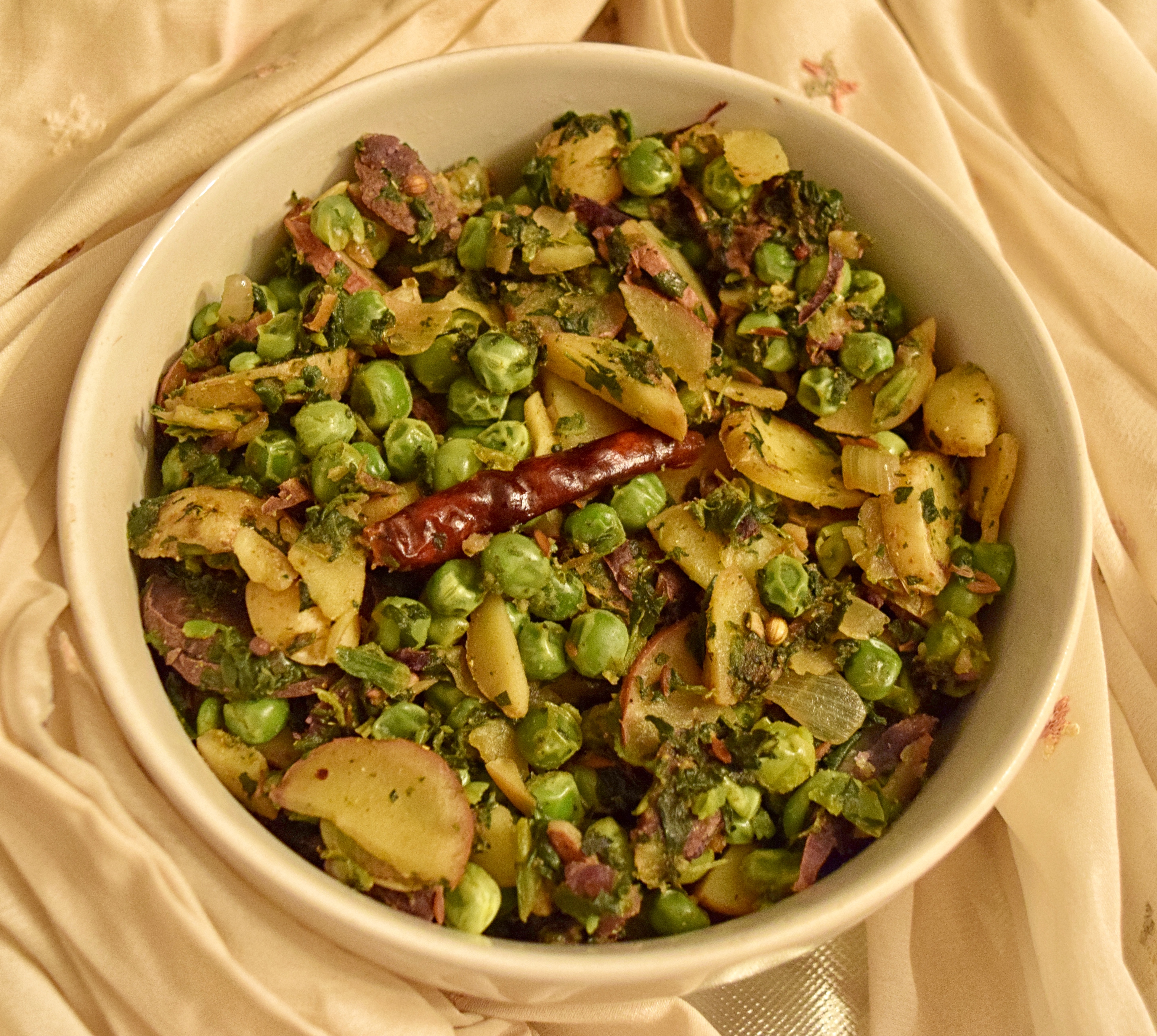 Ingredients
1 Shallot or Small Onion, chopped
1 Cup Frozen or Fresh Green Peas
2-3 Baby Potatoes, chopped
1 Cup Frozen or Fresh Spinach
1 Clove Garlic, minced
1/4 Teaspoon Mustard Seeds
1/4 Teaspoon Cumin Seeds
1 Dried Red Chili
1/2 Teaspoon Turmeric
1/2 Teaspoon Cumin Powder
1/2 Teaspoon Coriander Powder
1/2 Teaspoon Dried Mango Powder/Amchur
1/4 Teaspoon Paprika/Red Chili Powder
1 Teaspoon Coconut Oil or Ghee
Salt to Taste
Lemon Juice to Taste, optional
Process
Heat oil in a pan and add mustard seeds, cumin seeds and dried red chili for tempering.
Saute chopped shallot and garlic, cook for 1-2 minutes or until the raw aroma of garlic and shallots has disappeared.
Add dried spices (cumin powder, coriander powder, turmeric, paprika, amchur and salt) and stir to combine.
Now add the frozen green peas, potatoes and spinach, and stir everything well. Reduce the heat to medium-low, cover and cook (stirring halfway through) for a total of 8-10 minutes or until the potatoes are cooked through. You can add a tablespoon of water if the mixture is dry and sticking to the pan.
Adjust the seasoning if needed, add extra lemon juice. Serve as desired.
Enjoy! 🙂
(Visited 29 times, 1 visits today)