Lentils are my favorite source of vegan protein. In addition to being a great source of fiber, vitamins, proteins and other nutrients, they taste delicious and can be cooked in so many ways. Lately, I've been obsessed with these lentil fritters/balls that can be served as an appetizer with a side of sauce or can be simmered in a spicy/ flavorful broth/sauce for vegan lentilballs curry (served with naan, chapati or rice). I have also been using them a lot in my Buddha bowls with greens, probiotics (Sauerkraut), tahini dressing, etc., and also stuffing them in wraps/sandwiches. One batch lasts me a week at-least and left overs tastes even better. The best part about these lentilballs is that they are baked and yet they are super crunchy from the outside and tender from inside just like their fried counterpart.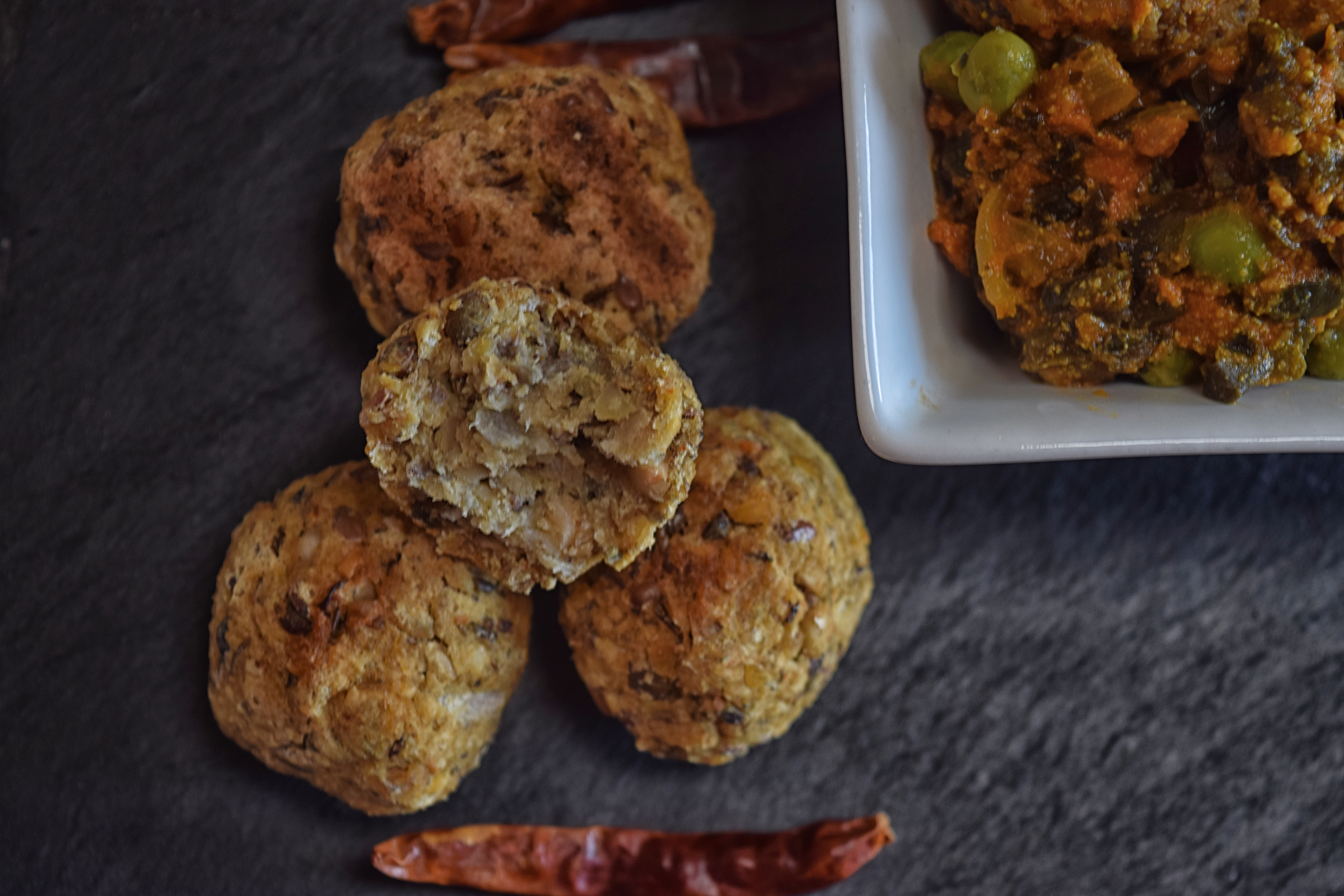 Ingredients
4 Tablespoons French Green Lentils
4 tablespoons Black Lentils
4 Tablespoons Yellow Gram Lentils (Chana Daal)
1/2 Cup Cooked Chickpeas, drained
2 Cloves Garlic
1 Carrot, chopped
1 Inch Fresh Ginger, peeled and grated
2 Dried Whole Red Chilies or Red Chili Powder
1 Teaspoon Cumin Powder
1-2 Teaspoons Dried Mango Powder
Lemon Juice to Taste, optional
Handful of Fresh Herbs (Cilantro, parsley, Mint), optional
Salt to Taste
1 Small Onion, chopped
Handful of broken Raw Cashews or Almonds
1 Tablespoon Flax Seeds
1 Teaspoon Coconut Oil
Process
Wash lentils (green, black and gram) and soak in water for at-least 3 hours.
Preheat the oven to 375 F, line a baking sheet with parchment paper and set aside.
Drain the lentils and add to a food processor, along with the rest of the ingredients except raw cashews/almonds and process till the mixture is coarse and holds together. Do not make a paste.
Now add the broken raw cashews/almonds, form the mixture into 1 inch balls and arrange on the prepared baking sheet.
Bake for 30 minutes or until the inside is cooked through and the outside is golden brown with a crunchier texture.
Let the meatballs cool. Serve as desired.
Enjoy! 🙂
(Visited 49 times, 1 visits today)