I am a huge proponent of a healthy and nutritious breakfast. When I was in grad school, I skipped breakfast almost everyday, ate bagel or muffins for lunch followed by random fruits or carbs for dinner. My meals were totally screwed up and even though I used to work out regularly, I never felt energetic and strong. Towards the end of the day, I was a lethargic mess. My daily routine got worst when I started a traveling job, most of the times I was dependent on room service, nearby restaurants or office cafeterias for my meals and could barely focus and function. I am sure, if you are familiar with the consulting world or if you travel for work on a regular basis, you would relate to my frustration and health woes. The day I quit my traveling job and joined a company that didn't require me to travel and value my work life balance, I made a commitment to myself, to eat healthy, home cooked and balanced meals and pay attention to my body, my overall health and fitness; and that was when I started this blog. I started cooking simple meals at home with organic, fresh ingredients and noticed the difference in just few weeks. Once I started paying attention to my meals, not only did I feel super healthy, fit and happy, but also I could feel the difference in my hair, nails and skin. In short, radiant and strong. I can't stress enough on the importance of a balanced, home cooked meal. It takes minimal effort, its budget friendly and is so much more satisfying.
This sweet potato, garlic kale and quinoa bowl is very easy to make and super nutritious too. I just put together a bunch of leftover ingredients/cooked food, topped it with fresh avocado, boiled egg, hot sauce and voila!! It is a perfect brunch or anytime bowl! You can Bake the sweet potato, make quinoa and kale, a few days in advance. Be creative with whatever you have on hand and treat yourself to a fulfilling and delicious meal.
Have a lovely weekend! xx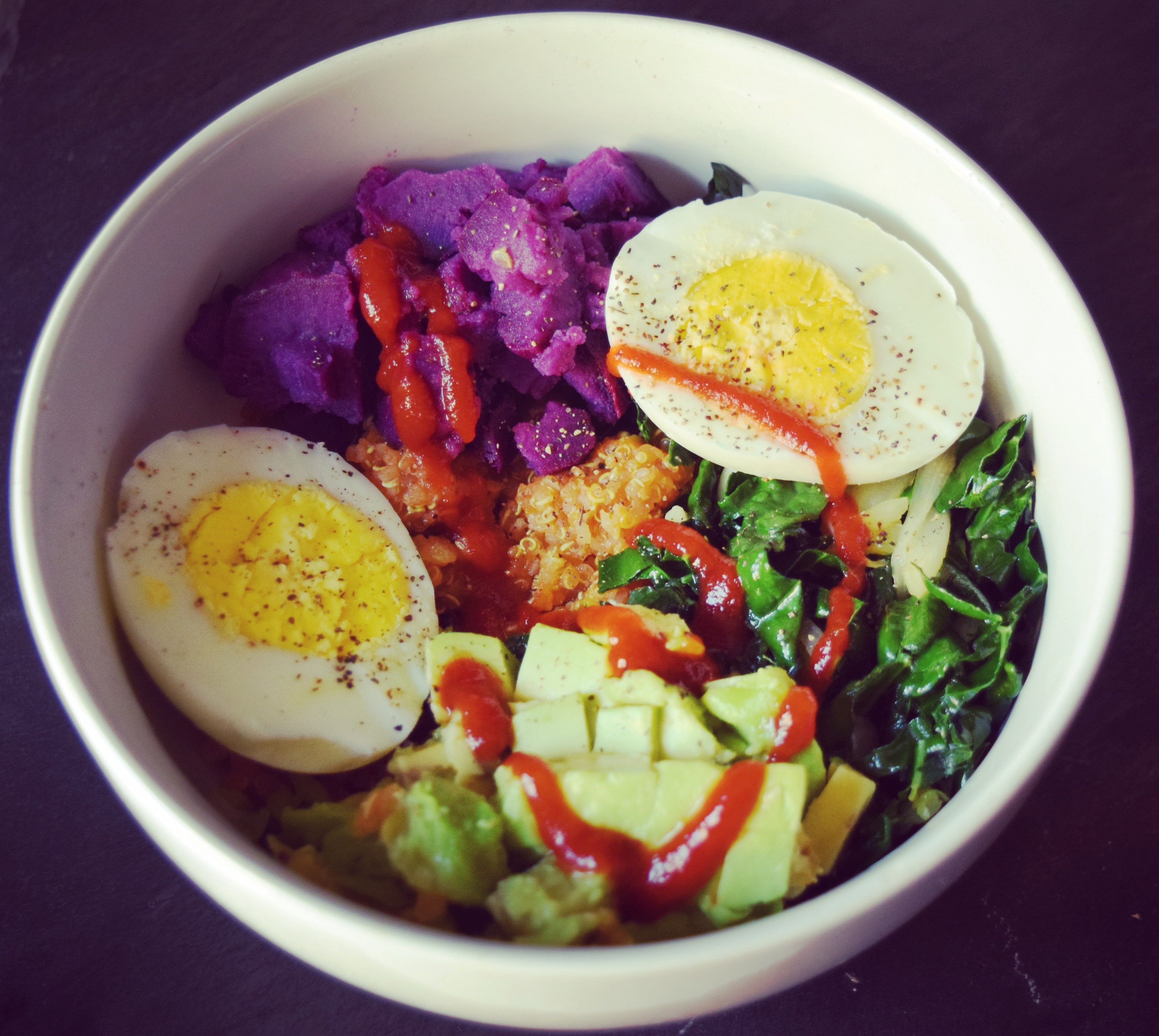 Ingredients (Serves 4)
1 Cup Quinoa, cooked (I cooked mine with mixed veggies)
1 Medium Sweet Potato
1 Cup Kale, washed and chopped
2 Cloves Garlic, minced
1 Small Onion, chopped
1 Teaspoon Organic Coconut Oil
2 Avocados, chopped
4 Eggs, boiled
Salt and Pepper to Taste
Hot Sauce of choice, optional
1 Tablespoon Pepitas
Process
Bake the sweet potato at 400 F for 30-35 minutes. Let cool completely, remove the skin, chop and set aside.
Heat oil in a pan, add garlic and onions and cook on medium heat for 1-2 minutes, or until translucent.
Add kale, salt and pepper, cover and cook for 3-4 minutes or until the Kale is wilted. Set aside.
Divide Quinoa in four serving bowls, and top each bowl with baked sweet potatoes, garlic kale and chopped avocados.
Add a boiled egg to each bowl, drizzle your favorite hot sauce and some pepitas for extra crunch. Serve immediately.
Enjoy! 🙂
(Visited 26 times, 1 visits today)