My favorite breakfast on any given day is a bowl of warm oatmeal loaded with all the yummy toppings – nuts, seeds, nut butter, berries etc. If for any reason I am unable to eat oatmeal for breakfast, I turn to my next favorite – frittata. I am not a huge fan of fried eggs or omelettes, but frittata is a whole different story. I love to add plenty of veggies and herbs, unlike the traditional recipe this has more veggies to eggs ratio. There are countless flavor/vegetable combinations to make frittata, so feel free to add any vegetables of your choice.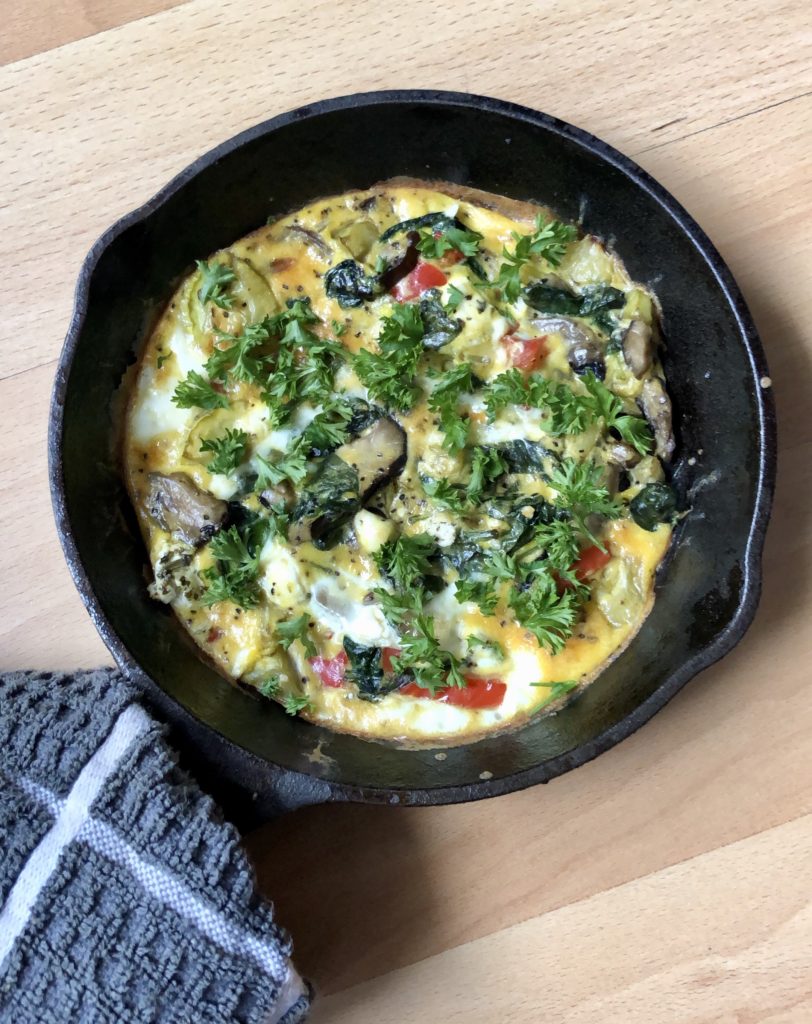 Ingredients
1 Egg
1 Teaspoon Plain Yoghurt
1 Small Garlic Clove, minced 1 Small Shallot, chopped
Handful of Fresh Spinach
3-4 Fresh Mushrooms, chopped
2 Tablespoons Red Bell Pepper, chopped
1-2 Teaspoons Goat Cheese
1 Teaspoon Butter or Cooking Oil of choice
Handful of Fresh Herbs (Chives, Parsley, Sage), chopped
Salt and Pepper to taste
Process
1. Preheat the oven to 350 F.
2. Whisk the egg, salt, pepper and yoghurt in a small bowl, set aside.
3. Add butter/oil to a 5″ cast iron pan over medium heat, saute garlic and shallots for 1-2 minutes or until the mixture is fragrant.
4. Now add mushrooms, bell pepper and spinach, cook for 1 minute or until the spinach is wilted.
5. Add the egg mixture to the pan, sprinkle cheese and gently stir to mix everything. Add additional goat cheese on the top (if desired).
6. Turn off the heat and transfer the pan to the pre heated oven for approximately five minutes or until the frittata is puffed (the center will be slightly jiggly).
7. Sprinkle fresh herbs and serve right away.
Enjoy! 🙂
(Visited 52 times, 1 visits today)