Sometimes it is so convenient to open the refrigerator and find food that's ready to be heated and devoured. Few hours of meal prep over the weekend is always worth the effort when you get home after long day at work and don't have to stress about cooking and preparing the dinner. These edamame burgers are so easy and delicious, and they make for a perfect weekday lunch or dinner. you can add them to salads or make Buddha bowls by adding quinoa/grains and some greens/fresh veggies. And if that is not enough, these burgers are an excellent source of proteins, fibers and healthy fats. It took me 15 minutes including prep time to make these burgers.
Happy Cooking! xx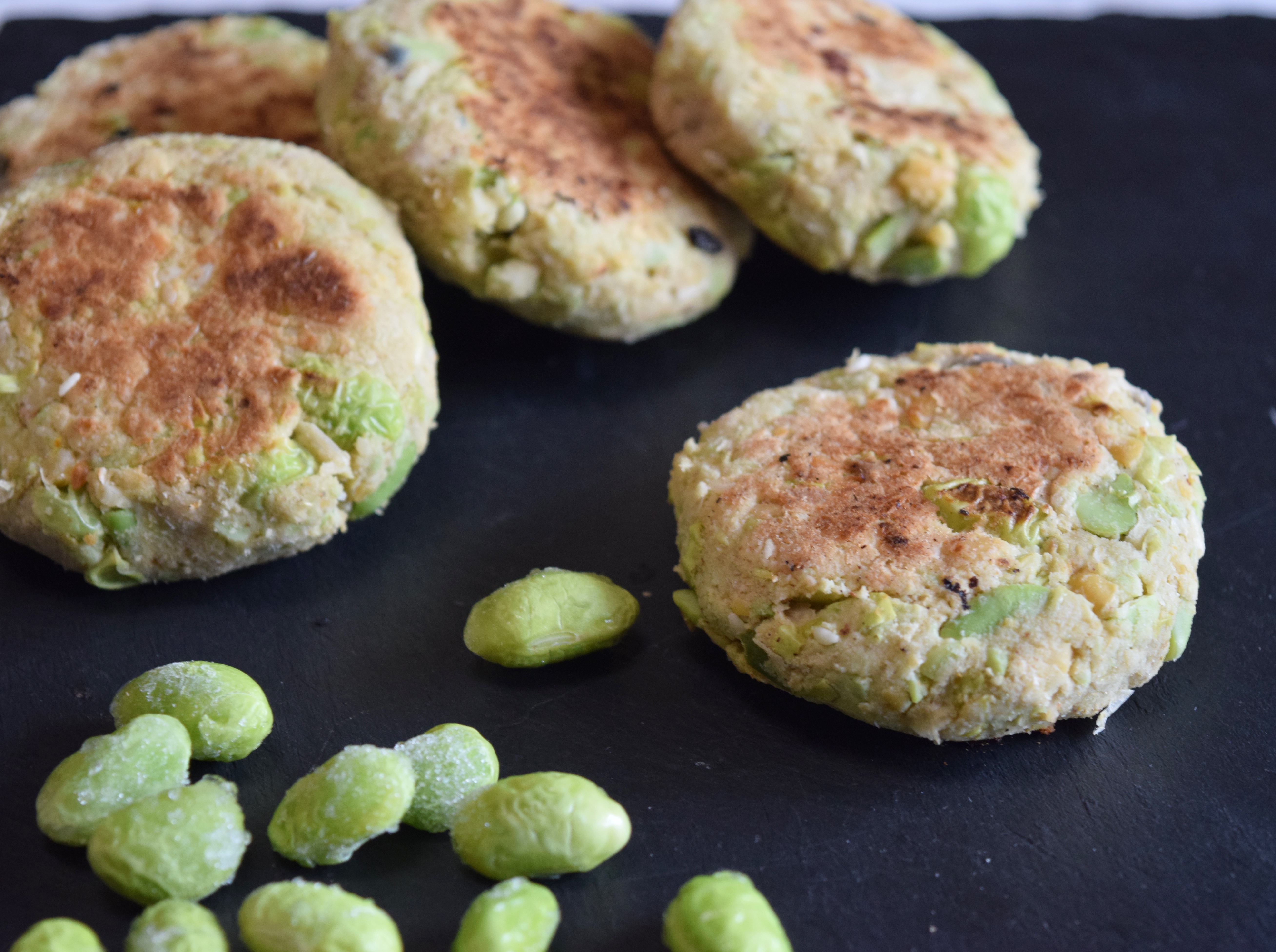 Recipe below makes 10 – 12 burgers
Ingredients
1 Cup Shelled Edamame, steamed
1 Cup Chickpeas (canned/cooked), washed and drained
1 Tablespoon Tahini
1 Clove Garlic
1 Small Shallot, chopped
1 Green Chili, optional
Handful of Fresh Cilantro or Parsley
1/2 Teaspoon Cumin Powder
Salt and Pepper to Taste
Sesame Seeds, optional
1 Tablespoon Coconut Oil (to cook the burgers)
Process
Mix all the ingredients (except sesame seeds and oil) to a food processor and processor until everything is well combined (don't make a paste). Few pieces of shelled edamame or chickpeas are fine.
Taste the mixture and adjust seasoning as needed.
Divide the mixture into 10-12 equal portions and form into patties. Roll the patties into sesame seeds.
Heat oil in a non stick pan, and cook the burgers on medium heat for 3-4 minutes on each side.
Let the burgers cool completely before storing them in an air tight container in the refrigerator.
Serve as desired.
Enjoy! 🙂
(Visited 36 times, 1 visits today)