As much as I love chowder, I never liked heavy cream in my food and hence I could never have my favorite soup. But since, I love corn chowder so much and it is the peak season to get the fresh corn, I decided to try making it without any butter, heavy cream and roux. As it turns out, you really don't need any butter, heavy cream and all purpose flour to make a delicious, rich and creamy chowder. This is perhaps the best chowder I have ever had.  You may find it hard to believe that something so (seemingly) fun-less could be so good, but trust me, it truly is. Its not just delicious but it will also not make you curl up in a food coma, without causing any bloating or stomach aches.
This soup has the perfect balance of sweet and savory flavors, is nutritious, and makes an ideal light lunch or dinner along with some salad or  a sandwich.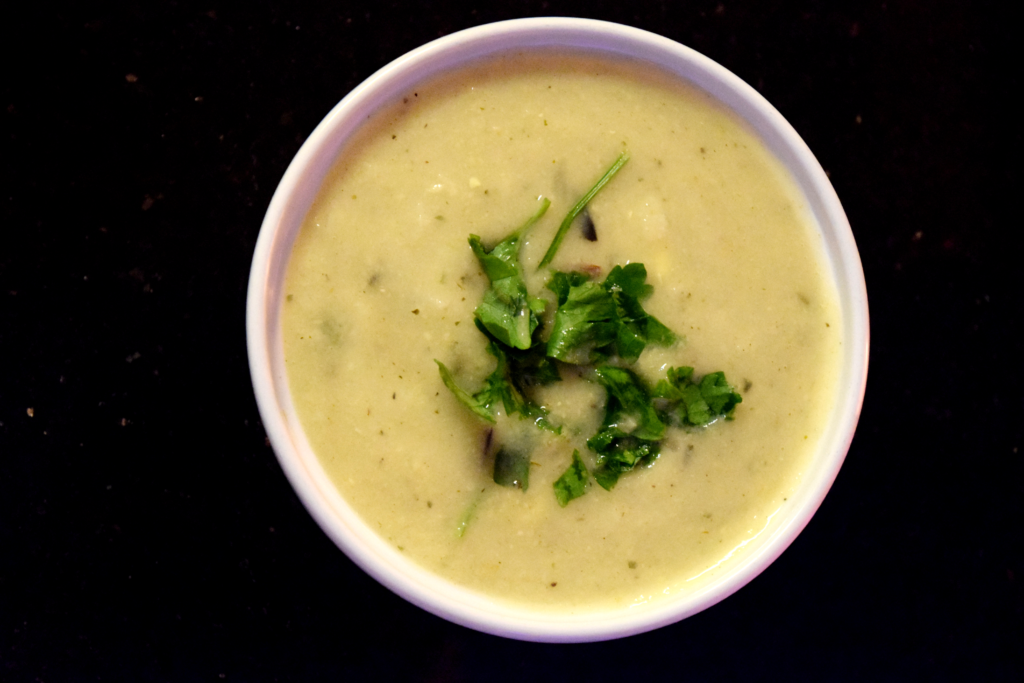 Ingredients
1 Teaspoon Olive Oil
1 Small Onion, chopped
2 Garlic Cloves, minced
2 Cups Low Sodium Organic Vegetable Broth
1/2 Teaspoon Dried Thyme
Salt and Pepper to Taste
1 Cup Corn
2 Small Red Potatoes, chopped
Process
Heat oil in a shallow pan and Saute' onion and garlic for about 3-4 minutes or until fragrant.
Add chopped potatoes, salt, pepper and thyme. Cover the pan and let the potatoes steam for about 5 minutes or until slightly tender.
Add the corn and the broth to the pan and mix well. Cover the pan and bring to a slow boil.
Reduce the heat and cook covered for additional 5-7 minutes or until the potatoes are cooked through.
Turn the heat off and add 3/4 of the soup to the blender. Blend until smooth. (You can also use an immersion blender).
Transfer the soup back to the pan, mix well with the remaining soup and bring to a simmer on medium heat, for about 5-6 minutes. Taste and adjust the seasoning if needed. Serve as desired.
Enjoy! 🙂
(Visited 41 times, 1 visits today)