Happy Spring, you guys!
Now that the weather is finally warm, flip flops are out and BBQ plans are being made, it is a perfect time to introduce you guys to this Raw Chocolate Tartufo! It is every bit decadent and rich like any dark chocolate ice cream minus the sugar and other processed ingredients. It is Vegan and Gluten Free. Also, I dare you to not eat it right outta blender before freezing it…. I started off with ingredients to make six servings but only three servings made way to the freezer. It comes together in a blender, I used silicone muffin cups to freeze them as they are easy to use. You can use muffin pan with liners and that would work equally well. The recipe is from "Unconventional Baker". Below is my version with few modifications.
Hope you make it and enjoy it as much as I did. xx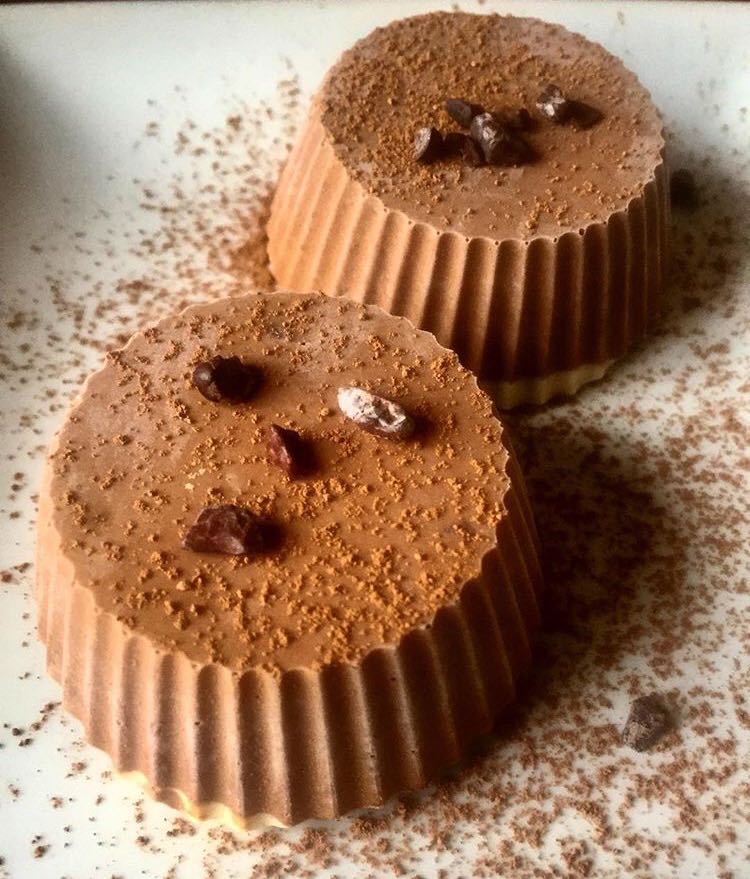 Ingredients
1/2 Cup Raw Cashews, soaked in water overnight or for few hrs
4 Tablespoons Coconut Milk
2 Tablespoons Coconut Butter
2 Tablespoons Cacao Butter, melted
1 Teaspoon Pure Vanilla
Pinch of Sea Salt
2 Tablespoons Raw Cacao Powder
3 Tablespoons Pure Maple Syrup (more if you like it sweeter)
Toppings – Cacao Beans, Melted Dark Chocolate, Cacao Nibs, Cacao Powder etc.
Process
Strain the cashews. Add all the ingredients for Tartufo, except raw cacao powder to a blender and blend until smooth and creamy.
Pour 1/3 of the mixture into a small bowl and set aside.
Add the cacao powder to the remaining 2/3 mixture and blend to combine. (If you prefer you can divide the mixture into half. I like more chocolate hence I added cacao powder to 2/3 mixture).
Pour the chocolate mixture evenly among 6 silicone molds, pour the remaining vanilla mixture on top of each of the molds.
Let Tartufo set in the freezer for a few hours (mine was ready in 4 hours) or overnight.
Dust it with cacao powder, sprinkle toppings just before serving.
Enjoy! 🙂
(Visited 18 times, 1 visits today)
Share