I have been making these chocolate fat bombs once a week (sometimes twice a week) for snacking during the day or whenever I feel the need for some extra fuel to get through the day. They make for an excellent pre/post workout snack and require minimal effort/time to make. There are many ways to make chocolate fat bombs, for this recipe I have used a combination of cacao butter, coconut oil and almond butter for fats, hint of maple syrup for sweetness, raw cacao powder and a handful of dark chocolate chips (80% or more cocoa). Mixture comes together in a single bowl/sauce pan and is then poured into mini cupcake liners, sprinkled with extra toppings (pepitas, hemp hearts, cacao nibs, sea salt etc.) and is left to set in the freezer for a few hours. I also add a pinch of instant espresso powder to elevate the chocolate flavor but it is totally optional. Use this recipe as a template and play around with the toppings of your choice.
Hope you enjoy making and eating these mini treats as much as I do. xx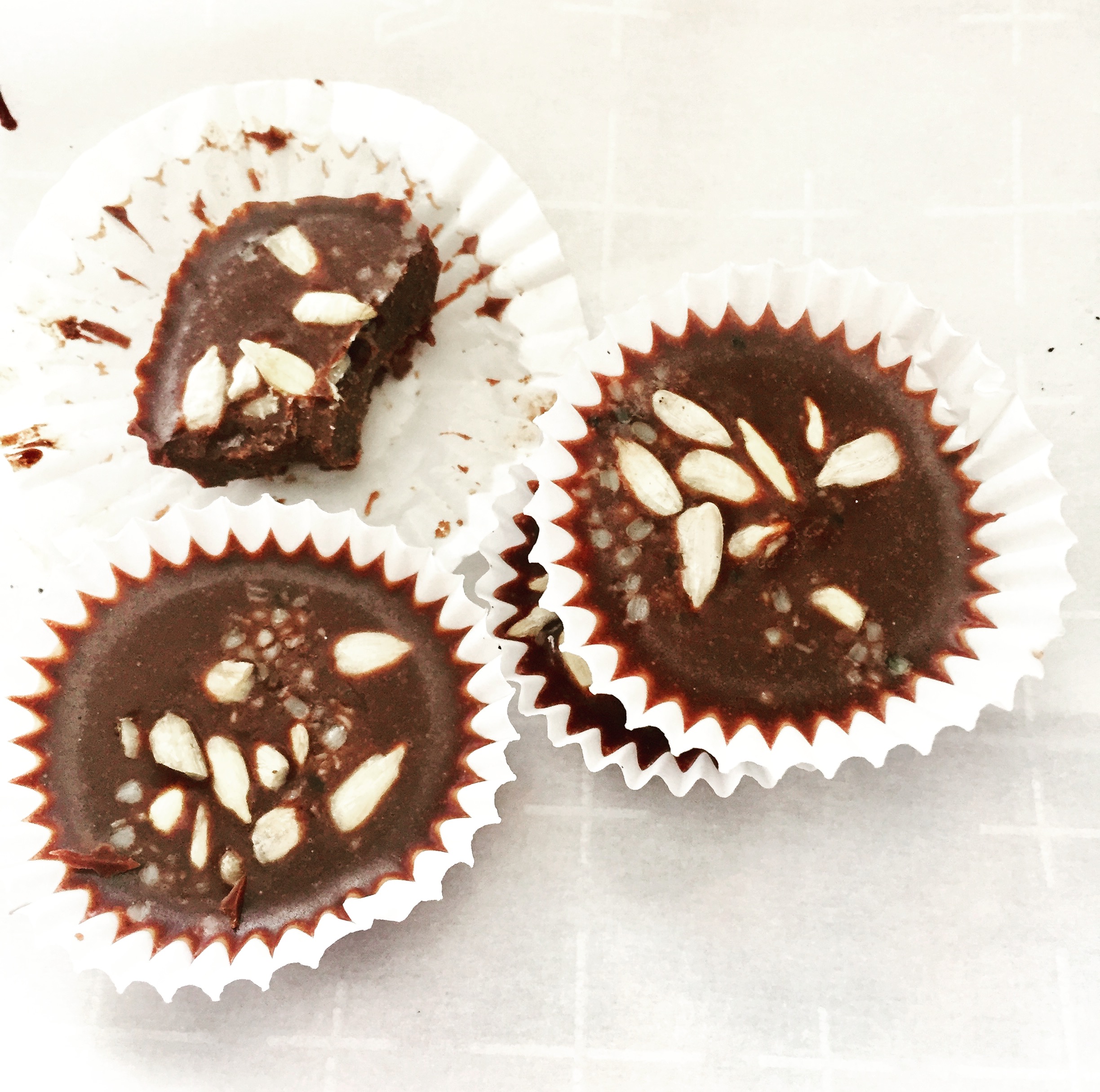 Ingredients
2 Tablespoons Cacao Butter
2 Tablespoons Coconut Oil
2 Tablespoons Creamy Almond Butter
2 Tablespoons Raw Cacao Powder
1 Tablespoon Dark Chocolate Chips
1/4 Teaspoon Instant Espresso, optional
1-2 Tablespoons Maple Syrup (I prefer less sweet and was good with 1 tablespoon)
Pinch of Sea Salt
1/4 Teaspoon Pure Vanilla
Toppings: Cacao Nibs, Hemp Hearts, Sunflower Seeds, Pepitas etc.
Recipe
Add all the ingredients (except the toppings) to a small pan or a heatproof bowl and melt in a double boiler. Stir the mixture well.
Pour the mixture equally into 12 mini cupcake liners, sprinkle with desired toppings and freeze for a few hours or until completely set.
Leftovers can be stored in an airtight container in the freezer.
Enjoy! 🙂
(Visited 67 times, 1 visits today)