I made these cookies initially because they were crazy simple and too good to be true but as soon as I had one, I couldn't stop eating. They were so delicious and not cloying at all,  I have made at-least 3 batches in the past two weeks for friends and family and everyone has been hooked on to them ever since. These cookies require super basic ingredients and less than twenty minutes including baking time.  Main ingredients for these cookies include coconut flour, honey, coconut sugar, coconut oil, chocolate chips, baking soda and nut butter (optional). They are high in fiber, low in carbs and perfect at anytime of the day (including breakfast) or pre/post workout snack. Since, these cookies are made with coconut oil, the texture at room temperature is slightly softer (more like cake, yet so delicious) and if you eat them right out of the fridge, it is more chewy and crispier… Room temperature or cold, these cookies are incredible and addictive! You guys, I highly recommend you make them. As I always say, healthy doesn't necessarily mean bland and boring. These are some tasty cookies for all you healthy people!
Happy Holidays! xx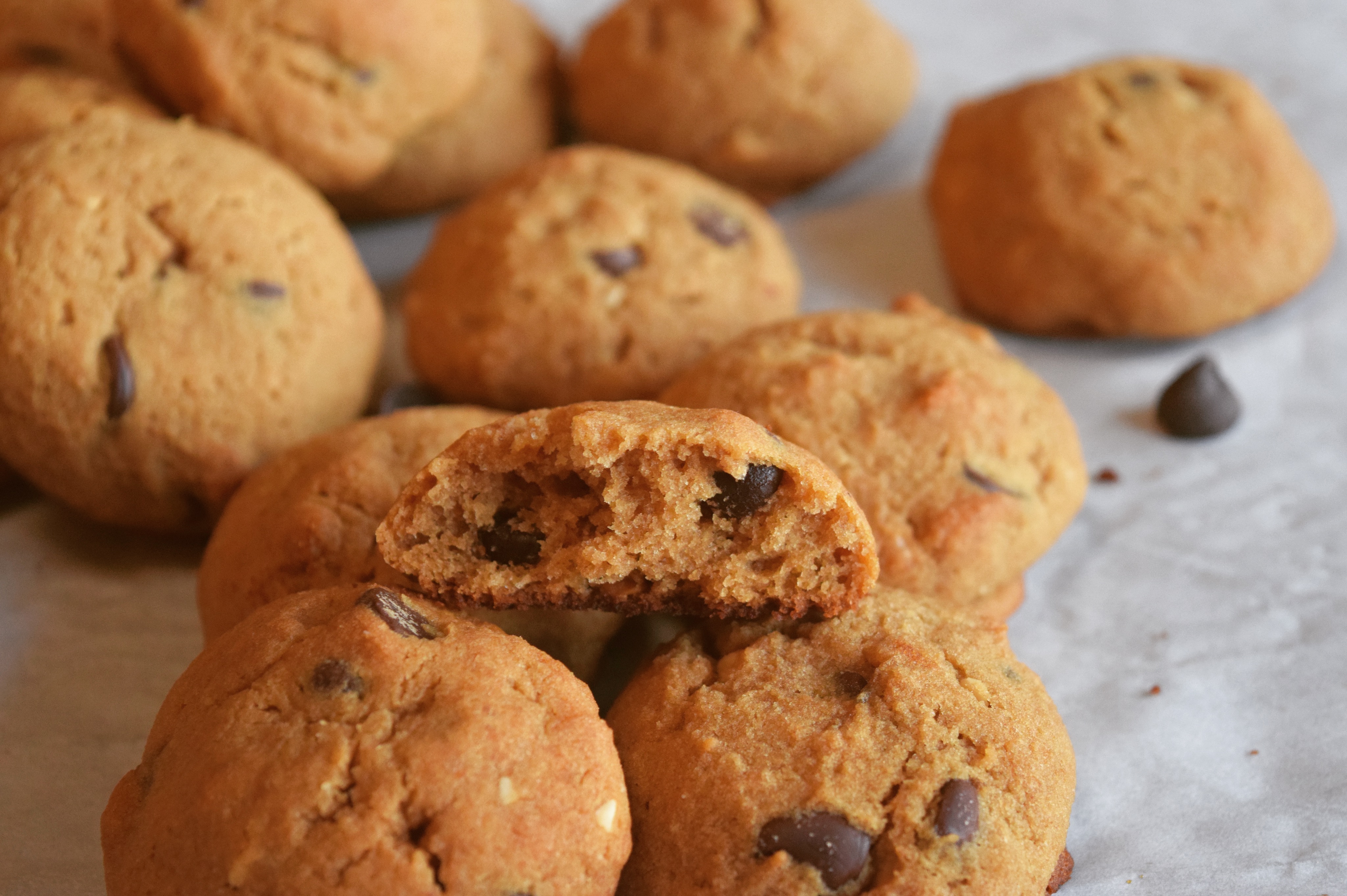 Ingredients
1/3 Cup Coconut Flour, sifted
1/3 Cup Coconut Oil, melted
1 Tablespoon Cashew/Almond Butter, optional
3 Tablespoons Coconut Sugar
3 Tablespoons Raw Honey
2 Eggs
1/4 Teaspoon Baking Soda
Pinch of Sea Salt
1 Teaspoon Vanilla
1/2 Cup Dark Chocolate Chips
Process
Preheat the oven to 350 F, line a large baking sheet with parchment paper and set aside.
In a small bowl mix coconut flour, salt and baking soda and set aside.
In a large mixing bowl, whisk eggs and then add coconut oil, coconut sugar, vanilla, cashew butter (if using) and honey. Mix everything until well combined.
Add the dry mixture to the wet mixture and fold in gently.
Now fold in the chocolate chips. Coconut flour tends to absorb moisture, so let the mixture rest for 5 mins or so until you are able to scoop it.
Scoop the mixture into 12-14 equal portions on the prepared baking sheet, few inches apart from each other. Bake for 12 minutes.
Let the cookies cool completely before digging in. Store in the refrigerator in an airtight container for up to a week.
Enjoy! 🙂
(Visited 52 times, 1 visits today)