Woohoo, we made it to another year. With everything that was 2020, making it to another year felt like the most significant achievement of our lives. The vacations, parties, luxuries, and all the hustle took a back seat as we prayed for the well-being of ourselves and our loved ones while maintaining that distance (6 ft for some and thousands of miles for others). Now that the end is seemingly near, I have realized how 2020 was a blessing in disguise. It made us realize the importance of slowing down, taking care of health and well-being, and most importantly, cherishing/appreciating the moments spent with our loved ones. I will never ever take anything for granted, not the friends/family, and definitely not the TP 😉 You know what I am talking about!!

Now that we are a little acquainted with this new form of grocery shopping and there is no fight for grabbing flour (hopefully) let's get baking. These Cardamom Pistachios Biscottis are a delicious and perfect crunchy accompaniment to your morning coffee. They are very easy to make with a handful of pantry staples, and store well in the fridge for up to two weeks.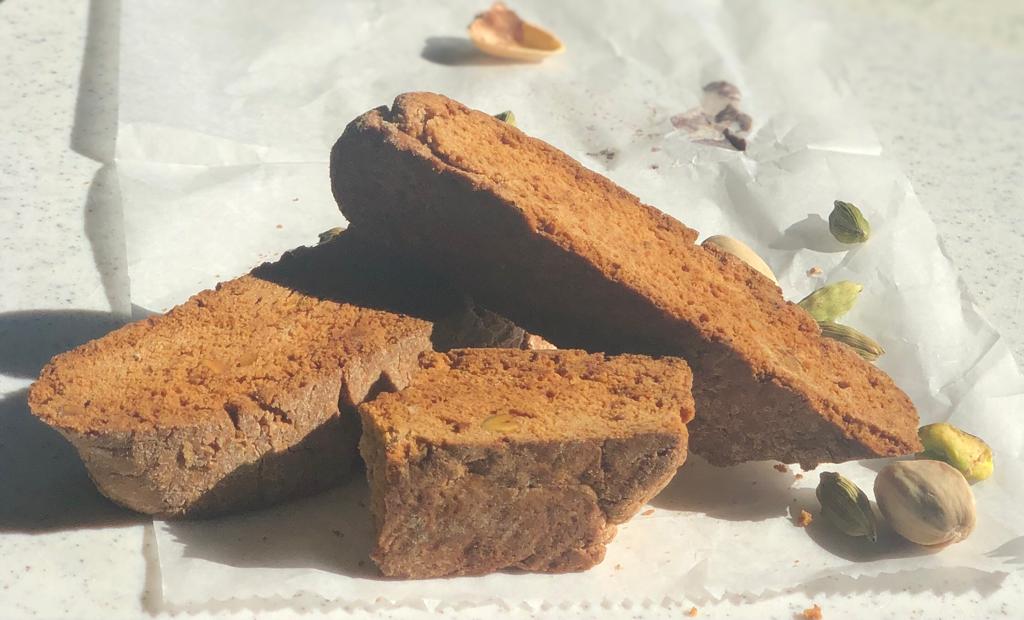 Ingredients
2 Cups All Purpose Flour
1 Teaspoon Baking Powder
¾ Cups Coconut Sugar
2 Eggs at room temperature
4 Tablespoons Butter, preferably organic and grass-fed
½ Teaspoon Crushed Green Cardamom Seeds
2 Tablespoons Unsalted Pistachios, chopped

Process
Line a large baking sheet with parchment paper. Add some flour to the parchment paper.
Mix flour and baking powder in a bowl and set aside.
Add softened butter and sugar to a medium bowl, use a handheld mixture (or a whisk) and beat till light and creamy.
Add eggs one at a time; use a spatula to scrape off the sides of the bowl as needed.
Add crushed cardamom seeds, chopped pistachios to the bowl, and gently mix using a spatula.
Now add the flour + baking powder mixture and mix gently. The dough will be sticky.
Divide the dough into two equal portions, place it on the prepared baking sheet and form each into a rectangular log approximately 12 inches in length. Flatten the logs with your hands to be about 3/4″ to an inch thick.
Place the baking sheet in the refrigerator for 20 minutes.
Preheat the oven to 350 F and bake the logs for 25 mins, rotating the baking sheet halfway through.
Remove the logs from the oven and reduce the oven temperature to 250 F.
Let the logs cool down to room temperature (15-20 minutes).
Use a serrated knife and slice the logs diagonally.
Arrange the biscottis on the baking sheet, cut side up, and bake at 250 F for 10 mins, flip and bake for additional 10 minutes (total baking time 20 mins).
Let the biscottis cool completely. You can store them in an airtight container for two weeks.
Enjoy! 🙂
(Visited 76 times, 1 visits today)
Share