Lately, I have been on a veggie burger experimentation spree – burger that will not require you to take hours of nap after eating and is easy (easy equals to less than 30 minutes preparation and cooking time, and not involving any fancy ingredients) to cook on week nights. In my quest to find the perfect veggie burger, I came up with quite a few recipes that perfectly hit the nail on the head. You will see those recipes in the upcoming posts. Today's burger recipe, however, is perfect for Summer and is inspired by my love for nutritious (comfort ??) food. I mean don't we all try to eat clean and healthy, cut down on carbs and red meat to get into best shape and get ready for the beach!! "Black Bean, Mushroom and Oat Burgers" are supremely delicious and fitness friendly, as each serving of these burgers is packed with almost 10 grams of fiber, 15 grams of proteins and 250 calories. I like to serve them over a green salad or whole grain bread, topped with avocado and some hot sauce.
Some days, you just need a burger and if today is one of those days, the black bean, mushroom & oat burgers are here for you 🙂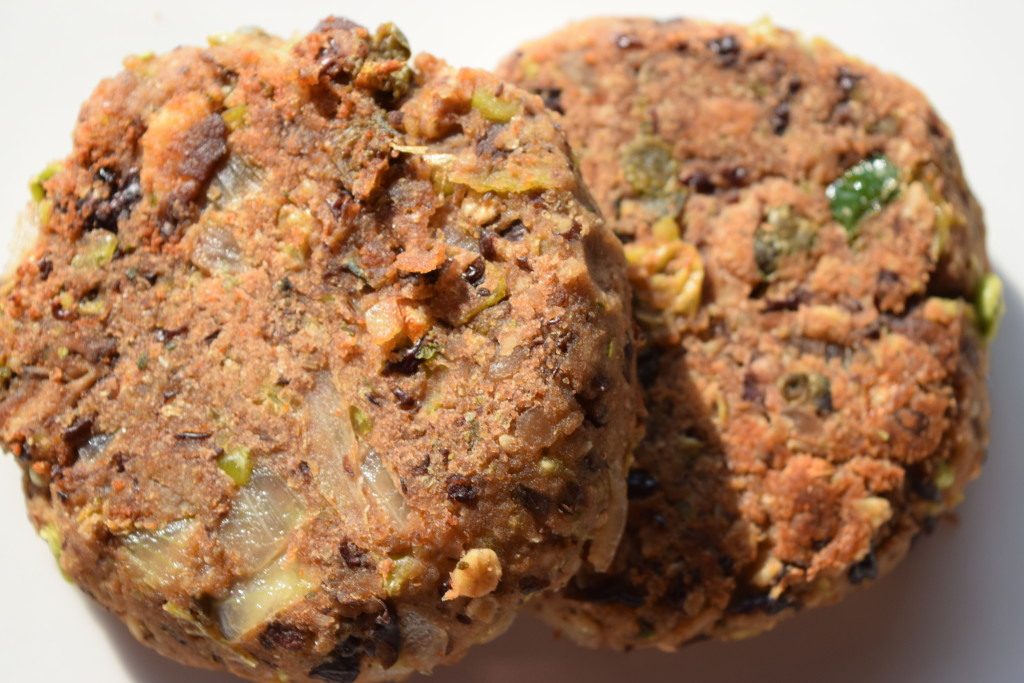 Ingredients
1 Can Black Beans, drained and rinsed
1/4 Cup Frozen Lima Beans, thawed, rinsed and drained
1 Cup Mushrooms, chopped
1/2 Cup Rolled Oats
2 Cloves Garlic, minced
1 Small Onion, finely chopped
1 Tablespoon cumin Powder
1/4 Teaspoon Ground Black Pepper
Salt, to taste
1/2 Teaspoon Paprika
1/2 Teaspoon Thyme or Rosemary or any dried herb of your choice
1/2 Tablespoon Capers, optional
2 Teaspoons Olive Oil
1 Tablespoon Bread Crumbs
Lemon Juice, to taste
Process
Heat 1 teaspoon oil in a small pan and saute mushrooms, onions and garlic. Set aside.
In a blender or food processor, 3/4 of the beans (Black and Lima), oats, cumin, salt, dried herbs, paprika and pepper and process until everything combines into a mixture. Mash the remaining beans in a bowl and add to the mixture, alternatively you can pulse them along with other mixture.
Add the sauteed onions, mushrooms and garlic to the the bean mixture , add capers (if using), lemon juice and bread crumbs just enough for the patties to hold their shape. Divide the mixture into 6 patties.
Heat a grill or a flat non stick pan on medium heat and cook the patties in the remaining 1 teaspoon olive oil, for 3-4 minutes per side or until browned. Serve the burgers as desired.
Enjoy! 🙂
(Visited 226 times, 1 visits today)