If I told you that these tiny morsels of deliciousness taste like Baklava, you may not believe me! Hence, I insist request you to make them and be the judge. There is no pastry sheets or processed sugar involved, instead they have pistachios, manuka honey/maple syrup to make it vegan, tahini, almond butter and cashews as the primary flavor contributors. These truffles are crunchy, earthy, sweet, light and a power house of nutrition. Healthy fats, proteins, magnesium and complex carbs. They can be stored in the refrigerator for up to ten days and make for a perfect pre/post workout snack. We also love to have them in the morning or whenever that afternoon sugar craving hit.
I know y'all will love these truffles as much as we do! They are on repeat here ever since I made them for the first time.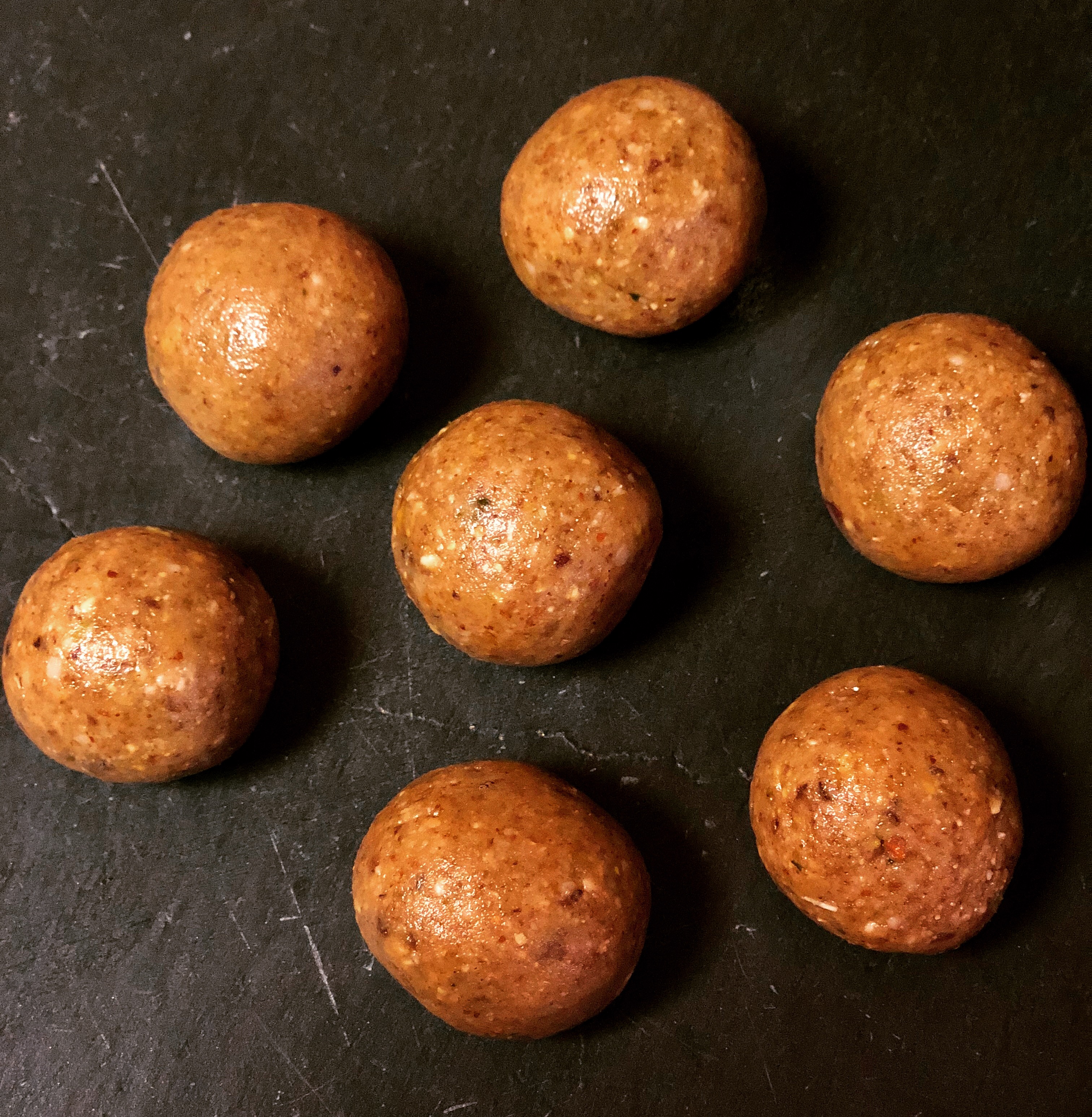 Ingredients
1 Tablespoons Almond Flour
2 Teaspoons Rolled Oats
½ Cup Pistachios, unsalted and unshelled
¼ Cup Raw Cashews, unsalted
2 Tablespoons Almond Butter
2 Tablespoons Tahini
1/4 Teaspoon Cardamom Powder, optional
2 Tablespoons Raw Manuka Honey/Pure Maple Syrup (to make it vegan)
½ Teaspoon Maca Powder
1 Tablespoon Hemp Hearts
1 Teaspoon coconut Oil
Optional Add ins – Chia seeds,Ashwagandha, Goji Berries, Coconut Flakes
Process
Soak the pistachios in water for 10 mins, this helps soften them and remove saltiness if they are salted.
Process rolled oats in a blender.
Now add the remaining ingredients (cashews, drained/soaked pistachios, almond flour, cardamom powder, almond butter, tahini and Manuka honey/maple syrup, Maca powder, hemp hearts and coconut oil) to the processor and process until the mixture comes together. Taste the mixture and adjust sweetness by adding more honey/maple syrup. If the mixture is very sticky, add some more almond flour to adjust the consistency.
Add the optional add-ins if using and let the mixture rest in the refrigerator for 5-7 minutes.
Roll the mixture into equal size balls, store in the refrigerator in an air tight container.
Enjoy! 🙂
(Visited 59 times, 1 visits today)