When you feel that first crisp breeze, you know that summer is gone and fall is on the horizon. There are plenty of events such as Labor Day, the arrival of pumpkin spice lattes at Starbucks, the changing color of leaves and that first overwhelming urge to wear a sweater and scarf, that officially mark the arrival of fall. Even though summer is my favorite season, fall has its own charm and is the most beautiful season of the year. From warm apple cider to the beautiful fall foliage road trips, there are plenty of reasons to enjoy fall.
Last week, I loved my very first apple picking trip with some of my favorite folks, and got back with a variety of delicious apples. I love apple cider and having so many apples only signaled the making of this spicy cider at home. Nothing can be more warming and comforting than a mug of warm cider on a cold, dreary day. While making this cider, my entire house smelled amazing. I like it warm, but the leftover can be refrigerated and it tastes wonderful cold as well. The cider can be stored in an air tight container in the refrigerator for up to a week.
I don't like to add processed sugar to my cider but if you prefer it sweeter, feel free to add more sugar or honey. If you like it lighter in flavor, add more water to dilute it. Omit the sugar from the recipe to make it a diabetic recipe and add diabetic sweeteners if needed.
The adults can spike the cider in many ways; add a concoction of dark and light rum to the warm cider, and more honey if needed OR give your cider a mild boozy kick by adding amontillado sherry just before serving. Keep the cider warm in a slow cooker at a holiday party and spike it as desired.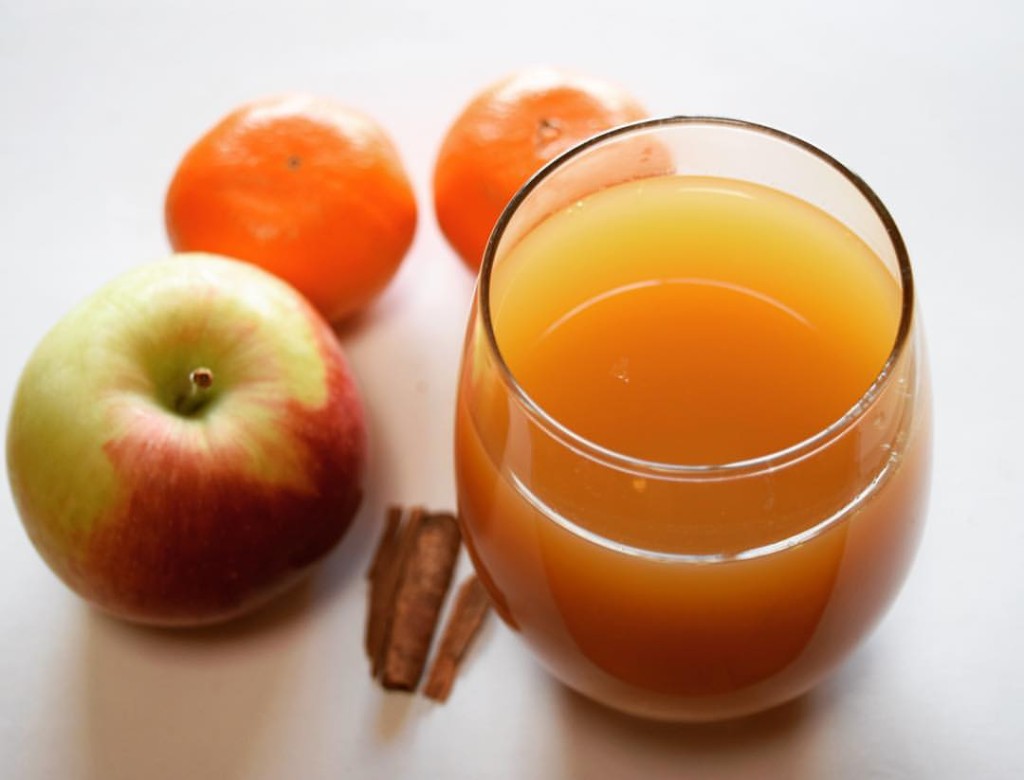 Ingredients
4-5 Apples (I used a mix of gala, fuji and honeycrisp)
1 Tablespoon Organic Honey or Raw Coconut Sugar
2 Tablespoons Ground Cinnamon  or 2 Cinnamon Sticks
2 Tablespoons Allspice
2 Heads Star Anise
3 Tangerines or 1 Orange
2-3 Cloves
3 Cups Water
Process
Wash and cut the apples into quarters, no need to remove peel or seeds. Remove the skin of the orange and cut into slices.
In a large pot add the apples and orange slices and fill with water, just enough to cover the apples. Add sugar/honey, and the spices.
Boil the mixture uncovered on high for 25-30 minutes, stirring it it frequently.
Reduce the heat, cover the pot and let the mixture simmer for two hours. Take the pot off the heat and let cool.
Remove the whole spices and mash up the apples to a pulp like consistency with a potato masher.
Once cool, pour the mixture into a strainer over a large bowl. Use the back of a spoon to squeeze all the juice from the pulp or alternatively use a doubled up cheese cloth and squeeze over the bowl until no more juice comes out.
Serve the cider in heatproof mugs garnished with an orange twist, if desired.
Enjoy! 🙂
(Visited 286 times, 1 visits today)