What happens when you are over zealous with meal prepping and already bored with your prepared meals by mid week? My favorite meal prep trick is to re purpose the leftovers in different ways, to keep the meals exciting yet simple. As much as I love to cook and spend time in the kitchen, I prefer spending time outdoors, hanging out with friends and go for a Sunday brunch more than once in Summer. These Salmon cakes are a great example of simple, nutritious and filling meal that can be made in less than 20 minutes with leftover Salmon. They're great with a side of fresh salad or in a burger! Hope you make and like them as much as I do….. Happy Summer! xx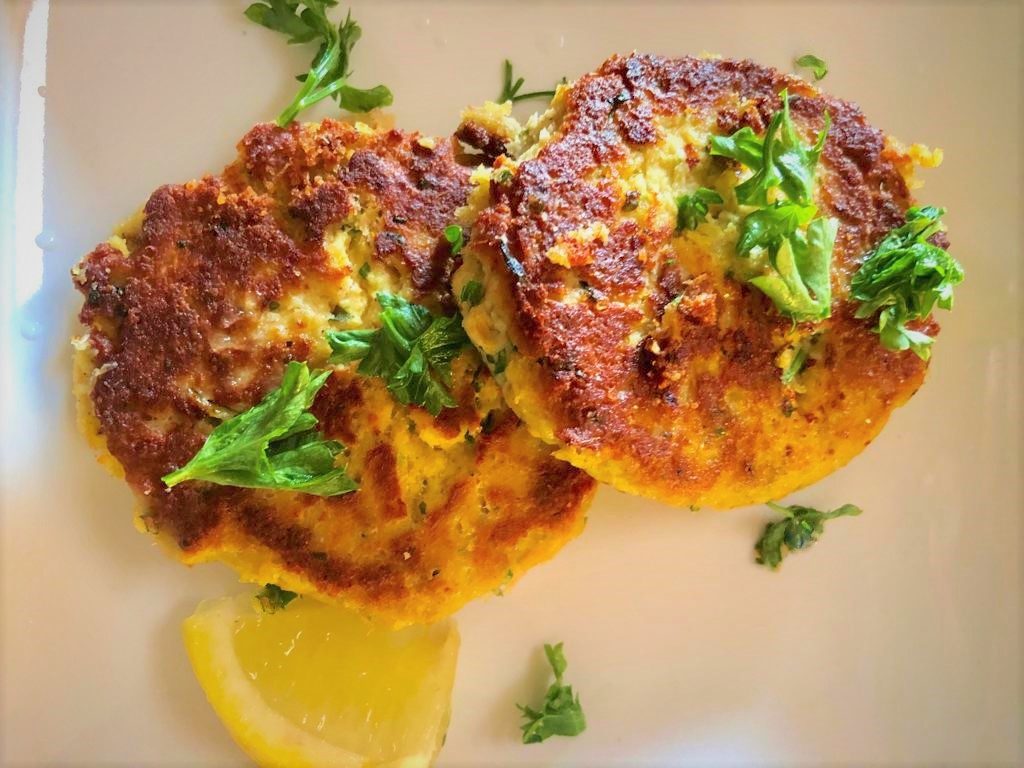 Ingredients
1/2 lb Salmon Fillet, skin and bones removed
1 Egg
1 Tablespoon Coconut Flour
1 Bunch Fresh Cilantro, chopped 1 Small Red Onion, chopped
1-2 Tablespoons Avocado Oil
1 Lemon, Juice and Zest
1 Teaspoon Butter or Cooking Oil of choice
1/2 Teaspoon Smoked Paprika 1/2 Teaspoon Cumin Powder 1/4 Teaspoon Ground Nutmeg
Salt and Pepper to taste
Process
Preheat the oven to 400 F. Line and grease a baking tray, and set aside.
Season the salmon with salt, place on the prepared sheet and bake in the pre heated oven for 15 minutes or until Salmon is cooked through. Once baked, let the salmon cool down to room temperature. Skip this step if using left over cooked Salmon.
Add chopped onions, cilantro and lemon juice to a food processor and process into a fine mixture. Place the mixture into a shallow bowl.
Add salmon to the processor and process for 15-20 seconds, alternatively you can use your hands or a fork. Add the salmon to the bowl with onion cilantro mixture.
Now add all the spices, lemon zest, egg and coconut flour and mix gently. Mixture will be slightly sticky and wet.
Let the mixture rest in the refrigerator for at-least 10 minutes (it will allow coconut flour to absorb extra moisture).
Divide the mixture into equal portions and form patties (I used a spoon to flatten them once they were in the pan).
Heat one tablespoon oil in a non stick pan on medium heat, add patties and cook for 2-3 minutes. Flip gently, cook for 2-3 minutes on the other side (or until the the cakes are golden brown from outside)
Serve as desired.
Enjoy! 🙂
(Visited 20 times, 1 visits today)
Share