What happens when you are over zealous with meal prepping and already bored with your prepared meals by mid week? My favorite meal prep trick is to re purpose the leftovers in different ways, to keep the meals exciting yet simple. As much as I love to cook and spend time in the kitchen, I prefer spending time outdoors, hanging out with friends and go for a Sunday brunch more than once in Summer. These Salmon cakes are a great example of simple, nutritious and filling meal that can be made in less than 20 minutes with leftover Salmon. They're great with a side of fresh salad or in a burger! Hope you make and like them as much as I do….. Happy Summer! xx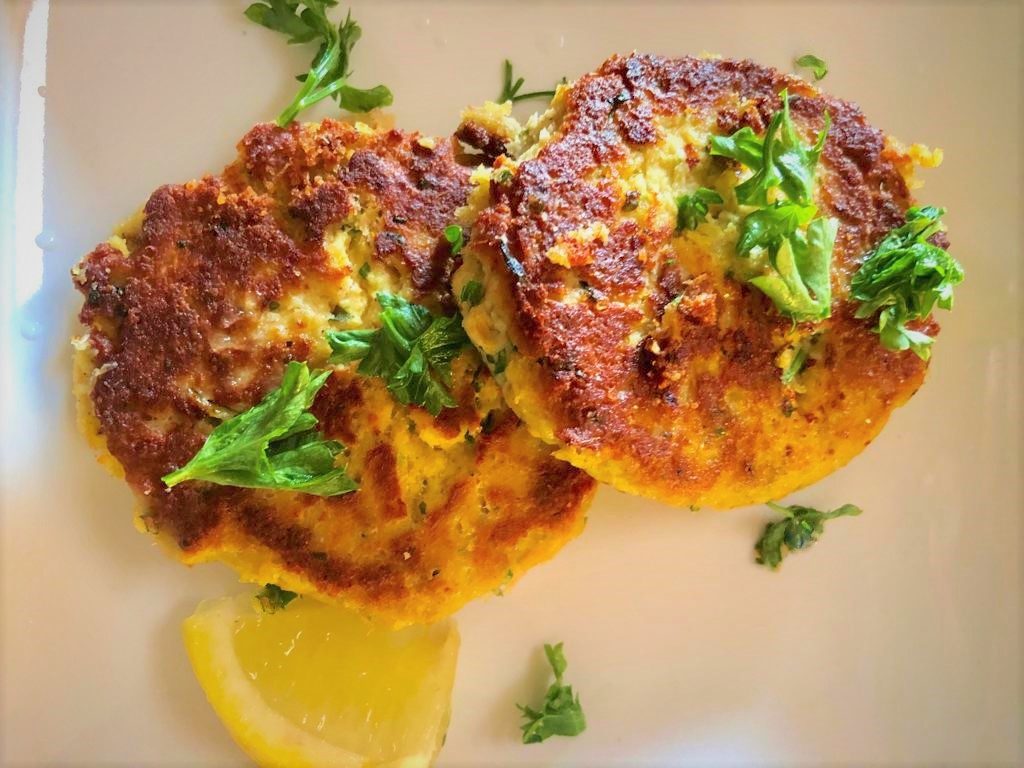 Ingredients
For the crust 1 Cup Almond Flour
1 Egg
1/4 Tablespoon Tapioca Starch
Pinch of Salt 3 Tablespoons Coconut Oil, solid
1-2 Teaspoon Coconut Sugar
1 Tablespoon Hemp Hearts, optional 1 Teaspoon Fresh Thyme, chopped (optional)
For the Filling 2 Red Apples or 3 Stone Fruits, cored and cut into pieces 1 Teaspoon Tapioca Starch
1 Small Lemon – Juice and Zest Pinch of Cinnamon 1 Tablespoon Pure Maple Syrup, optional for extra sweetness
For Egg Wash Egg** + water
Process
Add all the ingredients for dark chocolate cups to a small pan or a heatproof bowl and melt in a double boiler. Stir the mixture gently until everything is smooth and pourable consistency.
Line a mini muffin tin with 8 muffin liners, pour the mixture to fill each liner ¼ of the way. Place in the refrigerator for 10-15 mins or until the mixture is set.
Drain the cashews and add to a blender. Add one table spoon of water, maple syrup and turmeric milk powder. Blend for a few seconds until the mixture is thick but smooth (consistency of note butter). Taste the mixture and add more maple syrup if needed.
Remove the ¼ filled chocolate cups from the refrigerator, add a layer of golden milk cashew butter and fill the cup half way through with remaining dark chocolate mix. Reheat the dark chocolate mixture over double boiler before filling the dark chocolate cups.
Place the chocolate cups in the refrigerator to set for an hour and store in an air tight container for 2 weeks.
Enjoy! 🙂
(Visited 20 times, 1 visits today)
Share