A low carb bread that is nutritious and is irresistibly delicious does exist!! The ingredients for this bread include almond meal, eggs, herbs, apple cider vinegar, honey/maple syrup, coconut/olive oil and  any other toppings/flavors of choice. There is no yeast, no all purpose flour and definitely no kneading involved. It all comes together in a bowl (less mess).
This is the bread you can have for breakfast, lunch, snack and dinner, and not feel bloated or lethargic. We polished off half of this bread within the first 15 mins of it coming out of the oven…. no kidding ;-). It is lip smacking delicious on its own or with butter smothered over it! A wonderful combination of healthy fats, flavors, and fiber has made this bread a staple in our house :).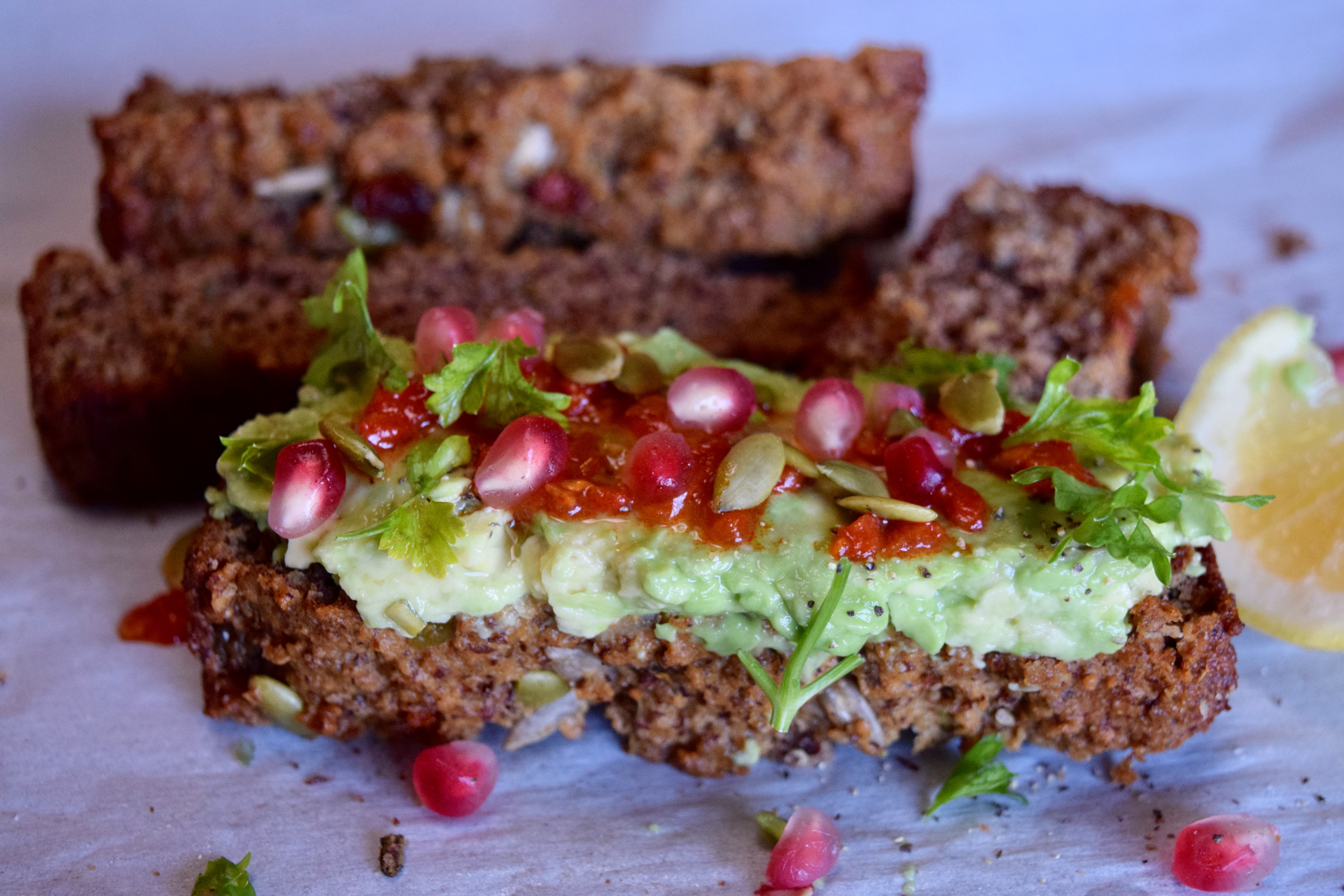 Base recipe adapted from Sprouted Kitchen.
Note: I reduced the quantity of eggs and almond meal from the original recipe to get a slightly firm (not cake-y) texture. The recipe below is exactly how I make this bread and it always hits the spot. The original recipe can be found here.
Ingredients
2 Eggs
2 Tablespoons Extra Virgin Olive Oil
1.75 Cups Almond Meal
2 Tablespoons Ground Flax Seeds
1/2 Teaspoon Sea Salt
1 Tablespoon Apple Cider Vinegar
1 Tablespoon Raw Honey
1 Teaspoon Baking Soda
2 Tablespoon Fresh Herbs (I used Rosemary and Thyme), chopped
1 Teaspoon Pepitas, optional
1 Teaspoon Sunflower Seeds, optional
1 Teaspoon Raisins, optional
1 Teaspoon Goji Berries, optional
1/4 Teaspoon Ajwain/Carom Seeds (optional)
Process
Preheat the oven to 350 F, spray a 5X7 Loaf pan with oil/butter and line with parchment paper.
Mix all the liquid ingredients (eggs, oil, honey, apple cider vinegar) in a bowl until well combined.
In a separate bowl, add almond meal, ground flax seeds, baking soda, salt and chopped herbs.
Gently add the dry mixture to the wet mixture and mix until combined.
Fold in all the optional add ins to the batter.
Pour the batter into the prepared pan, top with additional goji berries, pepitas, herbs etc. and bake for about 22 minutes or until a toothpick inserted into the center of the bread comes out clean.
Let the bread cool completely (this is the most difficult step), but totally worth it.
Enjoy! 🙂
(Visited 33 times, 1 visits today)
Share