I love eating cake for dessert… who doesn't? If it wasn't for the amount of calories and sugar packed in those cakes, I'd be eating them every day for breakfast and dinner. These brownies from Alex are a game changer! Made with sweet potatoes, zucchini and naturally sweetened with banana and a little maple syrup, there is not a single ingredient that will make you feel bad or bloated after having these brownies for breakfast or any other time of the day. Also, you can't taste zucchini or sweet potato, all you taste is fudgy, chocolaty, indulgent piece of heaven in your mouth.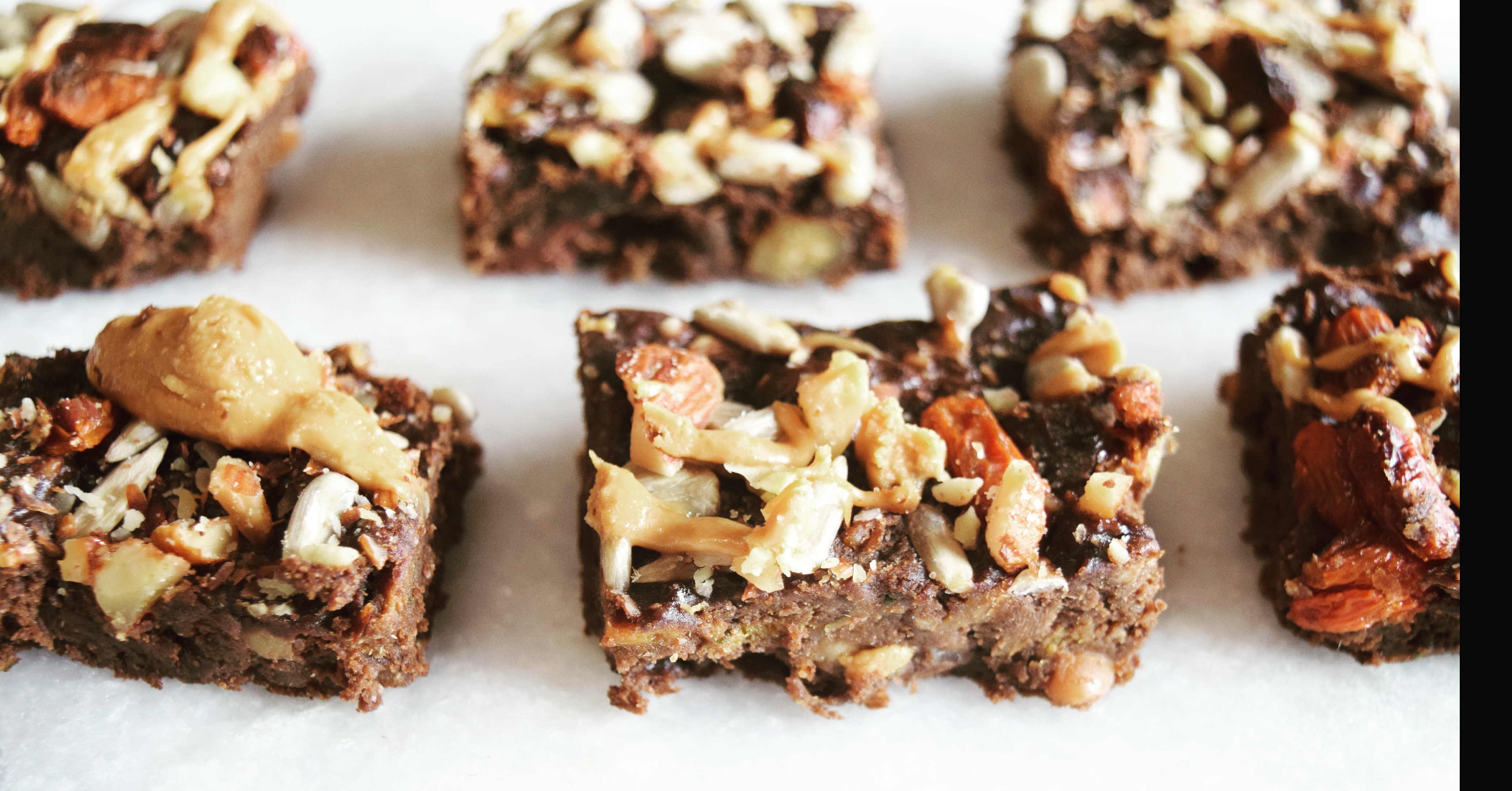 Recipe is adapted from Alex's blog with slight modifications.
Ingredients
1/2 Baked Sweet Potato (about 1/2 cup)
1 Medium Zucchini, shredded and drained
1 Ripe Banana, mashed
1/2 cup Peanut Butter
2 Eggs
2 Tablespoons Maple Syrup
1/4 Cup Carob Powder
2 Tablespoons Cacao Powder
1/2 Teaspoon Baking Powder
1 Teaspoon Maca Powder, optional
1 Teaspoon Cinnamon
1 Teaspoon Vanilla
1/4 Cup Dark Chocolate Chips + Raw Caco Nibs (I used half chocolate chips and half cacao nibs)
Toppings: Chopped Nuts, Goji Berries, Nut Butter etc.
Process
Pre-heat the oven to 375 F, grease and line an 9X9 pan with parchment paper and set aside.
Add all the ingredients to a large bowl, except the toppings and the chocolate chips. Mix well until smooth.
Fold in the chips and pour the batter into the prepared pan.
Sprinkle the toppings and bake for 20-22 mins or until completely cooked. Drizzle some extra nut butter, as desired!
Let the brownies cool completely before serving or storing in an airtight container, in the refrigerator.
Enjoy! 🙂
(Visited 10 times, 1 visits today)
Share