Paleo Granola that is grain free, nutrient dense and naturally sweetened makes for an excellent snack or breakfast cereal (we are talking approximately 6 grams of proteins and 5 grams of fiber in a 1/4 cup serving of this granola). If you have cereal loving family, this granola makes for a legit breakfast, much better than any sugar coated store bought cereal. It is also a wonderful snack to carry on vacation and avoiding any junk cravings. The recipe below is extremely customizable, you can use whatever nuts and seeds you have on hand. It doesn't require much time or effort to make it. Hope you make it and love it as much as I do! xx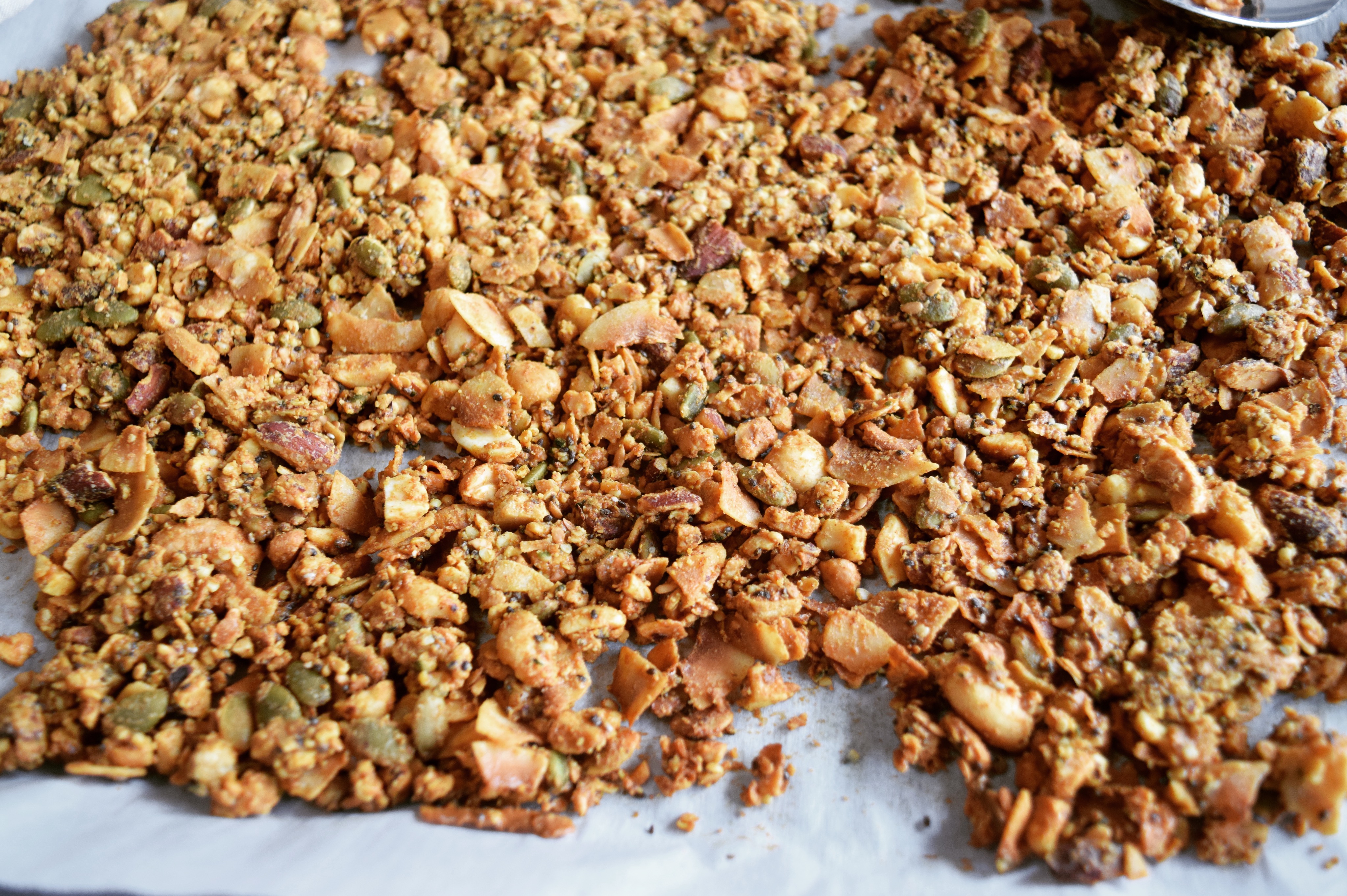 Ingredients
1 Cup Raw Nuts
2 Tablespoons Chia Seeds
1/4 Cup seeds (I used pepitas, sesame and sunflower)
2 Tablespoons Flax Seeds
1 Tablespoon Hemp Hearts
1/4 Cup Coconut Chips, unsweetened
1 Tablespoon Almond Meal, optional
2 Teaspoons Cinnamon
1 Teaspoon Turmeric
1 Tablespoon Coconut Oil, melted
2 Tablespoons Raw Honey or Maple Syrup
2 Tablespoons Nut Butter of Choice (I used Cashew Butter)
1 Teaspoon Vanilla, optional
Process
Preheat the oven to 275, Line a baking sheet with parchment paper and set aside.
Roughly chop the raw nuts in a food processor or with your hands.
In a small bowl – mix together melted coconut oil, nut butter, vanilla and maple syrup, and set aside.
In a large bowl – combine chopped nuts, seeds, chia seeds, flax seeds, cinnamon, coconut chips, hemp hearts and turmeric.
Pour the Maple syrup mixture from the small bowl and toss to combine. Make sure everything is uniformly coated.
Spread the mixture in a single layer on the prepared baking sheet and bake for 15 minutes.
Stir the granola, rotate the baking sheet and bake for additional 15 minutes or until the granola is golden brown and fragrant. Let the granola cool completely, as it will crisp up on cooling.
Store in an airtight container up to two weeks.
Enjoy! 🙂
(Visited 25 times, 1 visits today)
Share