What is the point in buying energy bars that are not only expensive but also filled with processed sugar and not so healthy ingredients? I do agree that they are the one of the most convenient, on the go snacks when you need a breakfast you can eat while commuting or a post-workout snack to hold you until dinner. Instead of splurging on store bought bars, I highly recommend making these dates and nuts bars that are  fantastic, any time and for any mood you're in.  Nuts, dates and cashew butter makes the base of this bar along with poppy seeds, dried apricots and some raisins for some more indulgence with zero guilt.  You can wrap the individual bars in parchment paper or store in Ziploc bag for easy carrying.  These bars are packed with proteins, healthy fats, antioxidants, fiber and much more nutrients.
Recipe below makes 16 small bars. Please use organic ingredients as much as possible.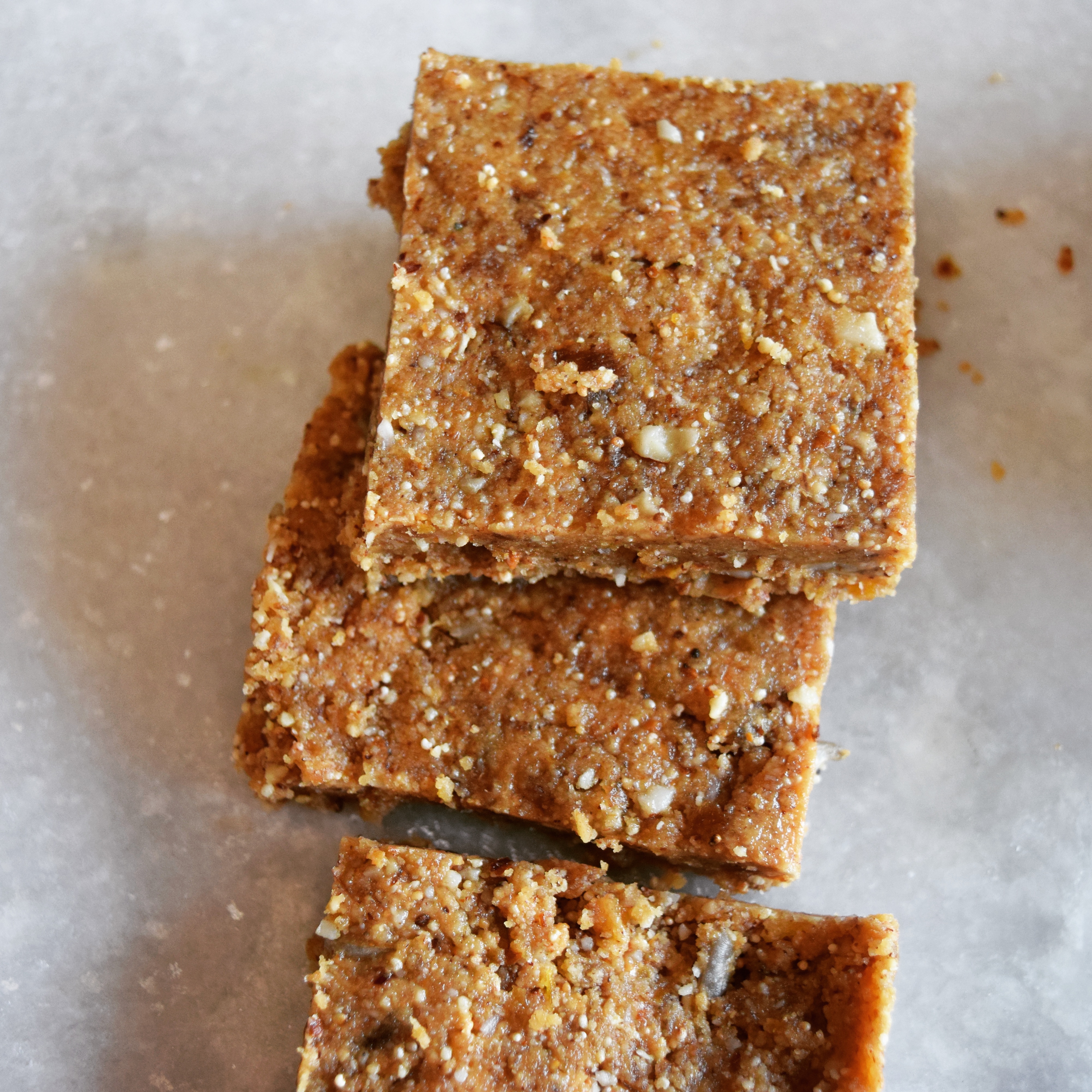 Ingredients
1 Teaspoon Ghee
1 Tablespoon Poppy Seeds
2 Tablespoons Shredded Coconut, unsweetened
1 Cup Raw Assorted Nuts
8-10 Medjool Dates, pitted
2-3 Dried Apricots
1 Tablespoon Raisins
2 Tablespoons Cashew Butter
Process
Line an 8X8 pan with parchment paper and set aside.
Add ghee to a small pan on medium heat. Add poppy seeds, shredded coconut and raw nuts and stir until fragrant (3-5 mins and keep stirring to make sure that the mixture is not burning). Set aside to cool
Add roasted nuts, apricots, pitted dates, raisins and cashew butter to a food processor and pulse until the mixture comes together and is sticky.
Scrape the mixture into the prepared pan and press into an even layer using a rubber spatula.
Let the mixture cool in the refrigerator for at least an hour before cutting into bars.
Enjoy! 🙂
(Visited 50 times, 1 visits today)
Share