Until few years ago, on my way to the gym or work I would very happily buy a protein bar or a snack for a quick burst of energy that would barely last. While there are plenty of protein packed snacks available in the market, there is no comparison to homemade snacks/foods and knowing what exactly goes in your food. Simple ingredients and little time is all you need to keep yourself and your family away from outside food addiction. I love to plan my meals and snacks and always keep something in my fridge for carrying to work or gym. You'll always find snacks such as these protein balls in my bag because when I am prepared with my snacks, I am not tempted to visit the vending machine or to buy any processed pre packaged snack. These protein balls are so delicious, filling and nutritious that you'll never think of buying snacks from grocery store anymore. They are made with chickpeas (protein powerhouse), Peanut butter (healthy fats) and dates (for fiber and natural sugar). I used sprouted chickpeas but you can use plain chickpeas. I hope you make them and enjoy them as much as I do! xx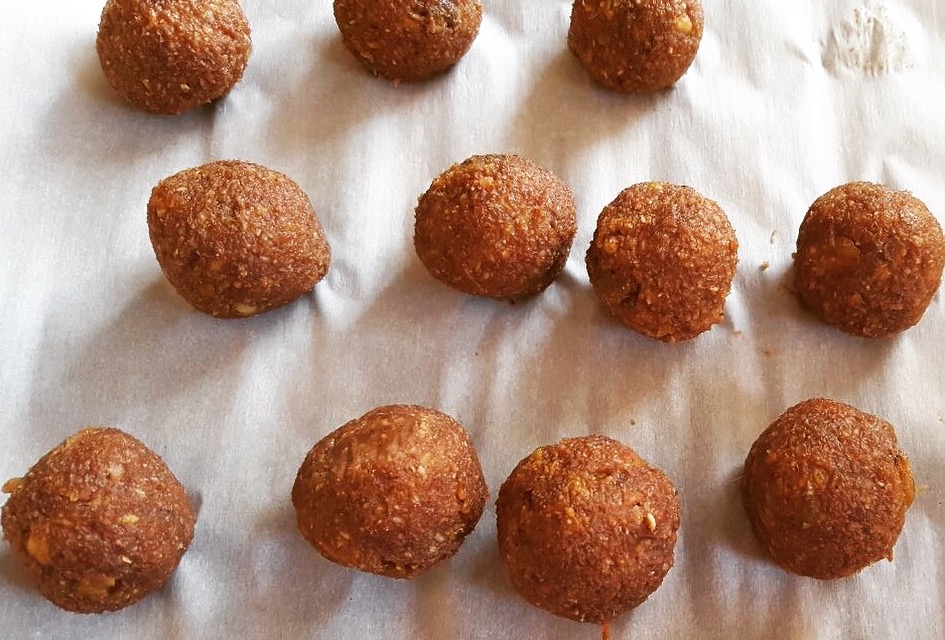 Recipe below yields approx 20 balls.
Ingredients
1 Cup Sprouted Chickpeas, steamed or canned Chickpeas*
2/3 Cups Peanut Butter
1 Tablespoon Almond Meal
1/4 Cup Oats
6-8 Medjool Dates or 2 Tablespoons Raw Honey
1 Tablespoon Shredded Coconut, unsweetened
1 Tablespoon Nut Milk of choice or as needed
Process
Add oats to the blender and pulse until it resembles coarse meal.
Now add rest of the ingredients to the blender and pulse until mixture comes together in a dough.
If the mixture is too dry, add some nut milk (I used coconut milk) and pulse again.
Take the mixture out in a bowl, divide into 20 equal portions and roll into balls. Let the balls rest in refrigerator for at-least 20 minutes before storing them in an air tight container.
* If using canned chickpeas, make sure to rinse and drain them and pat dry with paper towel.
Enjoy! 🙂
(Visited 33 times, 1 visits today)
Share