You guys, imagine a Chocolate cake that is raw, vegan, gluten free, processed sugar free and is healthy… yes, it's possible. There is no baking/heating required. It is super fun and easy to make and is highly customizable, a perfect make ahead dessert for summer entertaining. This cake is sweetened with dates (you can also use raisins, maple syrup etc.), and is rich in proteins, antioxidants and healthy fats. It is so indulgent yet so healthy, you have to make it to believe it. Recipe below makes one 4″ cake, it can be easily doubled for a bigger cake.
Have a lovely weekend!! xx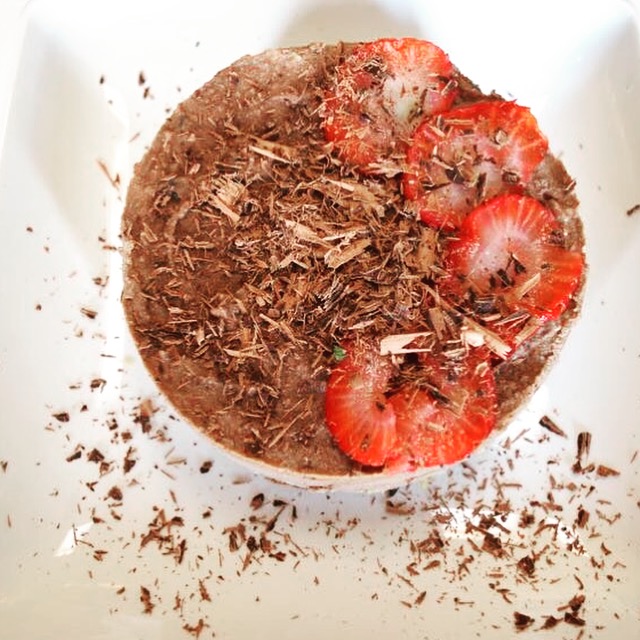 Ingredients
Crust:
2 Tablespoons Almond Meal
2 Teaspoons Shredded Unsweetened Coconut
1 Teaspoon Coconut Oil
1 Teaspoon Almond Butter
1 Date, pitted or 3-4 Golden raisins
Filling:
1/2 Cup Raw Cashews, Soaked in water for at least 10-15 mins
2 Tablespoons Coconut Cream
1 Teaspoon Vanilla
1 Tablespoon Dark Chocolate Chips
Handful of Raw Cacao Nibs, optional
1.5 Tablespoons Carob Powder or Cocoa Powder
1/2 Tablespoons Raw Cacao Powder
1 Teaspoon Kahlua, optional
2 Dates, pitted or sweetener of choice
Fresh Berries and Chocolate Shavings for Topping, optional
Process
Add all the ingredients to make the crust in a blender or food processor and pulse until combined. Mixture will be sticky.
Place the mixture into the pan (

I used 4″ Spring-foam Pan

) and press down using a spoon or your fingers to form an even layer. Set aside.
Drain the cashews and add to the same blender, along with vanilla and coconut cream. Blend until smooth.
Now add the remaining filling ingredients (chocolate chips, cacao nibs, sweetener/dates, cacao powder, carob/cocoa powder, Kahlua) and blend until the mixture is smooth. Scrape the sides and blend again if needed.
Pour the mixture over the crust, and even the top using a spatula or butter knife.
Place the cake into the freezer for at least 2 hours or over night. Remove from pan before serving, top as desired and dig in!
Enjoy! 🙂
(Visited 12 times, 1 visits today)
Share