Split Bengal Grams/ Chana Dal are a kind of lentils that's used in variety of Indian dishes (both sweet and savory). Chana dal is high in fiber and low in cholesterol, and is a good source of zinc and proteins. While deep fried and spicy chana dal is one of the most popular snacks in India, this recipe is the healthier version that tastes exactly the same (if not better) than its fried counterpart. They are crunchy and perfect as topping on soups, salads and grain bowls. There is minimal effort needed and if you soak the lentils the night before, all you have to do is toss in marinade and bake. Marinade is super easy and can be customized to your liking. I mixed paprika, lemon, sea salt, maple syrup and lemon juice. You can add any other spice or flavor combination. Roasted chana dal can be stored at room temperature in an airtight container for a few weeks.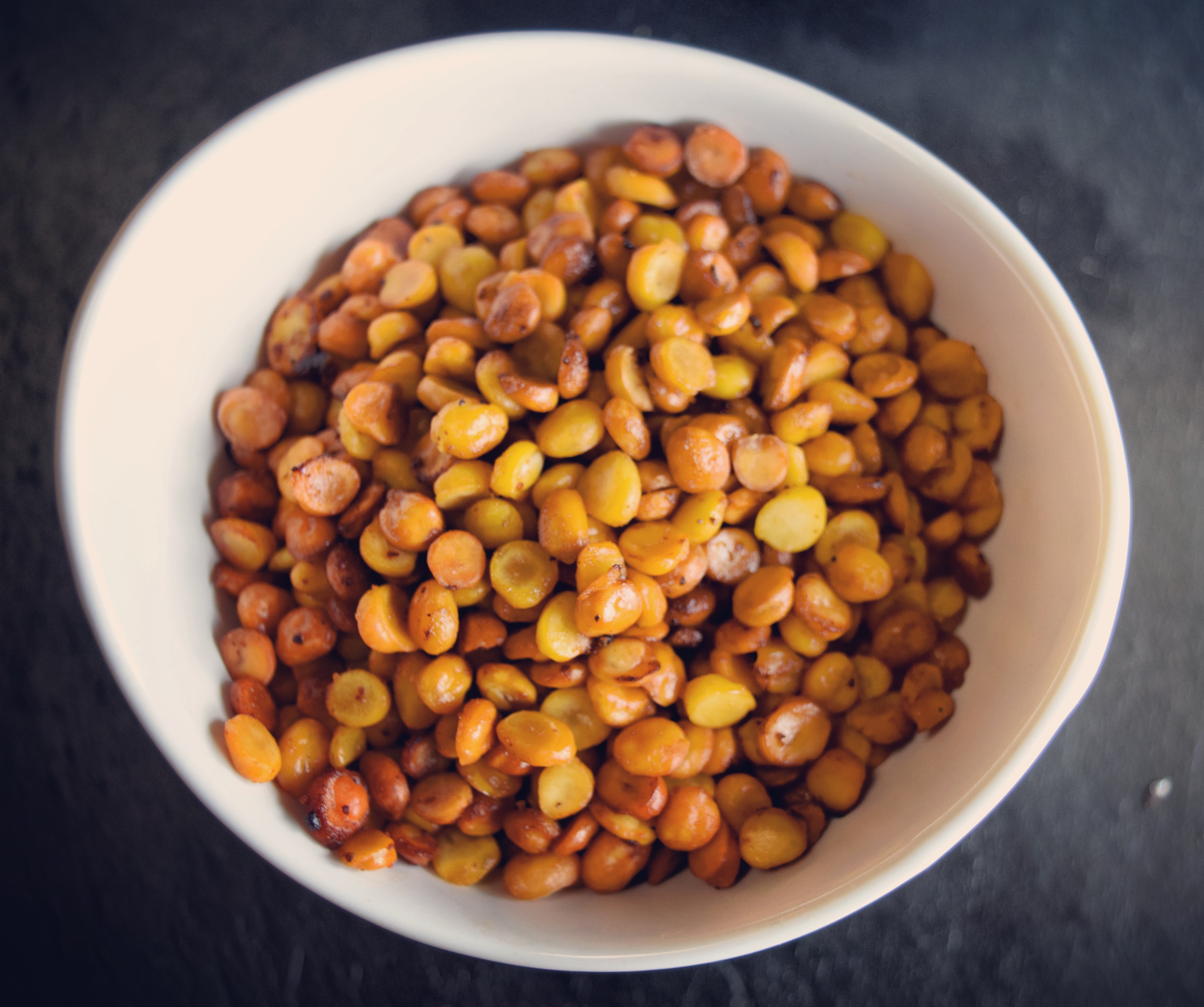 Ingredients
1 Cup Split Bengal Grams/Chana Dal, soaked in water overnight or at least 2-3 hours
1 Teaspoon Olive Oil
1 Teaspoon Paprika or Red Chili Powder
1/4 Teaspoon Maple Syrup
Sea Salt to taste
Juice of Half Lemon
Recipe
Preheat the oven to 350 F, line a large baking sheet with parchment paper and set aside.
Drain the soaked lentils in a medium bowl and pat it dry using paper towel.
In a small mixing bowl, mix all the ingredients for the marinade and pour all over the lentils.
Gently toss the lentils in the bowl to make sure that everything is evenly coated.
Spread the seasoned lentils on the prepared baking sheet in a single layer.
Bake for 20 mins, stir and bake for additional 15-20 minutes or until slightly golden. Keep a close eye on the lentils during the last 10 minutes to prevent burning (Total baking time 30-40 minutes).
Let the lentils cool completely before serving or storing in an airtight container.
Enjoy! 🙂
(Visited 34 times, 1 visits today)
Share