The world may not need another granola recipe, however, it will be unfair to not share this almond butter amaranth granola. So easy to make, loaded with nutrients and flavor, this recipe requires only a handful of ingredients and 5 minutes of preparation. It is perfect for topping your favorite breakfast smoothie, yoghurt parfaits, pudding, porridge and on its own.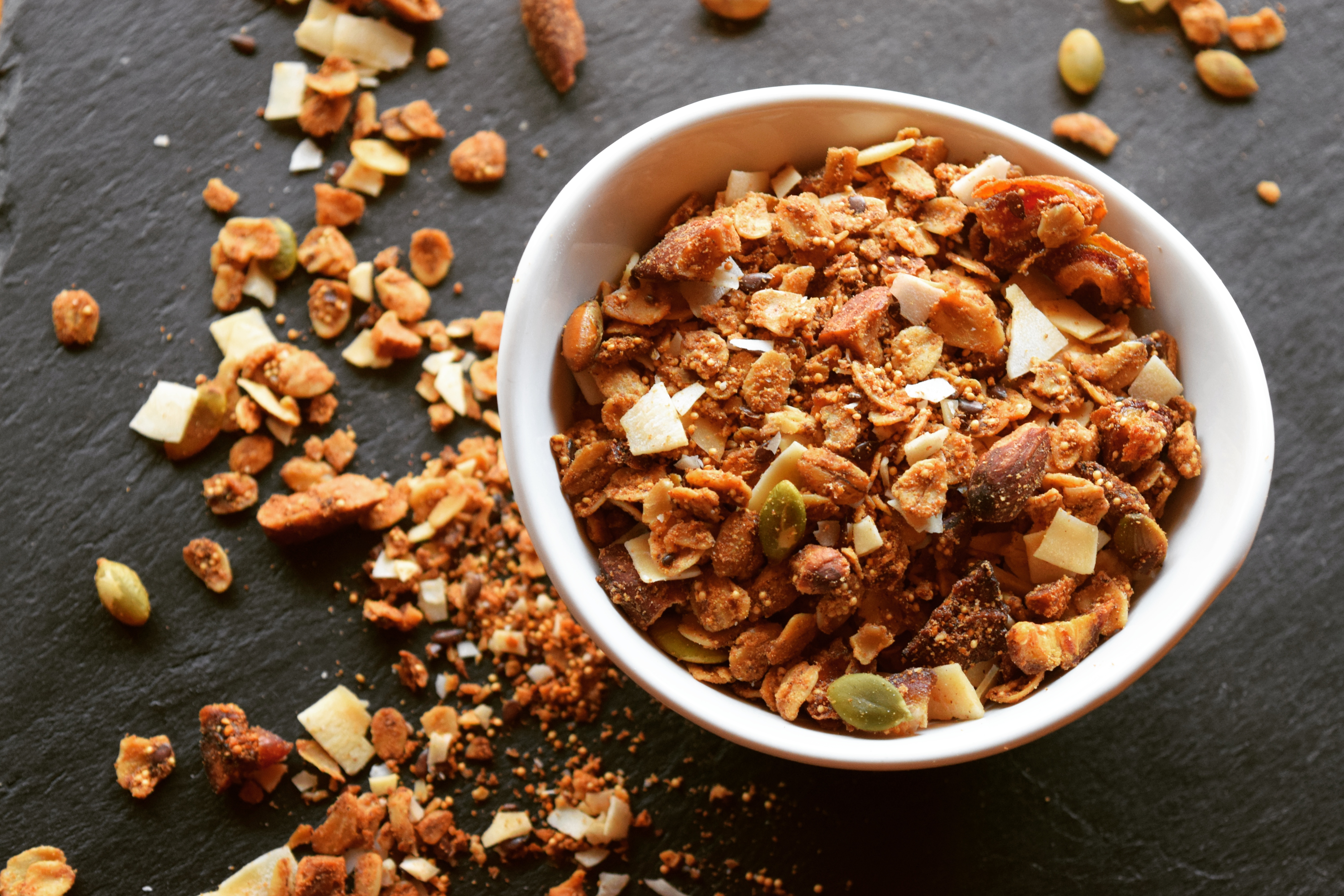 Ingredients
1 Cup Old-Fashioned Rolled Oats
1/4 Cup Almonds, sliced/chopped
1/2 Cup Amaranth
1/2 Teaspoon Ground Cinnamon
1/4 teaspoon kosher salt
2-3 Tablespoons Smooth Almond Butter
3 Tablespoons Pure Maple Syrup
1-2 Tablespoons Unsweetened Toasted Coconut Flakes, optional
1 Tablespoon Coconut Oil
1 Teaspoon Pure Vanilla
3-4 Dried Figs, chopped
3-4 Pitted Dates, chopped
2 Tablespoons Sunflower or Pumpkin Seeds
Pinch of Salt
Process
Preheat the oven to 300 F. Line a large baking sheet with parchment paper and set aside.
Add oats, amaranth, almonds, cinnamon and salt in a large bowl and mix well.
Heat a small saucepan, add maple syrup, almond butter and coconut oil and stir on low heat for 1-2 minutes or until combined.
Turn off the heat, mix vanilla and pour the mixture over the oats and amaranth mixture, stir gently to ensure even coating.
Spread the mixture in a single/even layer on the prepared baking sheet and bake for 25 minutes.
Now add the chopped dates, figs and sunflower/pumpkin seeds and stir well. Bake for additional 20 minutes or until the granola is golden brown.
Remove the baking sheet from the oven, add toasted coconut flakes (if using) and let granola cool completely on the baking sheet.
Break into clusters and serve/ store as desired.
Enjoy! 🙂
(Visited 36 times, 1 visits today)
Share