String beans and ground chicken stir fry makes for a delicious, warm  and satisfying meal on cold winter days. It is super easy to make and has plenty of health benefits. String beans are rich in fiber, iron, calcium, and folic acid. I have used whole frozen thin string beans (also known as Haricots Verts or French Beans)for the recipe, but it can be easily replaced with fresh green beans. If you use fresh beans, the actual cooking time may vary. So next time, replace the spaghetti by this green deliciousness and the meat sauce with ground chicken and experience the guilt free magic of a flavorful meal.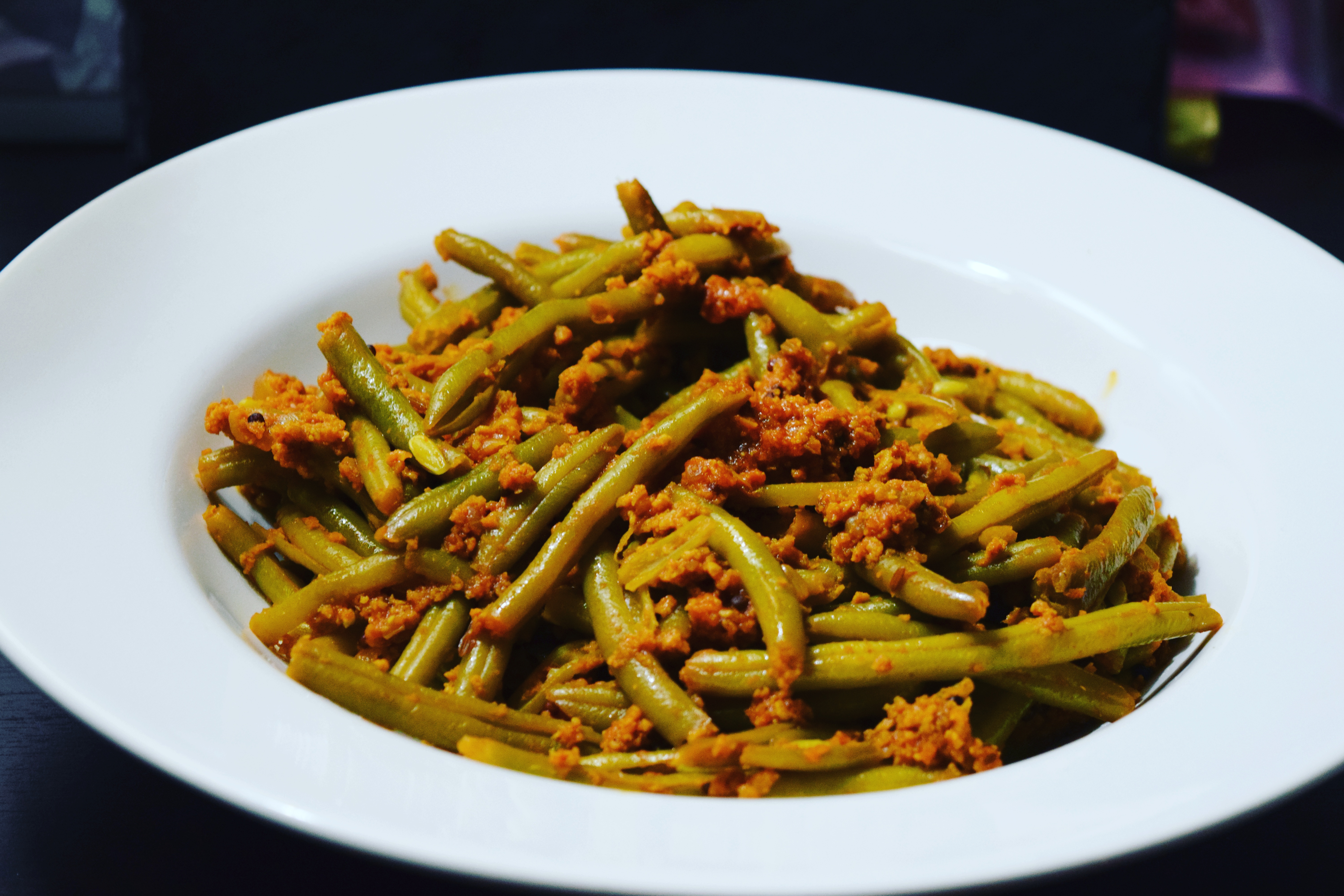 Ingredients
1 12 Oz Pack of Frozen Thin String/French Beans or 1.5 Cups Fresh String Beans
1/2 lb Ground Chicken Breast (lean)
1 Medium Onion, chopped
1 Clove Garlic, minced
2 Tablespoons Tomato Paste or 1 Medium Tomato, chopped
1/4 Teaspoon Turmeric
1/2 Teaspoon Coriander Powder
1/2 Teaspoon Cumin Powder
1/4 Teaspoon Cayenne or to Taste
Pinch of All Spice or to Taste, optional
2 Teaspoons Coconut Oil
Salt to Taste
Process
Heat oil in a non stick pan, add minced garlic and chopped onions, and cook for 2-3 minutes on medium heat or until the onions are translucent.
Add tomato paste or chopped tomatoes and cook for another minute. Add the spices and stir well.
Now add ground chicken and stir everything together. Let the mixture cook for 2 minutes and then add the beans.
Cover the lid and let the beans cook for 8-10 minutes. There is no need to add extra water, since there will be enough water from the chicken.
Stir the mixture once half way through and add a few tablespoons of water if the mixture is dry and beans are not tender. Cover and cook until the beans are tender and serve warm.
Enjoy! 🙂
(Visited 24 times, 1 visits today)
Share