Whether you are vegetarian or just want to mix it up sans the meat once a week, this savory vegetable loaf will have you swooning. Coconut flour along with vegetables  makes this loaf nutritious, filling and crave worthy.  A slice of this loaf will leave you feeling more energetic without bloating while keeping your body functioning at its best. I have used an assortment of vegetables such as mushrooms, roasted butternut squash, green peas, carrots and kale, but you can customize it to your taste and preference with whatever vegetables you have on hand. Coconut flour is rich in indigestible fiber and trace minerals, is low in digestible carbohydrates and is  a great alternative to wheat and other grain flours. I served it as a side along with some pesto and salad, and it was an instant hit at our table. You wont miss any other bread, after having this. I promise! :)!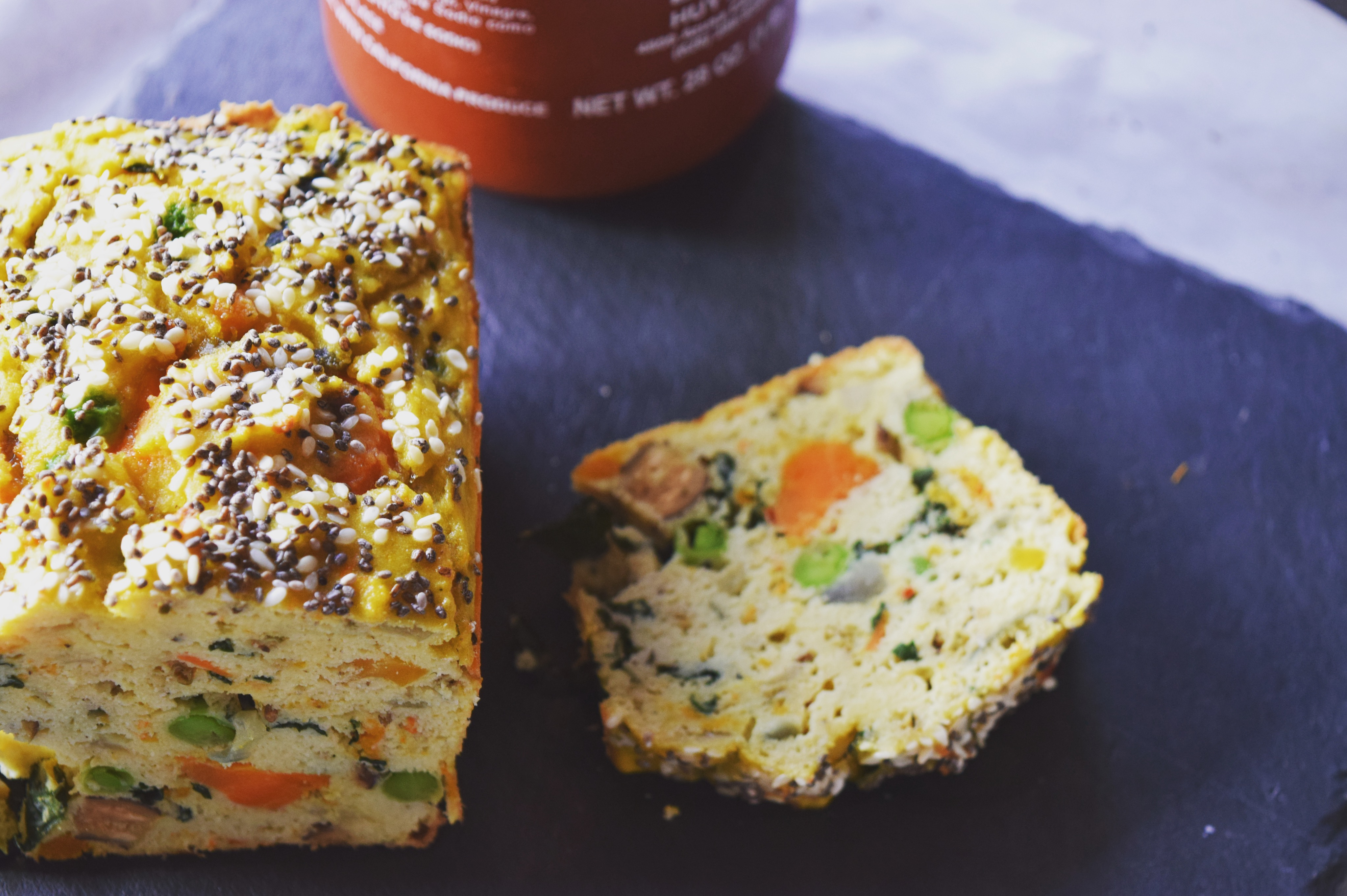 Ingredients
1 Cup Carrots, thinly sliced
1/2 Cup Mushrooms, chopped
1/4 Cup Green Peas
1 Tablespoon Coconut Oil
1/2 Onion, finely chopped
2 Garlic Cloves,  minced
1/2  Teaspoon Sea Salt + Extra for Veggies
Black Pepper to taste
Pinch of Crushed Red Pepper (optional)
1/4 Teaspoon Za'atar
6 Eggs
1/4 Cup Coconut Milk
1/4 Cup Coconut Flour, sifted
1/2  Teaspoon Baking Powder
Handful of Fresh Kale, chopped
1 Teaspoon Chia Seeds
1 Teaspoon Hemp Seeds
Instructions
Preheat the oven to 350 F, line a 9X5 loaf pan with parchment paper and set aside.
Heat oil in a medium skillet, add garlic and onions and sauté until fragrant. Now add the remaining vegetables, kale leaves and the seasoning, and cook on medium heat for about 10 minutes or until the vegetables are soft. Turn off the heat and let the vegetables cool.
In a separate bowl, mix coconut flour, 1/2 teaspoon sea salt and baking powder, and set aside.
In a large bowl whisk together eggs and coconut milk, and add this mixture to the flour mixture making sure that everything is fully incorporated and there are no lumps.
Gently fold in the sautéed vegetables and pour the mixture into the prepared pan.
Sprinkle chia and hemp on the top of the mixture and bake for about 40 minutes or until the top of the loaf is golden brown and a toothpick inserted comes out clean. Let the loaf cool in the pan for 10 – 15 minutes.
Serve warm or at room temperature. Leftovers can be stored in the refrigerator in an airtight container for about 4-5 days.
Enjoy! 🙂
(Visited 18 times, 1 visits today)
Share