More often than not, I find myself in a situation where I have only  half hour or less to prepare dinner. And let's be honest, after a long day, nobody looks forward to spending hours in the kitchen and cooking a fancy dinner!! Quick dinner fix after an exhausting day sounds not only wonderful but also allows you to get rid of the store bought frozen food (laden with preservatives) and take out traps. I'll be introducing a series of quick dinner fix for weeknights, so feel free to pop on over if you're looking for some delicious yet quick dinner ideas,  or for those days when your family needs more time.
Feel free to share your quick food fixes!!
This is one of my favorite fish recipes, super quick and easy to prepare with readily available ingredients. Every bite of this oven baked blackened tilapia is delicious, bustling with spicy goodness. The lemon zest complements the spices perfectly and adds more flavor.These filets have a crispy crust and are flaky from inside. The extra blackening spice can be stored in an airtight container for future use.
P.S.  The filets have a slight kick due to paprika and cayenne pepper, feel free to adjust the amount of spices according to your taste buds!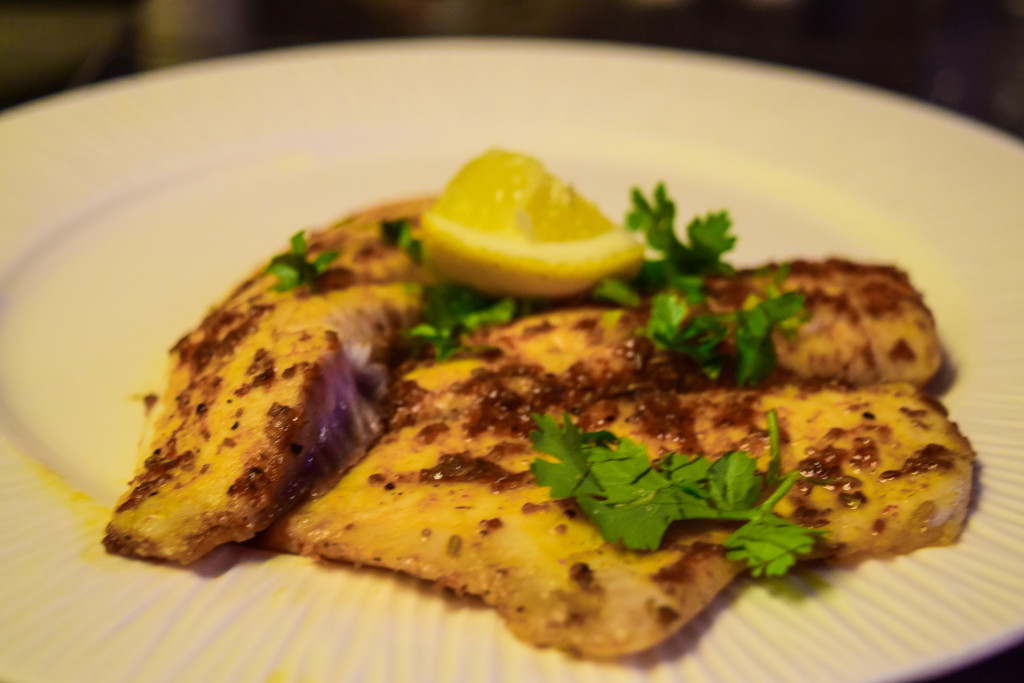 Ingredients
4 Tilapia Fillets
2 Teaspoon Olive Oil
Zest of 1 Lemon
Lemon Juice and Cilantro, for garnishing
Blackening Spice:
1 Tablespoons Smoked Paprika
1 Teaspoon salt
1 Tablespoon onion powder
1/2 Teaspoon Black Pepper Powder
1/2 Teaspoon Cayenne Pepper
1 Teaspoon Dried thyme
1 Teaspoon Dried Oregano
1/2 Teaspoon Garlic Powder
1/2 Teaspoon Coriander Seeds, roasted
1/2 Teaspoon Cumin Seeds, roasted
1/4 Teaspoon Brown Sugar
Process
Preheat the oven to 425 F.
Grind all the ingredients for the blackening spice to a fine powder and set aside.
Rinse the fish fillet in water and pat dry. In a small bowl, mix olive oil and lemon zest and brush it on both the sides of each fillet.
Rub the blackening spice generously, making sure that both sides of the fillet are well coated.
Bake for 10-12 mins (for thick fillets)/ 8-10 mins (for thin fillets).
Sprinkle lemon juice and cilantro.
Serve with brown rice or salad.
(Visited 28 times, 1 visits today)
Share