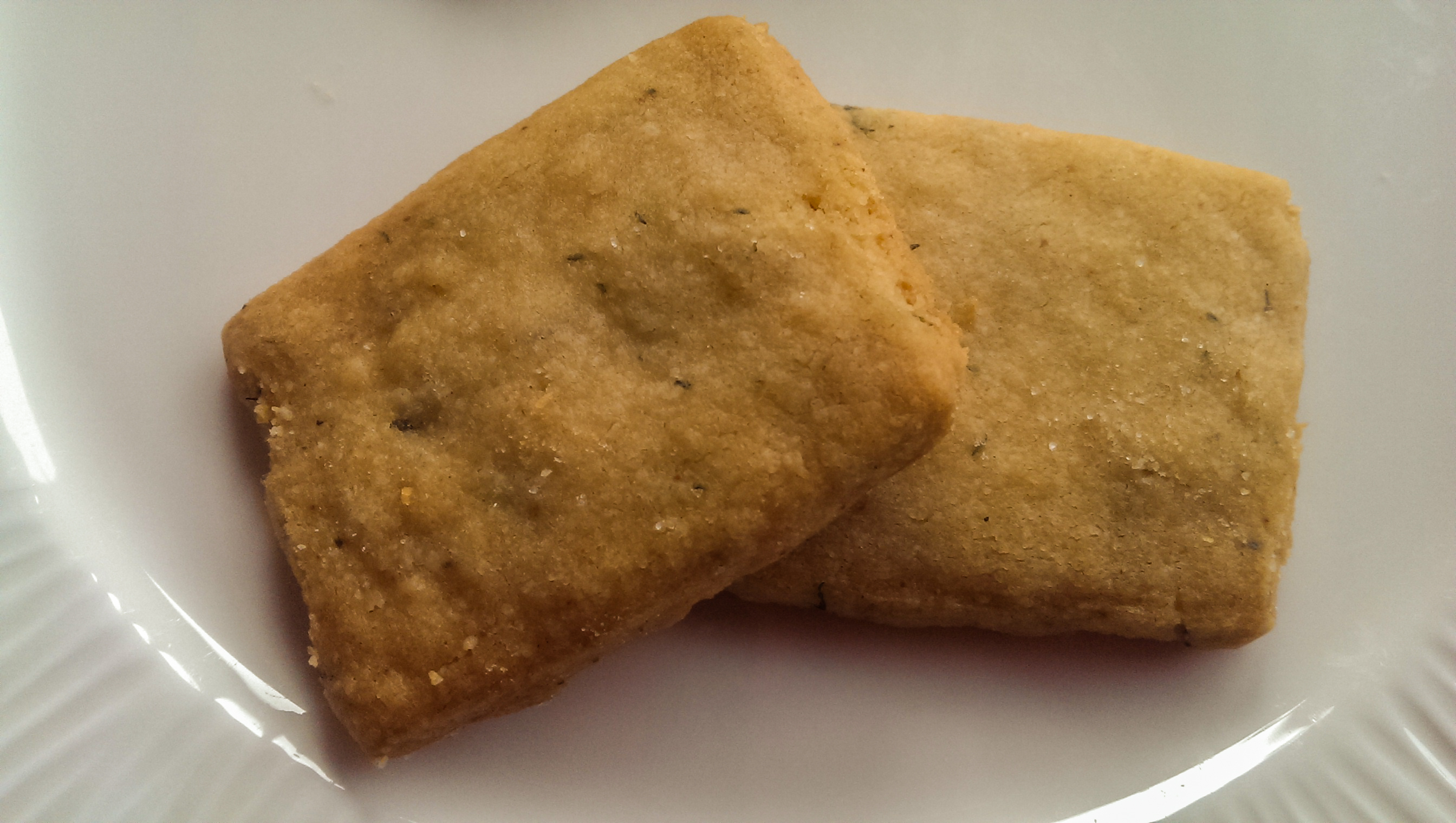 These cookies are basically fancy shortbread cookies that involve lots of butter, lots of  sugar, and flour. If thyme is not a herb of your choice, feel free to replace it with any subtle herb of your choice (rosemary, sage, lavender…). The shortbread cookie dough can be stored well wrapped, in the freezer, for up to a month and in the refrigerator for up to 2 days. I always have a log of shortbread cookie dough stashed in the freezer for the moments when I need a quick dessert fix.
Ingredients:
16 Tablespoons (2 Sticks) Unsalted Butter
1/2 Cup Granulated White Sugar
1/2 Teaspoon Salt
1 1/2 Teaspoon Vanilla
2 Cups Flour
1 1/2 Teaspoon Fresh Thyme Leaves, finely chopped (Optional)
2 Tablespoons Granulated Sugar, for dusting (Optional)
Process:
1. Brown Butter: Melt butter in saucepan over medium-high heat. Be sure to stir constantly and cook until butter is a deep golden brown, about 8 minutes. Immediately pour butter into medium bowl and transfer to refrigerator to chill until solidified.
2. Remove butter from the fridge and let it sit until it reaches room temperature.
3. Preheat the oven to 325 F and position the oven racks to the upper and lower thirds. Line two baking sheets with parchment paper and set aside.
4. Using a hand mixer or a stand mixer fitted with the paddle attachment, cream butter until smooth (medium – low speed), about 3 minutes.
5. Add granulated sugar, thyme and salt to the butter and mix on medium-low speed for about 2 minutes, until fluffy.
6. Add vanilla and mix for about 30 seconds.
7. Add the flour in 2 additions, mixing on low speed for 15 to 30 seconds, or until just combined. Scrape the bottom of the bowl to
incorporate any flour that may have settled there.
8. Work the dough with your hands and shape it into a 5-inch-square block. Wrap in plastic wrap and refrigerate for at least 2
hours, until firm.
9. In order to bake the cookies, Unwrap the dough from the plastic wrap and let it rest for 5-10 minutes, just enough to be rolled. Place the dough between two pieces of plastic wrap. With a rolling pin, roll out gently to a 9-inch square (quickly). If the dough has softened, refrigerate it for 5-10 minutes or until its firm enough to roll without sticking to the rolling pin.
10. Cut the cookies into desired shape (I cut it into rectangles, 1/4 inch width and 1/2 inch length).
11. Sprinkle the cookies with granulated sugar, place them on the lined baking sheet, separated by 3/4 – an inch.
12. Cookies can also be refrigerated for one hour prior to baking.
13. Bake until pale golden brown, 13 to 15 minutes rotating the the pans halfway through baking.
14. Place the baking sheets on a cooling rack for 5-10 minutes and let them cool completely on a wire rack.
(Visited 8 times, 1 visits today)
Share